homeeis the name of a small, cube-shaped piece of hardware from Codeatelier GmbH from Güglingen in Baden-Württemberg. The company, software development, app design, smart home solutions and Additional Services offers, with homee has a device on the market for private users and companies with which various smart home systems can be merged with one device. From Philips Hue and the Devolo smart home system to AVM FRITZ! Box products to the Nuki door lock or the Netatmo weather station, there is a lot. Control is possible via Alexa or Google Assistant. Support for Apple HomeKit and Siri has been in the works since the beginning of 2018.
homee - Brain Cube and accessories for centralized systems
There are numerous options for setting up and equipping the smart home - and there are also many different providers. If you use different manufacturers and their products to make your home smart and act automatically, you usually have to deal with a wide variety of apps or operating devices. This should end with the homee hardware and the homee app. In the following I have compiled details about the hardware for you. Then it comes to the app for iOS and Android, the web solution and the developers' HomeKit ambitions.
homee brain cube
The homee Brain Cube is, so to speak, the control center with which various smart home systems can be combined with one device. The small cube is compatible with netatmo, Nuki, AVM Fritz! and Belkin WeMo. The control and monitoring of the devices integrated by these brands is possible centrally with the app for the cube and via a web platform. More cubes (see below) ensure even more compatibility. The homee brain cube costs € 129,00 on Amazon.
Small cube as a smart home center
With the homee Brain Cube, smart home elements from netatmo, Nuki, AVM Fritz! and control Belkin WeMo in one app. Expandable with additional cubes for the radio and communication standards Z-Wave, ZigBee and EnOcean. Various combinations as a savings package with Prime Shipping can be selected on the product page.
Cube for Z-Wave, Zigbee and EnOcean
While the smart home products of the manufacturers and brands mentioned above operate primarily via WLAN and can also be tapped from the homee Brain Cube, other systems operate via their own radio standards. In addition to the head office in white, the orange one is needed homee ZigBee Cubeif you want to use Philips Hue, IKEA Tradfri, Osram Lightify and the like with it. The purple one homee Z-Wave Cube integrates products from Fibaro, Aeon, NodOn, Popp and Devolo, among others, into the centralized smart home. The turquoise one homee EnOcean Cube adds smart home products from the brands Afriso, Hoppe, Eltako and NodOn to the app.
The accessory cubes, which complement the Brain Cube and can easily be stacked on top of them and on top of each other, cost 99,00 euros individually. If you buy it individually, the white head office costs EUR 228,00. If you want to save, you should perhaps take a combination offer right away. On the Amazon product pages linked above, you have the option of combining the Brain Cube with a cube for ZigBee, Z-Wave or EnOcean. The package then costs "only" 199,00 euros, which is a small saving after all. The homee app is free for this;)
homee app for iOS and Android
Of course, there is no point in addressing all devices from the most varied of manufacturers, brands and wireless standards with one central device if you cannot access them. You can do this with the free homee app, which you can find for iOS in Apple App Store and download it to your Android smartphone or tablet from the Google Play Store install. In the homee app, the individual functions of the integrated systems can be used as well as controlled and monitored. Combinations with each other are also possible. B. the CO2 content in a room, which is determined by the sensor from manufacturer A, fresh air can be supplied with the ventilation system from manufacturer B.
[appbox app store id611086136]
Web platform with demo function for those interested
If you visit the website https://my.hom.ee, you will initially see a login mask with which you cannot do much without a user account. However, if you click on the gray "Demo Mode" button, you get an insight into the possibilities that open up when using the system. Here are a few screenshots of the demo (click to enlarge):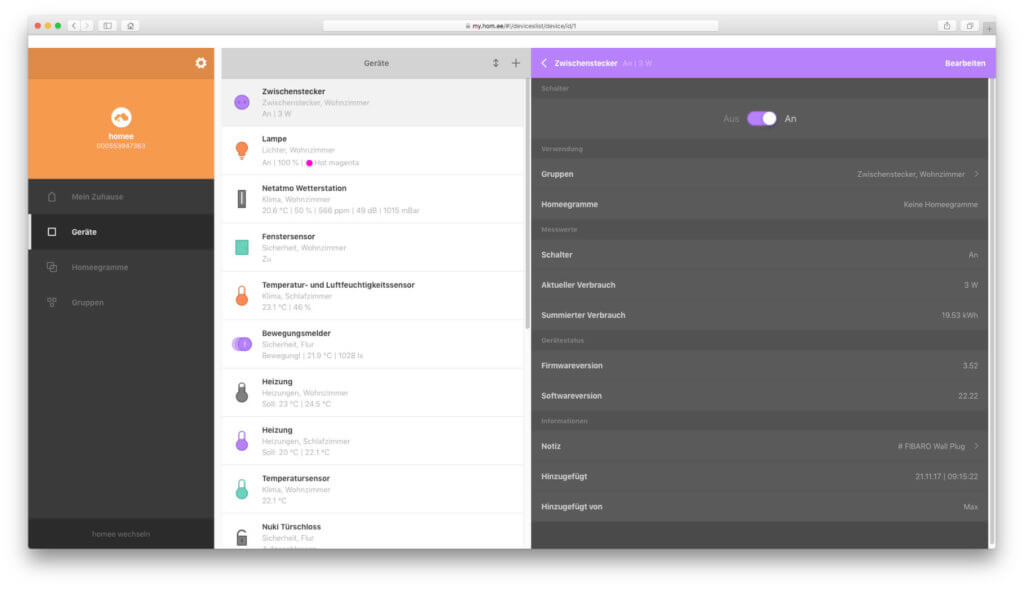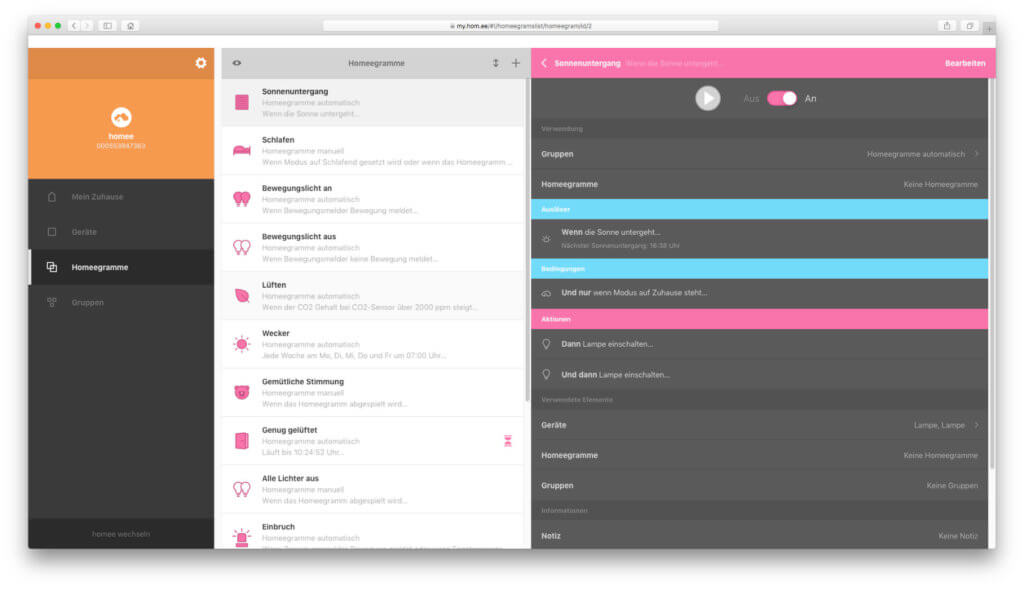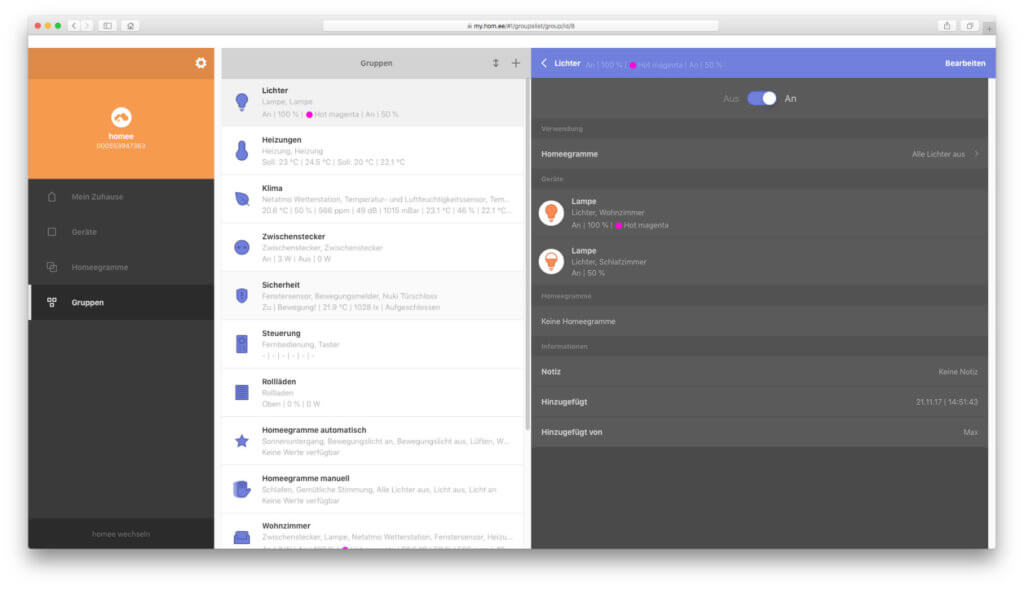 All information in one video
Have all the information, brand names and product links not yet helped you to understand the system for bringing together all possible smart home systems? Then check out this little one Video on the subject. In it, the makers of homee once again vividly describe how everything works with application examples:
homee and HomeKit - Still in 2018?
HomeKit support was sought for the system as early as the beginning of 2018. With this it would be possible to use the Apple Home App to address devices and systems that have not previously worked with HomeKit. You could also use Siri to control those devices that were previously not HomeKit-compatible via iPhone, iPad, HomePod and Co. Over the year there was also a beta for registered beta testers who have been able to test homee's HomeKit capabilities since February. However, it currently looks as if Apple may not be waving a license after all.
A Message According to August 2018, a rejection of HomeKit compatibility by homee on the part of Apple would be understandable in that it would open the door to the Apple Home app for all possible devices. Quality control by Apple could no longer really take place - or would somehow have to be extended to all available systems compatible with homee. So either loss of control or extra work - neither is Apple's intention. When or whether homee and HomeKit will come together in 2018 or maybe in 2019 is currently not known.
Recommended reading: Apple HomeKit - What It Is and How It Works
Summary
The combination and centralization of different smart home systems with different communication and wireless standards seems to be super easy with homee. In addition, all integrated devices can be addressed and combined via the small cube, its app and web platform. In addition, there is currently the use of voice assistants such as Google Assistant or Amazon Alexa. It's hard to say at the moment whether Apple, HomeKit and Siri will be added. It's not completely impossible, however.
After graduating from high school, Johannes completed an apprenticeship as a business assistant specializing in foreign languages. But then he decided to research and write, which resulted in his independence. For several years he has been working for Sir Apfelot, among others. His articles include product introductions, news, manuals, video games, consoles, and more. He follows Apple keynotes live via stream.
The page contains affiliate links / images: Amazon.de