Every now and then there is confusion as to which iPhone models can now be charged wirelessly via Qi charging. Above all, the numbering of the individual smartphone generations from Apple contributes to this. If it is said that you can charge wirelessly since the iPhone X, you could assume that this will not work with the iPhone 8. For everyone who needs an overview, the search ends here. If you want to charge the battery of your iPhone wirelessly, then you now know: wireless charging works with the following models;)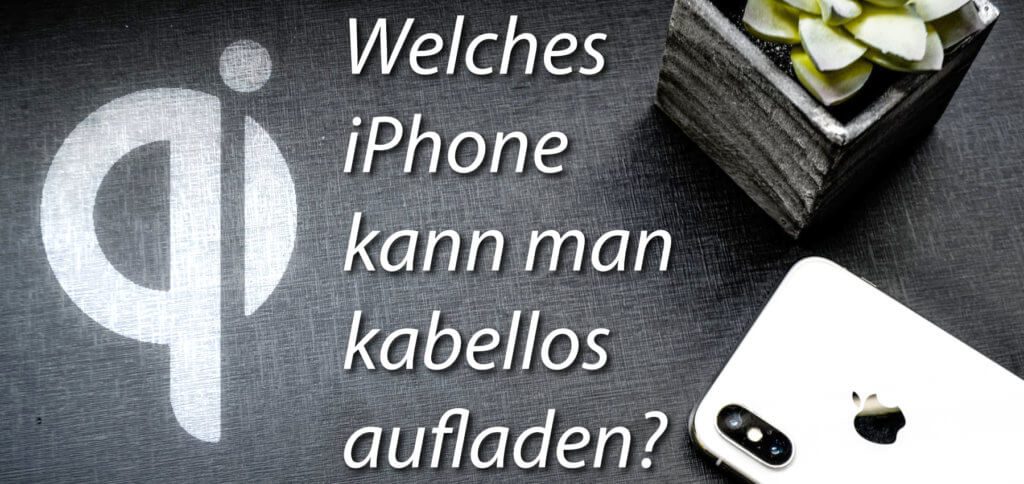 These Apple iPhone models support Qi charging
All Apple iPhone models that have come onto the market in / since 2017 support Qi Charging, i.e. wireless charging of their batteries. A corresponding charger can currently be used with these smartphones from Cupertino:
iPhone 8 - 2017
iPhone 8 Plus - 2017
iPhone X - 2017
iPhone XR - 2018
iPhone XS - 2018
iPhone XS Max - 2018
Coming generation - 2019
How can you charge an iPhone wirelessly?
For wireless charging, you need an appropriate Qi charger in addition to one of the iPhone models mentioned above. Qi is the Chinese word for "life energy" and one of several standards such as: B. also Powermat and Rezence, which enable the wireless charging of device batteries. When buying a charger, you have to make sure that it has the named standard for inductive power transmission.
The good thing about this technology: in addition to Apple, z. B. the manufacturers Samsung, Sony, Nokia and Google, so that your Android friends can hang up their smartphones. These and many other manufacturers have joined forces in the Wireless Power Consortium (WPC). Below is a small selection of Qi chargers rated as good or very good.
Anker Wireless Charger PowerWave
The iPhone 8, 8 Plus, X, XR, XS and XS Max can be charged vertically or horizontally on the Anker Wireless Charger PowerWave. This enables operation during the charging process with 10 W power. Can also be used when the smartphone is in a case.
Aplic charging mat from CSL-Computer
The small, round Qi charging mat is cheaper, but the mobile phone has to remain on it so that the battery can be charged. The 10 W fast charging via the resonant inductive coupling to the iPhone is more space-saving.
YFW charging station for several devices
This charging station from YFW not only offers a 10W Qi charging surface for iPhone 8, X, XS, XR and the like, but also for the Apple Watch and Apple AirPods. Cables for the charging stations of the iPhone and the AirPods are included in the scope of delivery. The charger must be installed for the Apple Watch.
Wireless charging of Apple iPhone via Qi - advantages and disadvantages
As with every technology and every standard / every interface for this and that convenient purpose, there are also advantages and disadvantages when charging the Apple iPhone wirelessly. In the following overview you will find some pros and cons of wireless charging that you can consider accordingly.
Benefits
Disadvantages

No cable connection between device and charger
Mobile phone only has to be hung up, charges directly
A Qi charger can be used for iPhones and Android devices
The physical interface (Lightning, micro-USB, USB-C) is not used as often
So: less wear and tear, less electrostatic discharge, less pollution, etc.

Use of the device restricted while charging
Lower efficiency than cables (thus more power consumption, longer charging times)
Chargers are more universal, but usually also more expensive
Heat development is higher, which could affect the life of components
The fastest way to charge your iPhone
So now you know which iPhone can be charged wirelessly. And you know what technical standard is behind it. In addition to the advantages and disadvantages, I have shown you some - even comparatively inexpensive - Qi chargers. However, this is not the fastest way to charge an iPhone battery. Because that still happens via a charger with a cable that ends in the smartphone's Lightning socket. It is best to use a high wattage charger that is over USB-C PD (Power Delivery) disposes. Charging is then possible with a USB-C to Lightning cable. I have given you overviews and measurements with regard to the iPhone X, 8 and 8 Plus in this post summarized.
Useful links on the topic
Jens has been running the blog since 2012. He appears as Sir Apfelot for his readers and helps them with problems of a technical nature. In his free time he drives electric unicycles, takes photos (preferably with his iPhone, of course), climbs around in the Hessian mountains or hikes with the family. His articles deal with Apple products, news from the world of drones or solutions for current bugs.
The page contains affiliate links / images: Amazon.de