In the (improvised) home office, it is advantageous to place the computer monitor or iMac elevated on the table. Mobile monitor stands are suitable for this. All the better if they also have a USB hub ready for various devices. In this guide I have put together a few models for you that not only allow you to raise your monitor or iMac, but also to prevent cable clutter by neatly connecting your mouse, keyboard, printer, external hard drive and the like. One model even has a Qi charging surface for the iPhone.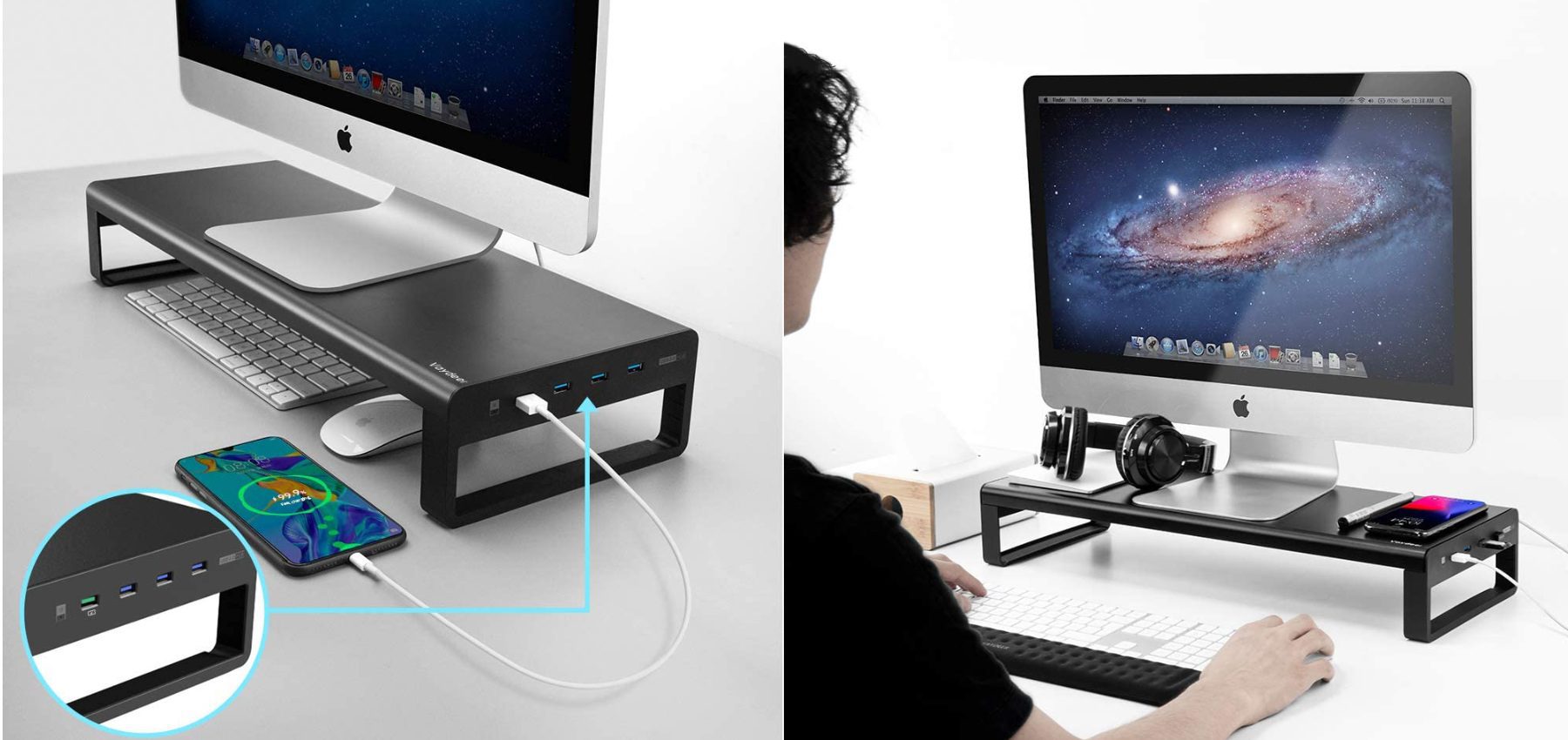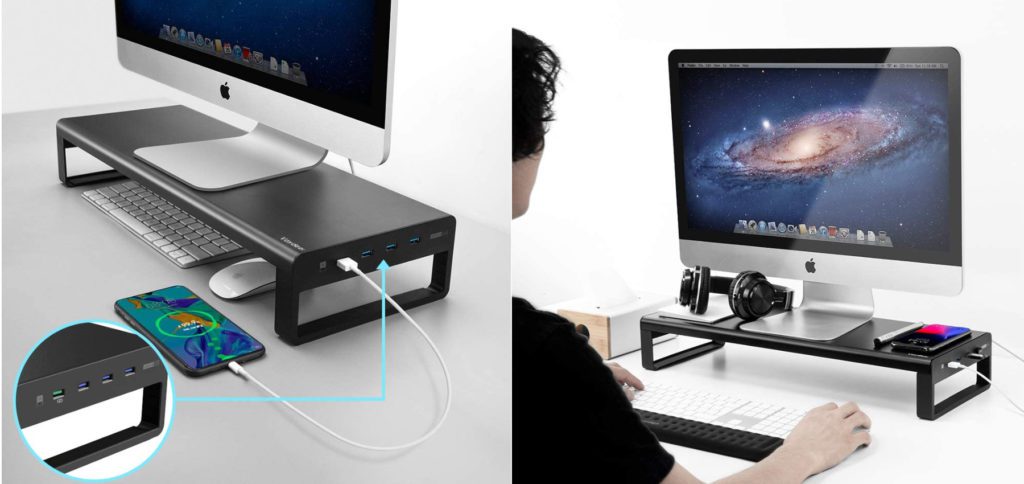 Vaydeer monitor stand with Fast Charging / Wireless Charging
According to a customer review at Amazon, this monitor stand, which is well made, can be ordered in two versions. One with four USB-A ports, one of which is a fast charging port for fast charging of smartphones and tablets. And once with a Qi charging surface on which, for example, the Apple iPhone can be charged wirelessly. This model also offers four USB-A ports. So that the devices connected there can communicate with the Mac, iMac or PC, the hub is first connected to the computer via USB 3.0. Details as well as pictures of the products can be found on this Amazon page.
Overview: Air purifier for the office and home
Cheaper monitor stands with USB connections and audio output
But there are other models from Vaydeer that are not that high, do not offer a storage compartment, but cost less. Both the lower model with 1 x USB Fast Charging and 3 x USB for data / peripherals and the similarly built model with 1 x audio output via jack and 4 x USB for data / peripherals cost 20 euros less than the monitor stands for Office, home office and gaming desk. Nevertheless, they are similarly elegant, functional and above all have 5 and 4 star ratings on the Amazon product page.
Monitor stand for 2 monitors with 4 x USB-A 3.0
Here, too, the offer comes from the manufacturer named above. Because this simply offers the largest selection and is even in the product category of monitor stands with USB hub that with "Amazon's Choice" offer. So before I come to an inexpensive alternative to Vaydeer at the end of the day, I would like to point out that this manufacturer also offers stands for two monitors side by side. So if you work on your PC or Mac, Mac mini, Mac Pro or MacBook (Pro / Air) with two external displays, this product is ideal. It also has 4 USB ports and can of course also be used for an iMac with a second screen. Go to the product page here.
Vaydeer Dual Monitor Stand with 4 USB Hub Ports, Metal Monitor Stand Support...
【Length and sturdiness】 Product dimensions: 38,58 x 7,87 x 3,54 inches / 97.99 x 20 x 8.99 cm (L * W * H); ...
【4 USB ports on one side】 Provides data transfer and charging , Features 4 USB hub ports that ...
【Desk Organizer offers】 large space (under the size: 36,6 x 7,87 x 3,14 inches / 92.96 x 20 x 7.98 cm) underneath to ...
Monitor stand with 4 x USB, 2 x jack, telescopic feet and low price
A cheap and flexible type of monitor stand for home office comes from the DEEP COOL brand. The increase for monitors, laptops, iMacs, etc., currently offered for only 32,99 euros, offers 4 USB ports and 2 jack sockets; one for the microphone and one for headphones or speakers. The height is adjustable so that the accessories can theoretically be used for different devices and users and still enable ergonomic work. You can check it out and order it at this point.
DeepCool Smart adjustable monitor stand with 4 USB ports and ...
For LCD monitor stands up to 68,58 cm (up to 10 kg)
DeepCool Smart Adjustable monitor stand with 4 USB ports and headphone/microphone extension ports, colour:...
DeepCool Smart Adjustable monitor stand with 4 USB ports and headphone/microphone extension ports, colour:...
After graduating from high school, Johannes completed an apprenticeship as a business assistant specializing in foreign languages. But then he decided to research and write, which resulted in his independence. For several years he has been working for Sir Apfelot, among others. His articles include product introductions, news, manuals, video games, consoles, and more. He follows Apple keynotes live via stream.
The page contains affiliate links / images: Amazon.de