Up to macOS 10.12 Sierra, the Apple operating system for Mac, iMac and MacBook uses the HFS + file system by default - from 10.13 High Sierra it is APFS. But which Mac file systems are also important, for example for USB sticks, external hard drives and similar storage media? And what criteria do you use to select them when formatting? I would like to answer these questions for you in this little guide. Any questions? Then take it to the comment area! ;)
Three major Mac file systems: APFS, HFS +, and exFAT
The file systems already mentioned in the heading are the most important when working with the Apple Mac and its macOS operating system. In the following you will find a short explanation that shows you what is actually hidden behind the abbreviations:
APFS - the so-called Apple File System: Optimized for solid state drive hard disks (SSD) and other storage media with flash memory. But also works with mechanical drives (HDD) and hybrid storage.
HFS + / HFS Plus - means Hierarchical File System: Was used by Apple from 1998 on the Mac, iBook, MacBook and iMac for Mac OS X and macOS. Under 10.13 High Sierra, it can still be used for HDD and hybrid storage.
exFAT - stands for Extended File Allocation Table: The best option for cross-platform use of storage media, e.g. for a USB stick that is to be used on the Apple Mac and Windows PC. Also the method of choice if you format a USB stick for use on a PC on a Mac.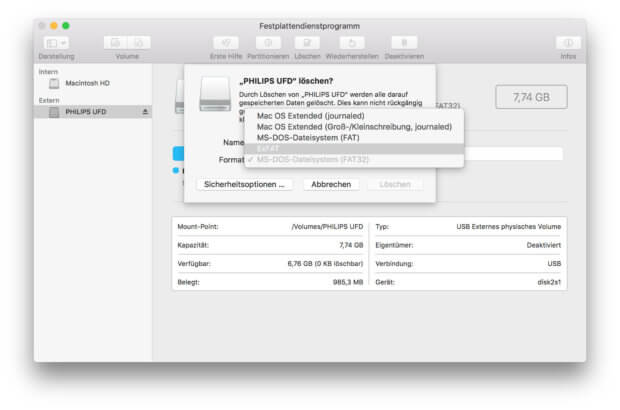 If you want to format a drive under macOS, the best way to do this is to use the hard disk utility, which serves as a pre-installed system tool for managing hard disks, sticks and more. You can find the program as follows:
Finder open -> open "Applications" folder -> open "Utilities" folder -> select "Disk Utility".
Additional file systems for hard disk and USB storage
On the screenshot above you can see other file systems that are displayed, for example, when formatting a USB stick. For their regular use, however, you can ignore the many options and limit yourself to the three main options mentioned. If you have more specific plans and need the right system for the management of data and files, then you probably already know that - so this post cannot teach you anything further;)
Related topics: Posts, Guides, and Instructions
After graduating from high school, Johannes completed an apprenticeship as a business assistant specializing in foreign languages. But then he decided to research and write, which resulted in his independence. For several years he has been working for Sir Apfelot, among others. His articles include product introductions, news, manuals, video games, consoles, and more. He follows Apple keynotes live via stream.