In addition to innovations for the macOS, iOS and tvOS operating systems, there were also updates for watchOS at yesterday's June keynote from Apple as part of WWDC 2018. The new watchOS 5, which will be available to all users from autumn, includes, for example, a walkie-talkie function and the ability to access web content. Above all, Kevin Lynch, the vice president of the technology department at Apple, presented the new functions for the Apple Watch. I have prepared details and pictures from the opening event of WWDC 2018 in San Jose in this post.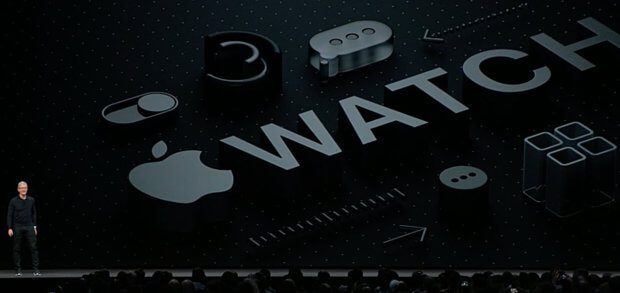 Apple Watch numbers and stories
The Apple Watch and watchOS 5 presentation section began with Tim Cook presenting some figures on the current state of the smartwatch. So the clock is off Cupertino consistently #2015 in customer satisfaction since launch in 1. This is also reflected in the sales growth of 60% in 2017.
In addition to dreary numbers, Cook also presented an emotional story of an older couple who could count on the watch on a boat tour. The man had fallen into the water, his wife could barely keep him afloat from the boat; her iPhone was out of range. However, it was possible for her to make an emergency call via the watch, which ultimately saved her husband.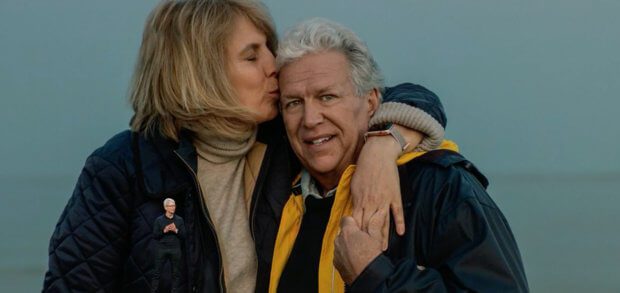 Active and connected on the go with watchOS 5
Kevin Lynch, who led through the new functions of the Apple Watch with watchOS 5, made the connection. "Active and Connected" were the relevant keywords that also play a role in the new features of the health and fitness app. For example, there will be 7-day competitions to which friends can be invited. Points can be collected in various exercises throughout the week and whoever has the most in the end receives a new virtual award.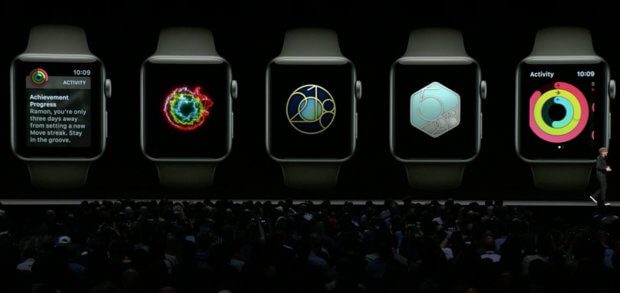 The GymKit, with which the Apple Watch can be linked to fitness equipment, was also discussed. In addition, there are new fitness functions for exercise with yoga and hiking. There will also be additional running functions in watchOS 5 from autumn. The Apple Watch should also automatically determine when a workout is started and ended. Training and sports units count even if you forget to start the measurement.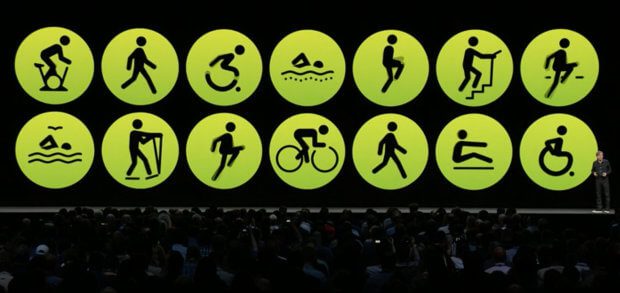 Shortcuts, walkie-talkie, third-party apps
In addition to the numerous sports applications of the apple watch, there are of course also options for use in everyday life and by lazy users. The walkie-talkie function, for example, is an exciting little gimmick that could perhaps replace voice messages in WhatsApp and Co. for some. The feature can be used both via cellular and WLAN and should therefore run on all Apple Watch models.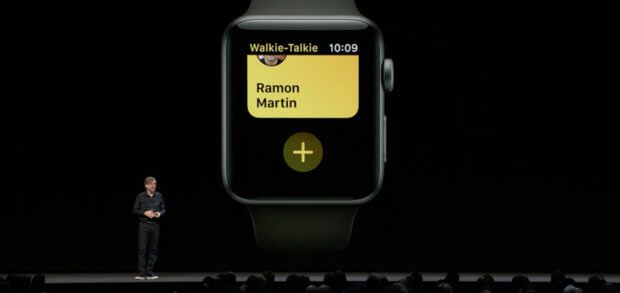 You can also Siri shortcuts can be used under watchOS 5 to shorten the usage with self-selected commands. What you can also look forward to are third-party apps that can now also appear on the Watch Face introduced last year. From here, similar to the lock screen under iOS 12 Use interactive notifications without having to open the corresponding app first.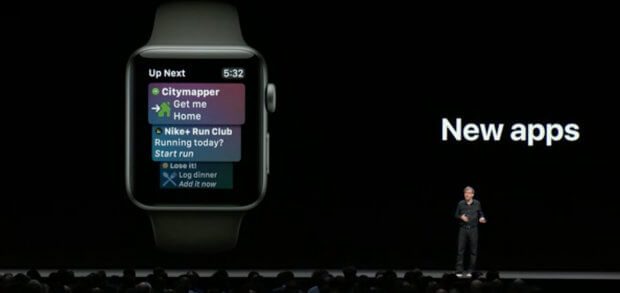 "Hey, Siri" - no longer necessary on the watch
A somewhat questionable innovation for me at first glance is that you no longer have to say "Hey, Siri" to activate Siri. With watchOS 5, all you have to do is raise your wrist to address the watch. Then Siri is already listening and waiting for an order. But I wonder what if, for example, you lean your head on your hand and therefore your wrist is raised. Or if you actually want to whisper something secretly and want to shield the environment with your hand. Well, there will probably be a possibility in the settings to optionally reactivate "Hey, Siri".
An overview of other innovations in watchOS 5
What, wasn't that all? That's the way it is! In the following I have compiled a small list that shows other innovations and changes in the upcoming watchOS. Surely it will soon be a video of WWDC 18 Keynote where you can see everything in more detail:
Third-party apps can now deliver background audio
Hyperlink and web content will soon be available on the Apple Watch
Podcasts can now also be streamed using Apple Podcasts on the watch
Student IDs from some US universities can be stored in wallets (Apple Pay)
New Pride-Face for the watch shows bright colors
The matching Pride bracelet for the watch is currently available
Summary
If you do sports, like to communicate from your wrist, listen to music and soon also want to listen to podcasts, while web content is shown on the watch display, you will certainly be looking forward to watchOS 5. Students from Duke, Temple, Johns Hopkins, Santa Clara universities and the Oklahoma and Alabama universities benefit from the new capabilities in watchOS 5. What do you think of the announcements? Are you looking forward to the challenges of friends in the health and fitness app or has Apple forgotten something crucial in the new operating system? Feel free to leave your opinion as a comment!
After graduating from high school, Johannes completed an apprenticeship as a business assistant specializing in foreign languages. But then he decided to research and write, which resulted in his independence. For several years he has been working for Sir Apfelot, among others. His articles include product introductions, news, manuals, video games, consoles, and more. He follows Apple keynotes live via stream.