The Insta360 link is a 4K webcam that features HDR image quality, automatic camera movements, various zoom and correction modes, and gesture control. The camera, which is suitable for video conferencing, online presentations, streaming and more, also comes with a privacy mode in which the camera is rotated to the other side. So if you don't need video transmission at the moment, the Insta360 Link can be deactivated without unplugging from the computer. You can find more information below. A video with all features as well as purchase options can be found in the official shop.
Insta360 Link - Specifications of the 4K webcam with gesture control
The Insta360 Link camera combines the best of two worlds: high-resolution webcam recording and automatic image stabilization and alignment. Gestures can be used to zoom or align the camera to the table or whiteboard. In addition, the camera can automatically follow a person and thus always keep them in the center of the picture, even in 9:16 portrait format. Here are the most important technical data for the Insta360 Link webcam:
Manufacturer: Insta360
Model: Link
Device type: webcam / video camera
Dimensions: 69 x 41 x 45 mm
Weight: 106 g
Sensor: 1/2-inch sensor that is larger and therefore more detailed than comparable webcams
Video resolution and frame rate: 4K @ 24, 25 or 30 fps (H.264 encoding), 1080p Full HD @ 24, 25, 30, 50 or 60 fps, 720p HD @ 24, 25, 30, 50 or 60 fps
High Dynamic Range (HDR): Yes
Focus: Thanks to "True Focus", the focus is quickly and reliably directed to the most important element of the picture (if something is pointed at the camera, it is focused more quickly)
Other data: f/1,8 aperture with 35mm equivalent focal length (26mm), 1/8.000s to 1/30s shutter speed, 2.000-10.000K white balance
Zoom: up to 4x digital zoom
Bracket: mechanism for laptop or monitor; Thread for tripod
Gimbal: Three-axis gimbal with motors for always level alignment and automatic camera adjustment for different shooting modes
Audio: Dual microphones for stereo audio input with smart gain, noise reduction, background noise reduction, reverberation reduction
Software: Functions for gimbal control, image adjustment (color, saturation, brightness, contrast, etc.), enable/disable gestures, AI zoom (head, torso, full body), anti-flicker filter and more
Modes: Portrait, Whiteboard, DeskView, Overhead
Software Compatibility: Apple macOS 10.10 or later, Microsoft Windows 8 or later
Scope of delivery (standard): Insta360 Link camera, USB-C cable, USB-C to USB-A adapter, four identification markers for delimiting areas for whiteboard mode
Package Contents (Tripod Kit): Insta360 Link Camera, Mini Tripod, USB-C Cable, USB-C to USB-A Adapter, Four Dog Markers to Delimit Areas for Whiteboard Mode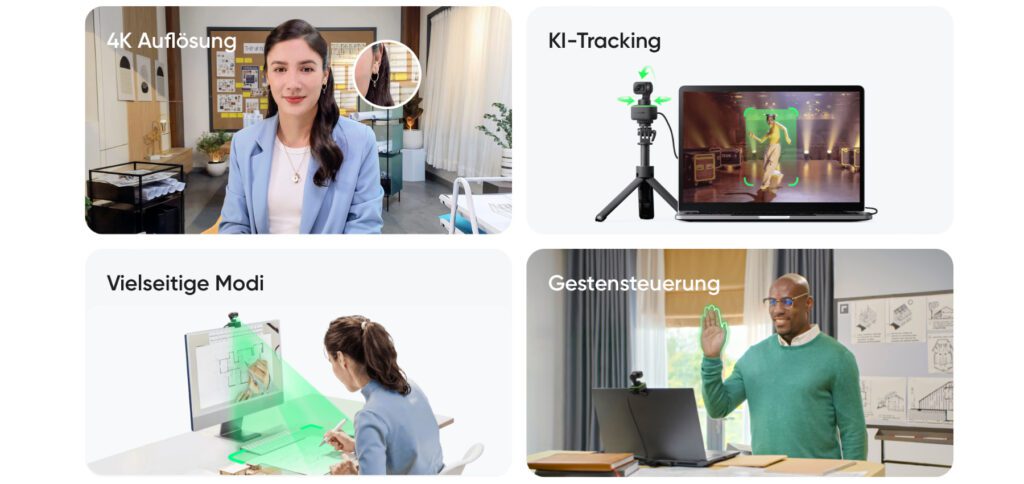 Insta360 Link 4K webcam modes
In the list above I have already mentioned the four modes "Portrait", "Whiteboard", "DeskView" and "Overhead". But what is behind these terms? Below you will find a small explanation.
Insta360 Link Portrait mode
In portrait mode, the Insta360 Link camera rotates 90° to record or stream a 16:9 portrait format instead of a 9:16 widescreen format. This is useful if you not only want to use the camera for video conferences, Twitch streams or YouTube videos, but also YouTube shorts, Instagram reels or videos for TikTok.
Insta360 Link Whiteboard mode
The markers mentioned above are used for the whiteboard mode of the Insta360 Link camera. These stickers, which show a black square with a white L shape, can be used to define a rectangular area that is automatically zoomed in on when showing the V gesture. In addition to the zoom, there is also an automatic alignment so that the whiteboard, blackboard or diagram is not distorted but displayed straight - even if the camera is at an angle.
Insta360 Link DeskView mode
In the DeskView mode of the Insta360 Link camera, the camera is (automatically) tilted downwards to show what is happening on the tabletop in front of the computer or on the keyboard. Drawings, drafts, documents and more can be shown without having to hold them up to the camera. Again, there is an automatic alignment for straight edges and the right perspective.
Insta360 Link Overhead mode
The overhead mode of the Insta360 Link camera works similarly to DeskView, except that the camera is not aligned downwards using motors, but is folded down manually in a straight line. The image does not have to be rectified and the recording looks more natural and free of interference. A tripod is suitable here for flexible alignment, e.g. B. can be used for drawings, an unboxing, playing the piano and more.
Insta360 Link Gesture Control: Gestures for hand control
As mentioned above, you can control the Insta360 Link 4K camera with simple hand gestures. On the linked shop page and in the video linked above, for example, these gestures for camera control are shown in the video:
Raise hand with outstretched fingers: AI tracking follows the person in front of the camera and keeps them in the frame (whole camera rotates, unlike Apple's "Center Stage" software zoom).
Move fingers in L-shape: Index finger and thumb can be used in the L-shape to zoom in (move hand up) or zoom out (move hand down).
V shape for targeting markers: When the index and middle fingers are shaped into a V, the camera zooms in and straightens out the area defined by the boundary markers.
Buy Insta360 Link with free shipping
You can buy the standard version without a tripod for EUR 369,99, and the tripod kit with a flexible screw-on mount is available for EUR 404,99. You can find both configurations with free shipping and delivery in the official shop of the manufacturer. The link takes you directly to the product page, where you will find further technical data, numerous pictures of the camera and the recordings made with it, videos on gesture control and recording modes as well as on using the markers for whiteboard mode. The use of the software for Apple Mac and Windows PC is also shown. So you can get a comprehensive picture.
After graduating from high school, Johannes completed an apprenticeship as a business assistant specializing in foreign languages. But then he decided to research and write, which resulted in his independence. For several years he has been working for Sir Apfelot, among others. His articles include product introductions, news, manuals, video games, consoles, and more. He follows Apple keynotes live via stream.