On May 25, 2018 the EU DSGVO in force and thus operators of websites, blogs, online shops and the like in the European Union are encouraged to pay more attention to data protection. One measure is the cookie notice that is now displayed by pretty much all large and small websites. If you do not want to implement a plugin in your CMS, but want to use a simple code in the head of your website, then take a look at Cookie Consent by Insites from Silktide Ltd. past ;)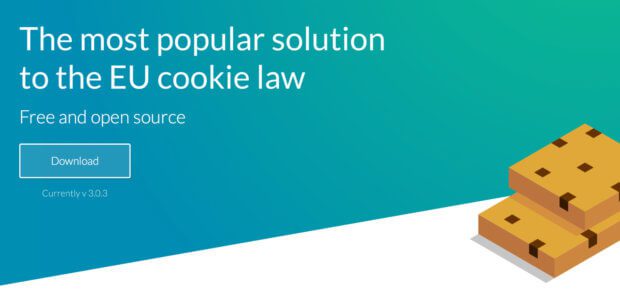 The article has been around for a good two years and the GDPR laws have been tightened in the meantime. As far as I know (disclaimer: I'm not a lawyer, this is not advice!), You currently have to have a lot more than an indication that you are using cookies:
the visitor must disclose information (purpose AND duration) of the individual cookies
the visitor must be able to reject cookies (except for essential ones) BEFORE they are technically set
I have just looked at the Insight Cookie Plugin again with regard to these things and they seem to offer an opt-in that allows you to reject cookies, but there is no further information about cookies.
I use that on my side Borlabs cookie plugin, which not only offers all the required data for the visitor, but also offers a simple configuration, because it already offers ready-made configurations with cookie runtimes and the like for many services such as Google Analytics, Adsense, Youtube etc. These can be easily activated with small switches and - if the service you are using - is not yet in the preselection, you can create a new cookie profile at any time in order to cover more unknown services.
In addition, I have the feeling that Borlabs is working really steadily on the plugin to keep it legally safe. For this reason, I also build it into all of my customers, for whom I maintain the website.
If you're interested in Borlabs Cookie, you'll find it here on the manufacturer's website. With a price of 39 euros per year, it is not exactly cheap, but a warning because of a legally incorrect cookie notice will certainly be even more expensive.
Regardless of whether you use WordPress, Jimdo, Wix or another content management system or rely on a completely specially created website - with the free open source software "Cookie Consent", which does not require installation, but directly on the page linked above is executed, you can create cookie notices according to your taste. You can see what the individual designs and setting options look like in the end on the Demo page see. So you don't have to try around for a long time, but with just a few clicks you can find exactly the design that fits the layout of your website.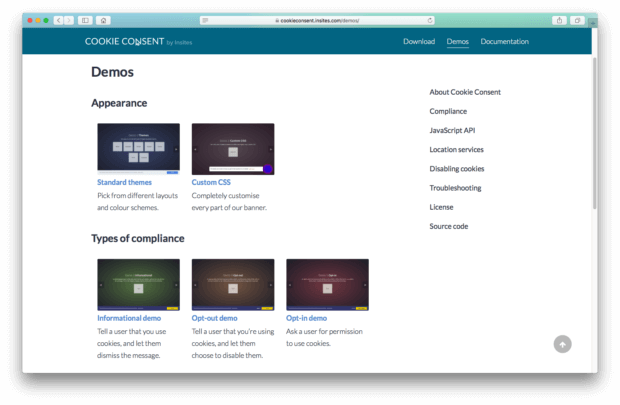 Many people in the EU who simply run a website and tend not to want to commit a criminal offense are probably asking themselves this question. And the creators of the Cookie Consent web app also have an educational page called for precisely this cookiesandyou.com. It says about the motivation of the makers:
We were amazed how millions of websites tell people that they use cookies, without ever stopping to explain what cookies are. At least, not in a simple way we could tell our mums. So we made this website. For our mums.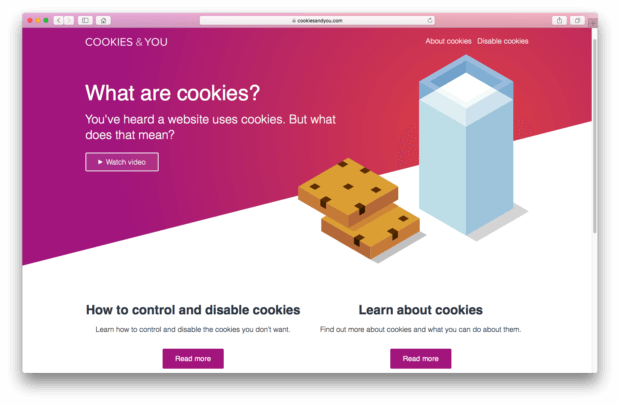 Copy & paste - also possible with text in German?
With the Cookie Consent web app, you can create your own cookie notices, which will also go hand in hand with the EU GDPR (General Data Protection Regulation of the European Union) from May 25, 2018. However, there is a little catch for German users - the site can be operated intuitively despite everything in English and also allows checks to be made to determine whether warning notices are necessary for different countries; however, there are no standard texts in German. If you do not want to come up with a specially made up and perhaps not legally compliant text, then simply use this standard clause:
Cookies facilitate the provision of our services. By using our services, you agree that we may use cookies.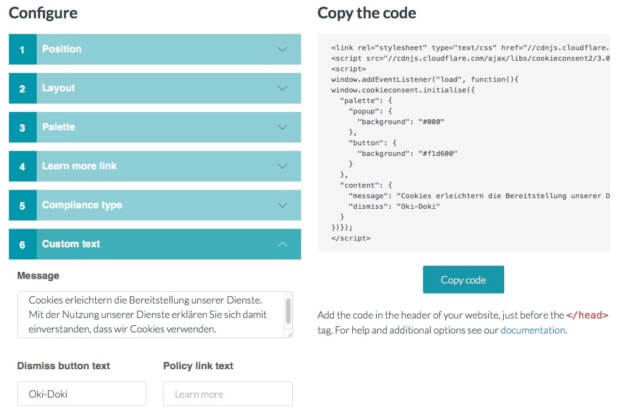 After graduating from high school, Johannes completed an apprenticeship as a business assistant specializing in foreign languages. But then he decided to research and write, which resulted in his independence. For several years he has been working for Sir Apfelot, among others. His articles include product introductions, news, manuals, video games, consoles, and more. He follows Apple keynotes live via stream.