In addition to the Blind copy address field in Mail on Mac you can also use the same in the iOS version on the iPhone. So if you don't want certain email recipients to be visible to others, you don't have to wait to write the message until you're back at your Mac. Using the BCC line is even easier on iOS. Here I will show you how you can use the blind copy in Apple Mail on the iPhone. Do you have any other email tips for the iPhone, iPod Touch and iPad? Then leave a comment;)
Use the blind copy address field in the mail app on the iPhone
In order to enter e-mail recipients who should remain hidden from others, you don't need large menus or detours via the settings on the Apple iPhone. The option for the BCC dispatch of mails is already integrated as standard, although not immediately apparent. To activate the field, proceed as follows:
Opens the mail App on the Apple iPhone
Creates a new email or replies to one in the inbox
Type in the field Copy / blind copy
Now type in the opening Blind copy line
Enter the corresponding mail addresses / names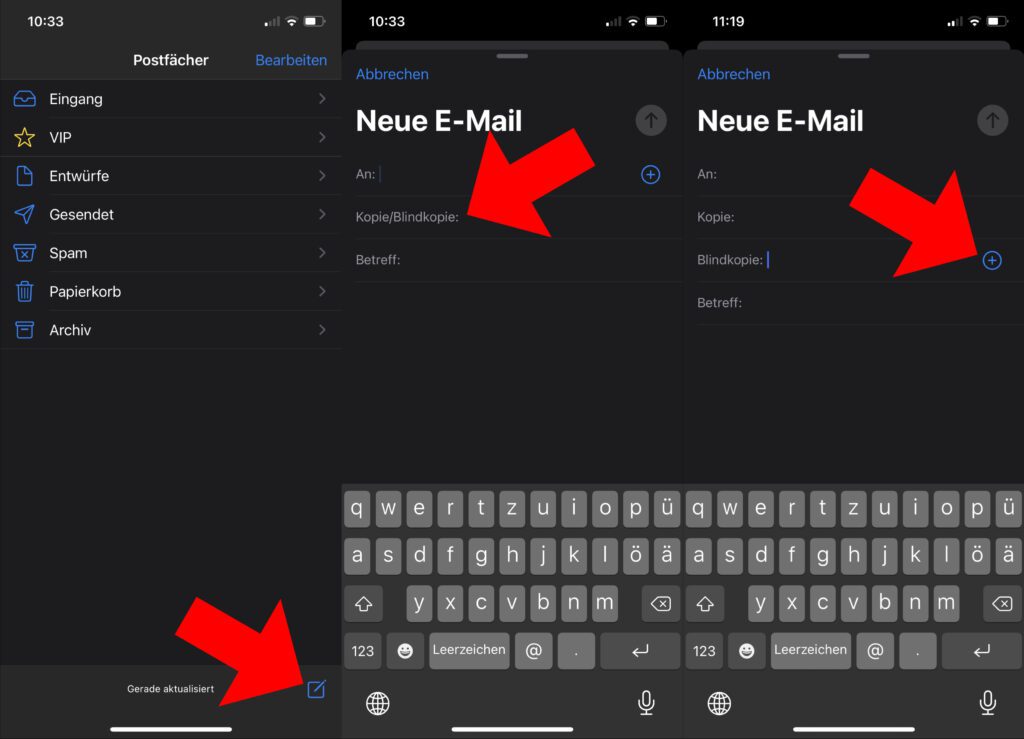 iPhone: Add people from the address book to copy / blind copy
If you type in the lines "To:", "Copy:" and / or "Image copy:", you will see a plus sign in a circle on the right (see screenshots). If you tap on it, you can look for entries from your phone book or address book for the corresponding address field. So you don't have to enter the respective e-mail addresses character by character yourself. If you have saved both private and business e-mail addresses for individual contacts, you should keep your eyes open and, if necessary, check which entry is taken over by the address book selection. You can find more tips and tricks for iOS here: iOS 14 manual with 4h video tutorials by Anton Ochsenkühn.
After graduating from high school, Johannes completed an apprenticeship as a business assistant specializing in foreign languages. But then he decided to research and write, which resulted in his independence. For several years he has been working for Sir Apfelot, among others. His articles include product introductions, news, manuals, video games, consoles, and more. He follows Apple keynotes live via stream.