With the presentation of the iPhone 7 Plus almost a year ago, Apple introduced, among other things, the portrait mode in iPhone photography, in which you can artificially create depth of field using the bokeh effect. However, the effect is not always perfect and the blurring either looks too strong and thus unnatural or it also affects the main elements of the image, which should actually be sharp. Apple reacts to these shortcomings with the option of reversing portrait mode under iOS 11.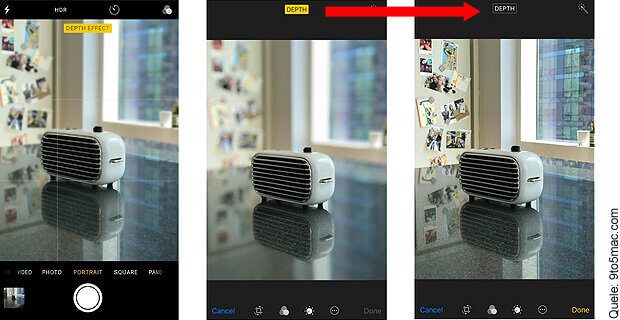 Undo portrait mode for iPhone photos on iOS 11
With the current iOS 10 mobile operating system, which is slowly but surely being replaced by iOS 11 by developer betas and official betas for testers, it is not yet possible to reverse the depth of field in portrait mode from iPhone photos. Under iOS 11, however, this option should be available by default, as among other things 9to5mac reported. For this purpose, in the settings of the cameraApp saved the regular photo.
What does this mean for storage?
With the iPhone, especially with the current models 7 and 7 Plus as well as the upcoming Apple smartphones, high-resolution images can be produced. If the output file is added to every bokeh photo, this can mean a decent memory load for hard-working iPhone photographers. Apple has already countered this problem proactively and has developed two new photo formats with HEIF and HEVC. Although more information is stored in these, the required storage space can be reduced by up to 50%.
iOS 11 photos with and without depth effect: this is how it works!
To take a photo in portrait mode, open the camera app on iOS 11, swipe on the screen until below the image preview Portrait appears and takes a photo. To be on the safe side, there is also a note at the top that you are not taking an HDR image, but a photo with a depth effect. Once you have taken the photo, you can open and edit it directly. Under iOS 11 it is automatically recognized whether or that it is a photo with depth of field - the original file is called up accordingly and you can undo the effect with one tap on the screen.
Smartphone photography guide
With the iPhone, but also with many good Android smartphones, you can take pretty good photos. Anyone who deals a little with the subject will also get unique works of art with the camera from Apple iPhone and Co. If you want to acquire a bit more knowledge and skills in this regard, then these three books might be for you:
After graduating from high school, Johannes completed an apprenticeship as a business assistant specializing in foreign languages. But then he decided to research and write, which resulted in his independence. For several years he has been working for Sir Apfelot, among others. His articles include product introductions, news, manuals, video games, consoles, and more. He follows Apple keynotes live via stream.