The "Live monitoring" function under iOS 12 there is basically nothing new on the Apple iPhone. IOS 11 also offers the option of using the smartphone as a microphone to listen in real time via hearing aids and to better understand what others are saying. What is new under iOS 12 is that the hearing aid used for "live monitoring" is no longer mandatory MFi-certified have to be; it can also be a simple Bluetooth headset or Apple AirPods, and for the severely hearing impaired, for example, bone conduction headphones. How, what and why, I'll explain that to you in this post.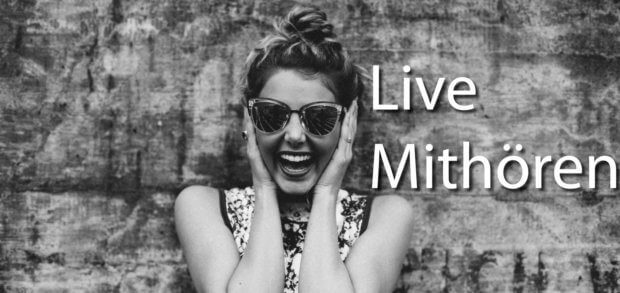 Live monitoring in iOS 12 + bone conduction headphones
You can currently listen live via Apple iPhone and a corresponding hearing aid that is certified for use with i devices (including iPad and iPod Touch). From autumn 2018, this restriction will be lifted under iOS 12 and you can, for example, use the Apple AirPod headphones or other Bluetooth headphones as a hearing aid. In addition to the use in everyday life for conversations in the group, when visiting the grandchildren or when visiting the grandparents as hearing-impaired grandchildren, many other scenarios are also possible; for example at university, in the office or when shopping.
From autumn 2018, bone conduction headphones will be ideal for the "live listening" function under iOS 12 if the hearing impairment goes beyond age or illness of the sense of hearing. If, for example, the eardrum is damaged, the audio signals can still be carried to the auditory nerve by sound in the bone. What such headphones with bone conduction technology can do and how they can help you (live) listening under "difficult conditions", I have you in the AfterShokz Trekz Titanium review summarized.
Does that make the Apple iPhone a bugging tool?
What shouldn't be a big innovation for most iPhone users is certainly a very helpful new feature of iOS 12 for the hearing impaired. For "live monitoring" you no longer need an MFi hearing aid, but soon only Bluetooth headphones. Many will make an aluminum hat for this and see the Apple smartphone as the next potential bug for hobby spies. But you would have to hide the expensive device somewhere or even leave it lying around. And who does that? In my opinion, there are few scenarios in which the iPhone is the tool of choice when spying on people.
Activate live monitoring and set it up as a shortcut
Currently as well as with iOS 11, the function can already be used with hearing aids that are "Made For iPhone", as mentioned above. To activate (and deactivate) the function, proceed as follows:
Select the menu as follows: Settings -> General -> Accessibility -> Hearing aids
Under devices Tap the hearing aid you are using
On command Start live monitoring tippen
Place the iPhone in front of the person (s) to be listened to
Whether at the boss's speech at the company meeting, at the lecture at the university or at the family celebration, where everyone is talking confused and you only want to follow one conversation partner - this is how you can use the function. To deactivate the feature again, follow the same menu path and then tap on End live monitoring. To bypass the menu, you can also make a shortcut for the lock screen (quickly press the home button three times):
Settings -> General -> Accessibility -> Hearing aids -> Control on lock screen
Do you have any questions, thoughts, suggestions or tips and tricks on the topic, please leave a comment! You can also get the above instructions with pictures as well as further information on the current status of the features presented on the iPhone in Apple Support Document HT203990.
After graduating from high school, Johannes completed an apprenticeship as a business assistant specializing in foreign languages. But then he decided to research and write, which resulted in his independence. For several years he has been working for Sir Apfelot, among others. His articles include product introductions, news, manuals, video games, consoles, and more. He follows Apple keynotes live via stream.