With iOS 13, Apple released a new operating system for iPhone and iPod Touch in September. There are now some manual editions that help with operation. In this little guide I have compiled these iOS 13 manuals and other instructions for you. If you have a single problem for which you need urgent help, please leave a comment. I then try to find a solution. For the introduction and extensive use of the operating system and its apps, I recommend the fonts listed below;)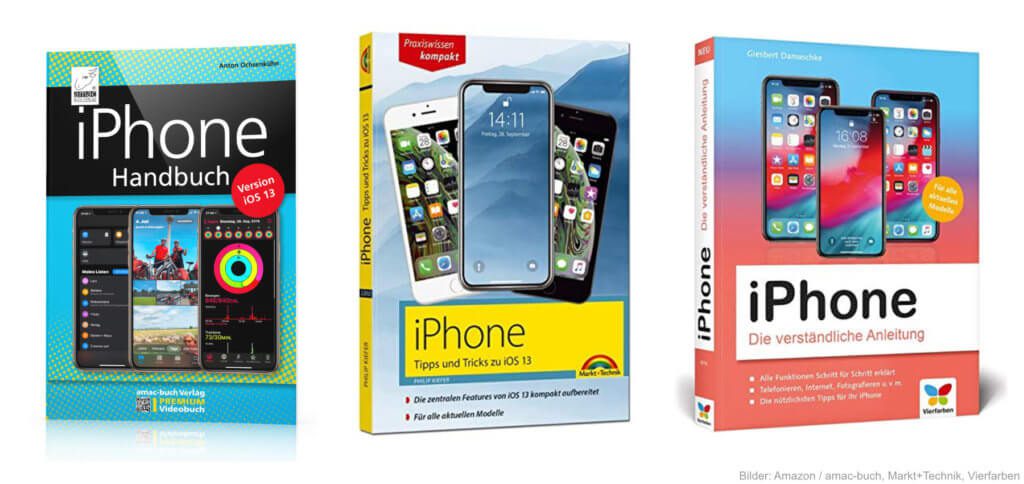 iPhone manual version iOS 13
The iOS 13 book "iPhone manual version iOS 13 - PREMIUM video book - suitable for all iPhones" by Anton Ochsenkühn is published on September 20th. The author, who has often been praised here in the blog, published his 254-page work again in amac-buch Verlag. What is new about the book, which costs 19,95 €, is that you can use it to access 4 hours of video material. Instead of pages of explanations with countless screenshots, you can simply call up a link or QR code and watch a tutorial. This means that the Kindle version of the book for € 7,99 also makes a lot of sense - accessed via the Kindle app on the Mac or iPad, you can use tutorial videos and iPhone in parallel.
iPhone Tips and Tricks for iOS 13
The book "iPhone Tips and Tricks for iOS 13" by Philip Kiefer will be published on October 31, 2019 by Markt + Technik Verlag. The guide will have 160 pages and can already pre-ordered at Amazon become. For € 9,95 you get the central features of iOS 13 for all current iPhone models - that means: from iPhone 5s to iPhone 11 Pro (Max). Topics in this iOS 13 book include: communicating with contacts, using Safari on the web, tips on using the app, camera features and the photos app, music and videos on the Apple smartphone, iCloud, data backup, and so on .
The comprehensive instructions for all new iPhone models
The entire title of this guide is "iPhone 11, 11 Pro and 11 Pro Max: The comprehensive guide for all new iPhone models. Currently on iOS 13, ideal for seniors! ". On 400 pages, Giesbert Damaschke explains everything important, useful and usable in iOS 13 on the smartphone models from 2019. The book will be released on November 22, 2019 by Vierfarben Verlag. For € 19,90 it is also a cheap and very good Christmas present for parents or grandparents. If they have bought a new iPhone and are still unable to cope with it;)
Feature and app explanations from Apple
To get an overview of the system, its apps and settings, Apple itself is also a good starting point. A comprehensive overview of apps and settings in iOS 13 can be found here, for example: https://www.apple.com/de/ios/ios-13/features/. For some of the content listed there, there are also further links, for example to detailed, illustrated explanations of Photos, Cards and so on redirect. There are also iOS 13 tutorial videos on YouTube for individual help, troubleshooting and instructions. On the official Apple Support Channel you can find some in English.
https://www.youtube.com/watch?v=3URFQoumvYw
Jens has been running the blog since 2012. He appears as Sir Apfelot for his readers and helps them with problems of a technical nature. In his free time he drives electric unicycles, takes photos (preferably with his iPhone, of course), climbs around in the Hessian mountains or hikes with the family. His articles deal with Apple products, news from the world of drones or solutions for current bugs.
The page contains affiliate links / images: Amazon.de