The Apple WWDC 2019 Keynote took place yesterday, the kick-off event of this year's World Wide Developers Conference in San Jose. As in previous years, the upcoming versions of the operating systems offered by Apple for their own devices were presented. For the Apple iPhone as well the current iPod Touch and to a certain extent also for the iPad (which is getting its own iPodOS this year) is coming in autumn iOS 13. I have summarized the new and improved features the system brings with it. You can get an overview of all topics from yesterday evening here: The Apple WWDC 2019 Keynote - Brief Summary.
iOS 13 should be even faster than previous versions
Both the entire system and individual functions have been screwed into Apple's mobile operating system. Compared to the current iOS 12, for example, unlocking and verification via Face ID should run 30% faster. A new way of packing data should also make app downloads under iOS 13 up to 50% smaller and therefore faster. With updates even 60% could be achieved. This should also pay off when dealing with the apps, as they now start up to two times faster. It should also be quick when writing: instead of typing individually, you can now select letters by swiping over them. Great for one-handed typing!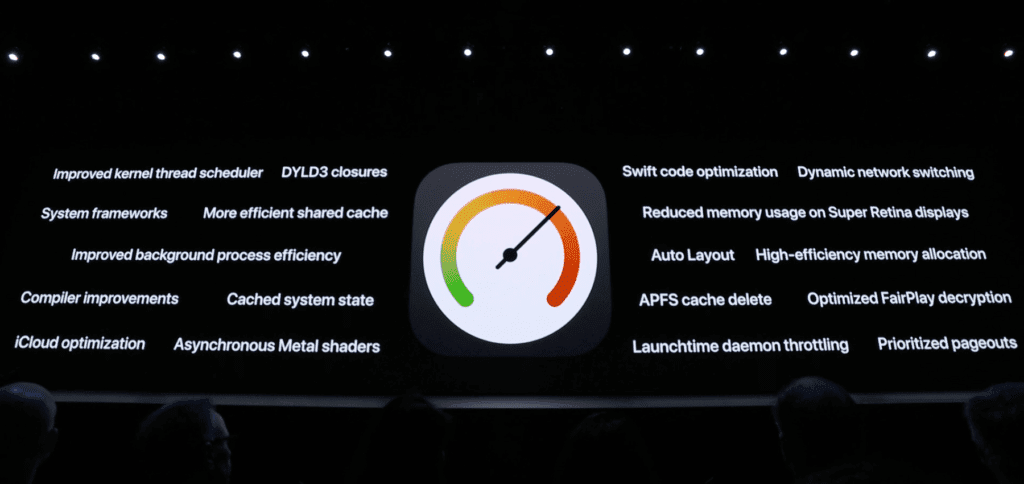 New functions for Safari, Mail, Reminders, Maps, etc.
Some of the Apple apps on iOS have changed both in appearance and in their functions. In Memories, for example, machine learning is now also used to sort tabs, tasks, smart lists and using tags on contacts. Most of the efforts to improve it, however, came from maps. In the USA, over 4 million miles (over 6,44 million kilometers) have been traveled and measured by airplanes in order to be able to offer a new map and street view. This is supposed to improve navigation and planning. The new material will be available for other countries from next year.
Hello Darkness, My Old Friend
With iOS 13, a system-wide dark mode that is easy to implement for third-party apps is finally coming to mobile Apple devices. The dark mode not only ensures that the eyes are spared; Especially with newer iPhone models with corresponding displays, the darker colors and black backgrounds ensure that the battery lasts longer. Because where there is less lighting, less electricity is used.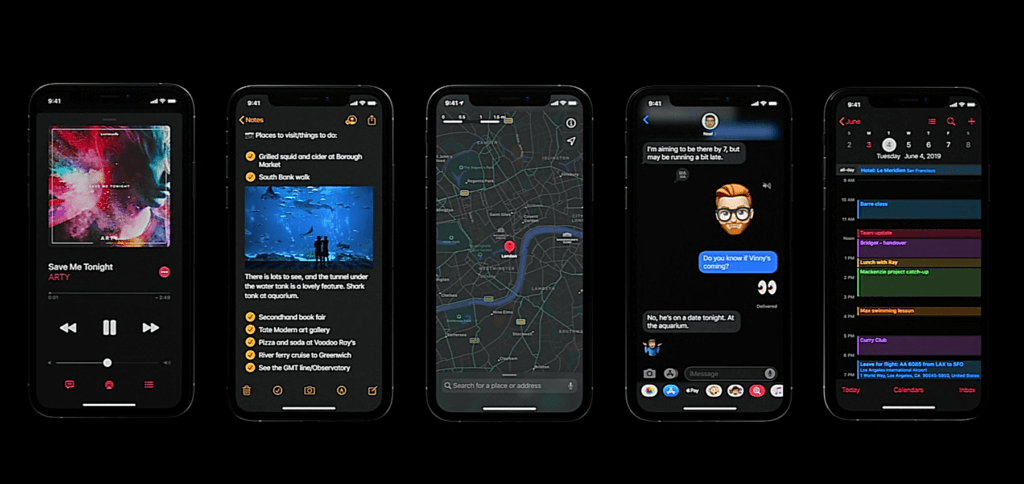 Data protection: login, HomeKit and more
Once again, it was emphasized and accompanied by new functions at the WWDC 2019 keynote that data protection is particularly important for customers on the part of Apple. For example, there is now a new option for logging into apps or web services: "Login with Apple". A clear declaration of war against Google and Facebook, who like to share all possible data from you when you log in. If you wish, Apple will only give you a disposable e-mail address and forward the messages from the app or web service to the actual e-mail address. The good thing about it: a new address is created for each service so that you can keep track of things and delete them individually.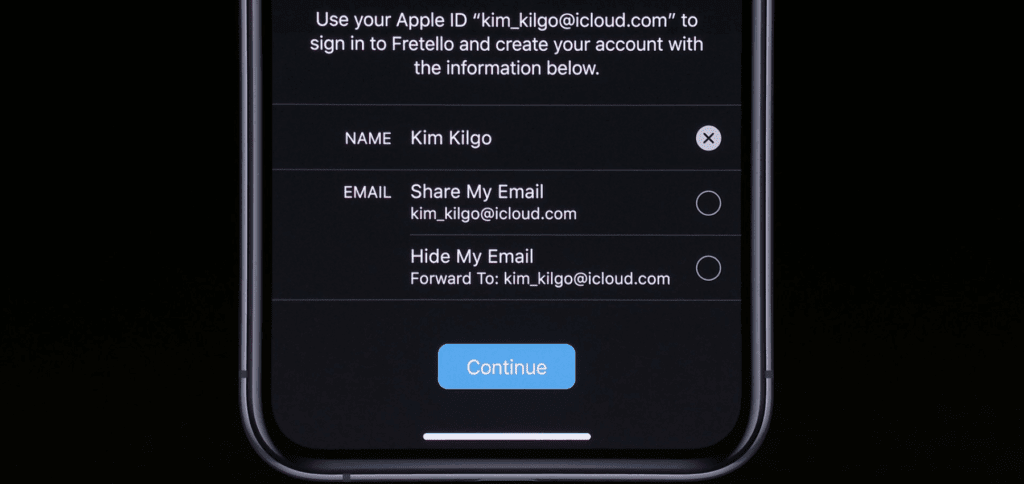 With regard to HomeKit, there are also further efforts towards customer data security. Especially in the area of ​​surveillance cameras with cloud service, some innovations have been created. The whole thing is called "HomeKit Secure Video" and saves recordings encrypted in the iCloud, for example. So that services or attackers cannot access cameras or their content from outside, there will also be "HomeKit for routers" in the future. LinkSys, Eero and Spectrum will initially be partners for this. Whether and when the Apple firewall will also be used in this country (Fritz! Box, etc.) is still pending.
New features for the camera and photos app in iOS 13
There are not too many software innovations for the camera this year; at least not for existing iPhone models. There is a new exposure control, especially for portrait mode, which is supposed to simulate the approach or removal of light in studio quality. The results should be worth seeing for both color and monochrome images.
The news about the photos app is more impressive. With this there are new options for editing photos from iOS 13 and for the first time also for videos. For example, videos can be rotated so that they can be changed from vertical to horizontal or vice versa directly on the device. In addition, there are numerous controls, filters, effects, etc. There is also a better overview for the preview of recorded media: Duplicates can be sorted out as well as screenshots, recordings of documents / receipts, etc. In the end, only photos and videos for fond memories about.
These can also be sorted into days, months and years - the preview or image selection refers to past events at the same time (birthday images are displayed for birthdays, photos of the last WWDCs are displayed for WWDC, etc.). In the general overview, it is also easier to zoom in and out to get an overview of all recordings.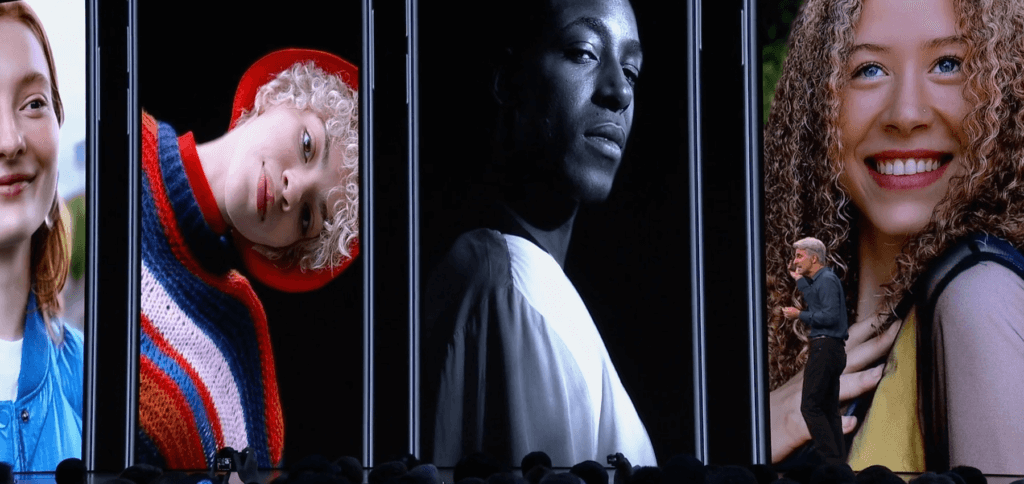 iOS 13 with AirPods, HomePod, CarPlay and Siri
The interaction with other Apple services and devices should also improve with iOS 2019, which will be released in autumn 13. The AirPods should now also be able to read out incoming messages automatically. Answers can be dictated directly. When cycling, running, working or in the case of a disability, all you have to do is use your voice to process messages. The transition of audio playback from iPhone or AirPods to HomePod has also been simplified - switching the playback device works with a mere approach. If you move away again (from the house), the playback changes back.
In CarPlay, the interaction, but above all the display in the car, has been further improved. CarPlay gets a revised dashboard with all kinds of apps and widgets. Calendar, music, Siri and even third-party apps can be displayed side by side - without covering up or otherwise blocking the navigation. There are also updates for Siri: an even more natural voice and "Shortcuts" as a separate app on iOS devices. It was not said whether there was also screwing in the background so that Siri reacts better to inquiries or becomes "smarter".
A few more things: iCloud, Memoji, stickers, etc.
With regard to the iCloud, it was also mentioned that it should soon be possible for users to create individual accounts for private and work - or to split a user account accordingly. In addition, a lot of time was devoted to the topic of Memoji. Memojis can now be designed even more individually; with elements such as make-up, piercings, teeth / tooth gaps, earrings, hairstyles, hats, glasses and of course AirPods. In addition, when a Memoji is saved, stickers and emoji versions are created directly; also on or for devices without a TrueDepth camera. But at least an A9 chip or newer is required.
More information and pictures: Official Apple press release
After graduating from high school, Johannes completed an apprenticeship as a business assistant specializing in foreign languages. But then he decided to research and write, which resulted in his independence. For several years he has been working for Sir Apfelot, among others. His articles include product introductions, news, manuals, video games, consoles, and more. He follows Apple keynotes live via stream.