With iOS 14, a few interesting functions have come to the iPhone in 2020. Functions such as: B. by tapping on the back of the Apple smartphone. A touch sensor is not used for this, but probably the gyroscope and / or the accelerometer of the device. This means that the touch-on-back functions also work if you are using an iPhone case. In this guide to the iOS 12 feature, I'll show you which ones are available and how to activate them. I tested the whole thing with the iPhone X from 14.
iPhone with iOS 14: Activate the "Tap on the back" function
In the following list you will first find the general instructions with which you can find the function in the iPhone settings. Under the next subheading there is a list of usable features that you can activate by tapping on the back of the iPhone.
Calls the iPhoneSettings on
Tap on the point Accessibility
Now select the item under "Physical and motoric" Tap from
Scroll all the way down and select Tap on the back from
Specifies what happens when you double-tap and tap three times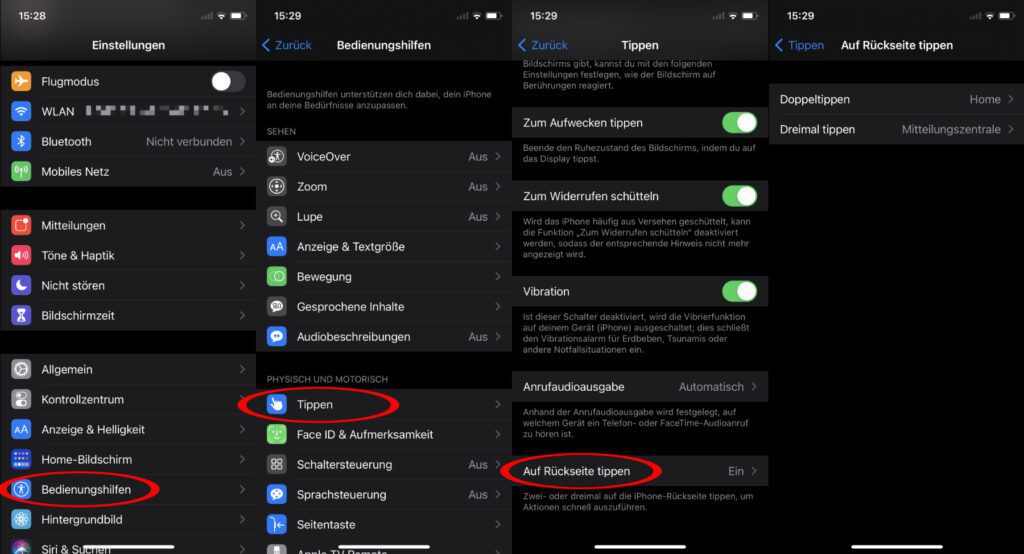 Tap on the back of the iPhone: Options that you can activate
If you've followed the instructions above, you can now choose what should happen when you tap twice or three times on the back of the Apple smartphone. These functions are available on the iPhone X (my test device): app switcher, lock screen, screenshot, one-handed mode, home, control center, Volume Up, Volume Down, Notification Center, Shake, Siri, Spotlight, Mute, AssistiveTouch, Speak Screen, Reverse Smart, Reverse Classic, VoiceOver, Zoom, Scroll Up, Scroll Down. There is also the option of linking shortcuts to tapping on the back.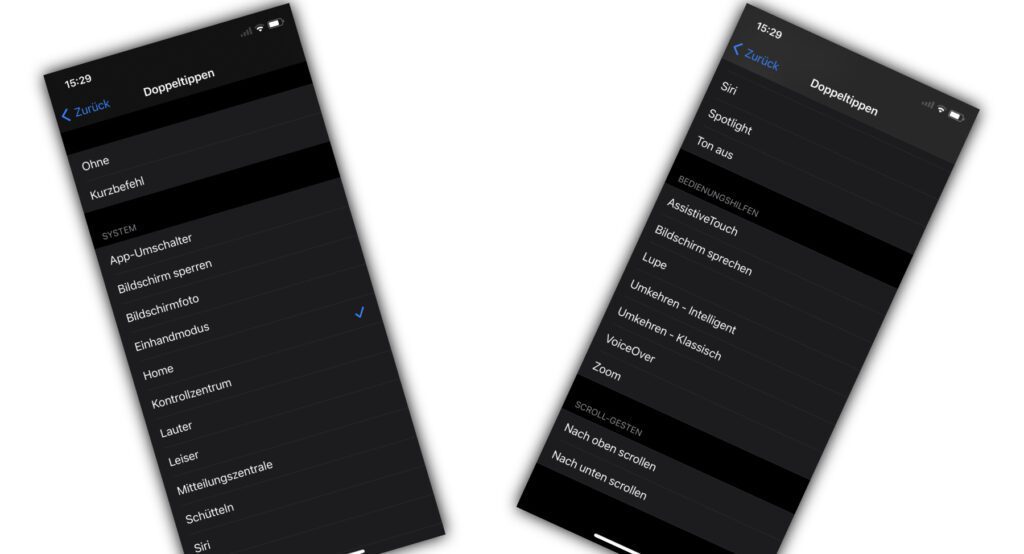 iPhone X from 2017 is slow to respond
I don't know how it is with more recent models, but there was a slight delay when testing the function on the iPhone X. That means, I tapped the back of the device twice or three times and then it took a good second for the selected function to start. In addition to the age of the device, this can of course be due to the fact that the system first checks whether there are further movements, bumps or interactions. Not that the tap function is accidentally triggered for a movement that wasn't actually a tap. Which operating aid do you use on the iPhone? Feel free to leave a comment on the topic;)
After graduating from high school, Johannes completed an apprenticeship as a business assistant specializing in foreign languages. But then he decided to research and write, which resulted in his independence. For several years he has been working for Sir Apfelot, among others. His articles include product introductions, news, manuals, video games, consoles, and more. He follows Apple keynotes live via stream.