Last week Apple did presented the four new iPhone models. A charger or power supply unit is not included with any of these. If you want to buy an iPhone 13 and don't own a suitable charger with a USB-C connection, then you will find the right selection here. You can buy the examples shown on Amazon with Prime Shipping so that they can get to your home quickly.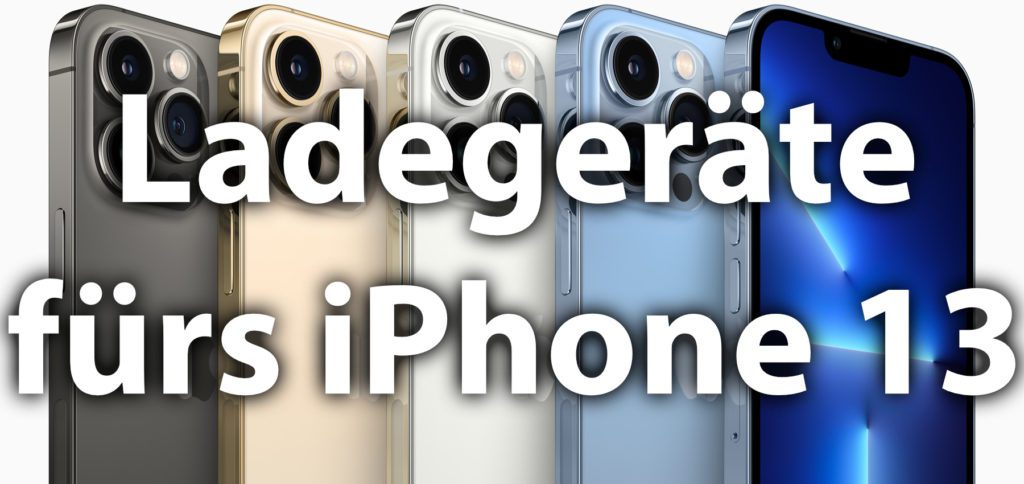 Apple USB-C Power Adapter with 20W power
Both that iPhone 13 (mini) as well as that iPhone 13 Pro (Max) just bring a USB-C to Lightning cable and short, printed instructions. In order to charge the battery of Apple smartphones, a charger must already be available - or you have to buy one. Of course, Apple offers its own solution for everyone who does not yet have a USB-C power supply. The Apple USB-C Power Adapter with 20W power costs at Amazon currently 19,76 euros instead of 25,00 euros. It is suitable for using the quick charge function that has been around since the iPhone 8 and iPhone X. You can use it to charge the 13 series by up to 30% within 50 minutes.
7,06 EUR
Apple 20W USB-C Power Adapter
With the Apple 20W USB ‑ C Power Adapter (power supply unit) you can quickly use your iPad Air at home, in the office or on the go ...
The power adapter is compatible with any USB ‑ C capable device. However, for optimal charging, Apple recommends using it with ...
You can also connect it to an iPhone 8 or later to use the quick charge function.
Charger for iPhone, iPad and Co.
If you want to charge several devices with your new charger, then of course a multi-port power supply is the right choice. An example would be the UGREEN 70774, which not only offers 65W power, but also three USB-C and one USB-A ports. With it you can charge the iPhone, the iPad, the camera, the flashlight and much more at the same time. The charger is equipped with Power Delivery 3.0, Quick Charge 4.0+ and other standards. You can of course also use it for Android smartphones and tablets. Besides, it is compatible with the MacBook Air and MacBook Pro. There is currently a 5 euro discount voucher on the product page.
Power adapter for iPhone, MacBook and more
But maybe you're looking for an even more powerful power adapter to power the MacBook and charge both the iPhone 13 and the iPad, iPad mini, iPad Air or iPad Pro at the same time. A good choice here would be a 100W power supply - for example the UGREEN 40747. This also offers three USB-C and one USB-A port. Fast charging is possible via Power Delivery and Quick Charge. In addition, as with the previous chargers for iPhone 13 and Co., the individual devices only use as much power as they need. So you don't have to worry that "too much" electrical energy will be smuggled in and something will be damaged.
10,21 EUR
Note: If you are unsure which cable is best for charging your Apple smartphone, then I can refer you to the article on the iPhone 13 charging cable recommend. There it is explained what is involved USB Power Delivery, USB Type C and Lightning.
Chargers from Anker: Good power supplies with up to 65 watts
As Sir Apfelot readers, you probably already know the manufacturer Anker from contributions such as "Anker PowerPort III Nano: does it have what it takes for the new universal smartphone power supply?","In the test: Anker PowerPort Atom III USB-C power supply with 60 watts"Or"In the test: Anker USB-C charger PowerPort III mini with PowerIQ 3.0". You can read about the advantages and disadvantages of the chargers in the linked test reports. You can also find models like that on Amazon Anker PowerPort Atom PD 2 or the Anker PowerPort Atom III Slim. There are currently no models with 100 watts from this manufacturer.
USB-C chargers with 100W - bestsellers on Amazon
I would have liked to recommend a few more manufacturers to you, but for some this is no longer possible. Because although I personally have had very good experiences with AUKEY chargers (as well as with other devices), this manufacturer has flown from the Amazon site. If you want to look around the current range of well-known and unknown manufacturers, then I recommend the following Amazon bestseller list for USB-C chargers with 100W power. This updates itself automatically and always shows the currently best-selling and best-rated copies.
#
Preview
Product
Rating
Price
1
UGREEN Nexode 100W USB C Charger GaN USB C Power Supply 4 Ports Charger PD Charger with PPS...

78,20 EUR

67,99 EUR

Buy it at Amazon
2
Baseus quick charger USB C 100 W, PD power supply USB C with GaN II Tech 4 ports [2USB-C + 2USB]...

233 Reviews

59,99 EUR

50,99 EUR

Buy it at Amazon
3
USB C charger, Spigen 120W GaN Fast 4-Port USB C charging station USB-C PD USB-A Fast Charging Hub...

77,99 EUR

Buy it at Amazon
4
Pluggify 100W GaN III USB C Charger 4 Ports Fast Charger PPS Power Supply QC4.0 Compatible...

75,99 EUR

69,99 EUR

Buy it at Amazon
5
Baseus USB C fast charger 100 W 4 ports, power supply USB C with GaN Tech, 2C + 2A ports,...

62,99 EUR

Buy it at Amazon
After graduating from high school, Johannes completed an apprenticeship as a business assistant specializing in foreign languages. But then he decided to research and write, which resulted in his independence. For several years he has been working for Sir Apfelot, among others. His articles include product introductions, news, manuals, video games, consoles, and more. He follows Apple keynotes live via stream.
The page contains affiliate links / images: Amazon.de