It was known long before the release: The iPhone 7 or 7 Plus will no longer have a headphone jack and will only have a Lightning connector. I knew that too, of course, and yet I got into the car the first time with my new iPhone 7 Plus and pulled out my 3,5 mm jack cable and wanted to connect the iPhone to my car radio. Fooled! It's not that easy anymore ...
[alert style="warning"]Update 22.11.2016/5/10: The adapter is currently causing me some problems. In addition to the warning "This accessory is not suitable for your iPhone!", the music playback keeps breaking off for me. When I listen to podcasts or music, it sometimes stops after XNUMX-XNUMX seconds. This makes it almost impossible to hear anything with it. The manufacturer wrote to me that I will soon receive the new model for testing. Maybe then the problem is solved. I will keep you up to date. :)
Until there is a working Lightning-to-AUX / USB adapter, I would recommend that you simply send the audio signal via Bluetooth to a Bluetooth audio receiver, which is then plugged into the jack of the car. A cheap device for this is the BT receiver from TaoTronics or this one from Logitech with cable (so you can extend it out of the glove box). As soon as I find a new adapter that works, I'll post it here![/alert]
iPhone 7 problem: charging and listening to music at the same time
The problem with that missing 3,5 mm headphone jack is halfway through the one provided by Apple Lightning to jack adapter solved, but still I was faced with a problem: When I drive with my iPhone as a navigation system, I need electricity for long journeys so that the iPhone is not empty halfway. With the iPhone 7 you have to decide: Either power or audio via the Lightning port - neither is possible. At least not without an adapter ...

Lightning port charging adapter with 3,5 mm jack
I also ordered the solution to my problems relatively quickly from Amazon: A charging adapter that has a Lightning plug as well as a Lightning socket and a headphone jack. This gives you a distributor and can tap music via a jack connection as well as connect a USB Lightning charging cable to the iPhone 7.
Function and processing of the OnPrim Lightning adapter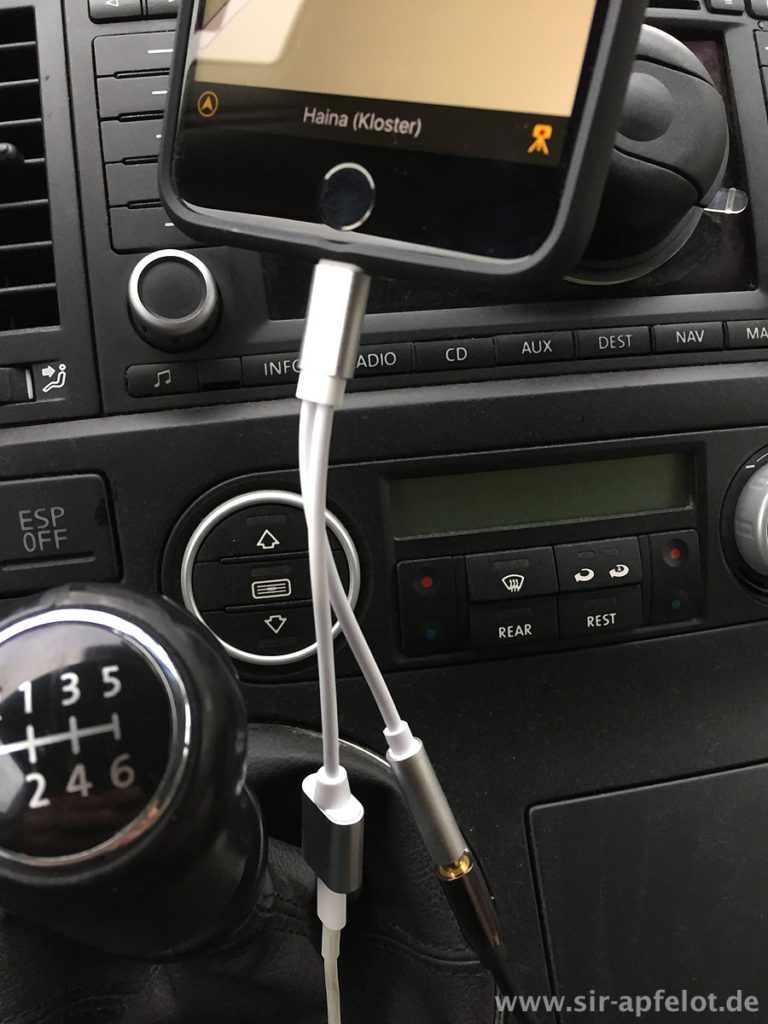 I personally think the look of the adapter cable is successful. But of course the function was much more important to me. Since I have often had problems with non-mfi-certified cables, I was of course particularly critical of the Lightning adapter. But so far the iPhone charges without any error messages and the music is transferred cleanly to the car radio - everything I wanted.
Another function that I can continue to use as a "goodie": Despite the adapter, the iPhone recognizes when you unplug the jack cable and then stops playback. I often use this to one-handedly pause podcast playback when I need something quick and don't want to unlock the iPhone. Although it has to be said that it is easier to unplug the Lightning connector from the iPhone - this does not load the adapter and leads to the same reaction.
In addition to the silver variantthat I bought, there is also one on Amazon Gold version and Rose gold version. Only as information for our girls or other color fetishists. ;)
Limitations and criticisms from other customers
There are already the first reviews of this adapter on Amazon. For example, a customer has the problem that the aluminum sleeve has come loose from the connector. With my model, however, everything is stuck - and if this should happen: I know how to use glue.
However, the following restrictions, which other customers report and which I can also confirm, seem more important to me: On the one hand iTunes does not recognize the iPhone 7 on the Mac, if you have switched the adapter in between. And on the other hand - certainly perceived as problematic by more people - the remote control does not work on the cable of the Apple headset more. This should be particularly important for people who want to use the adapter to make calls and charge at the same time.
Neither is an issue for me, since I only hear navigation announcements or podcasts in the car and control the volume on the iPhone or the car radio anyway.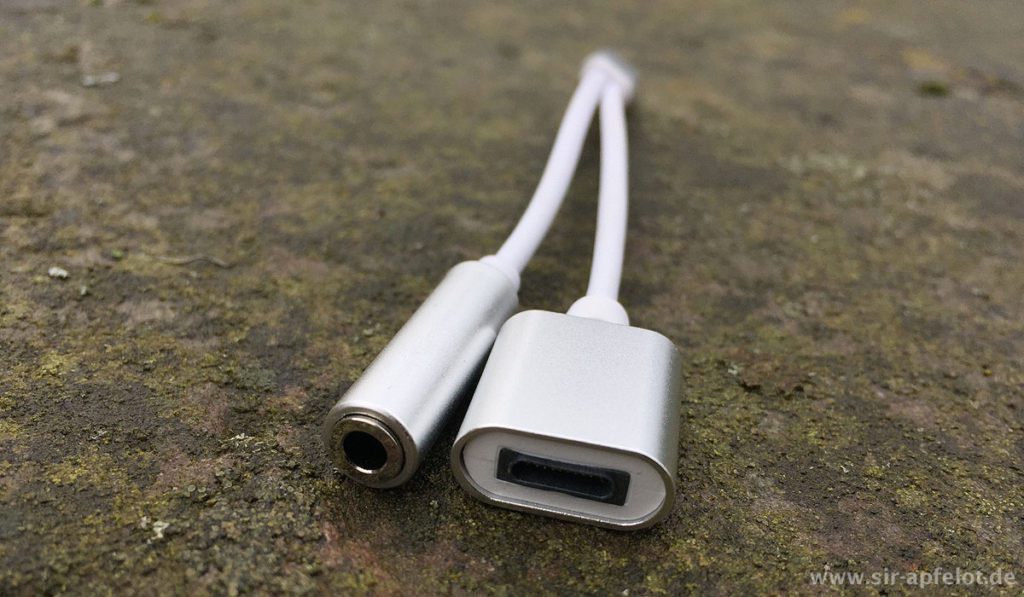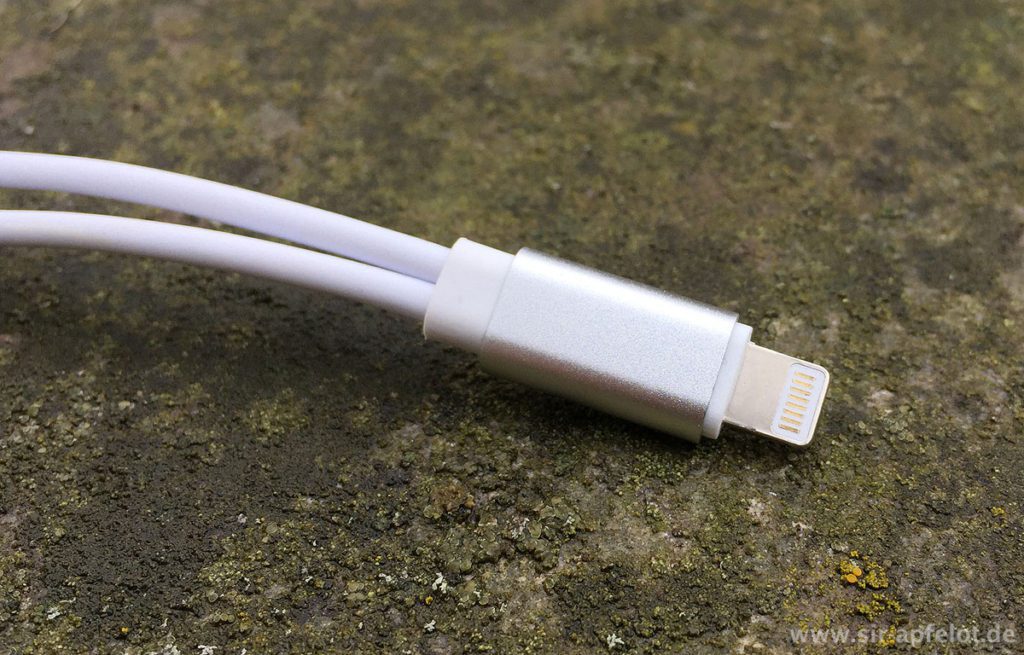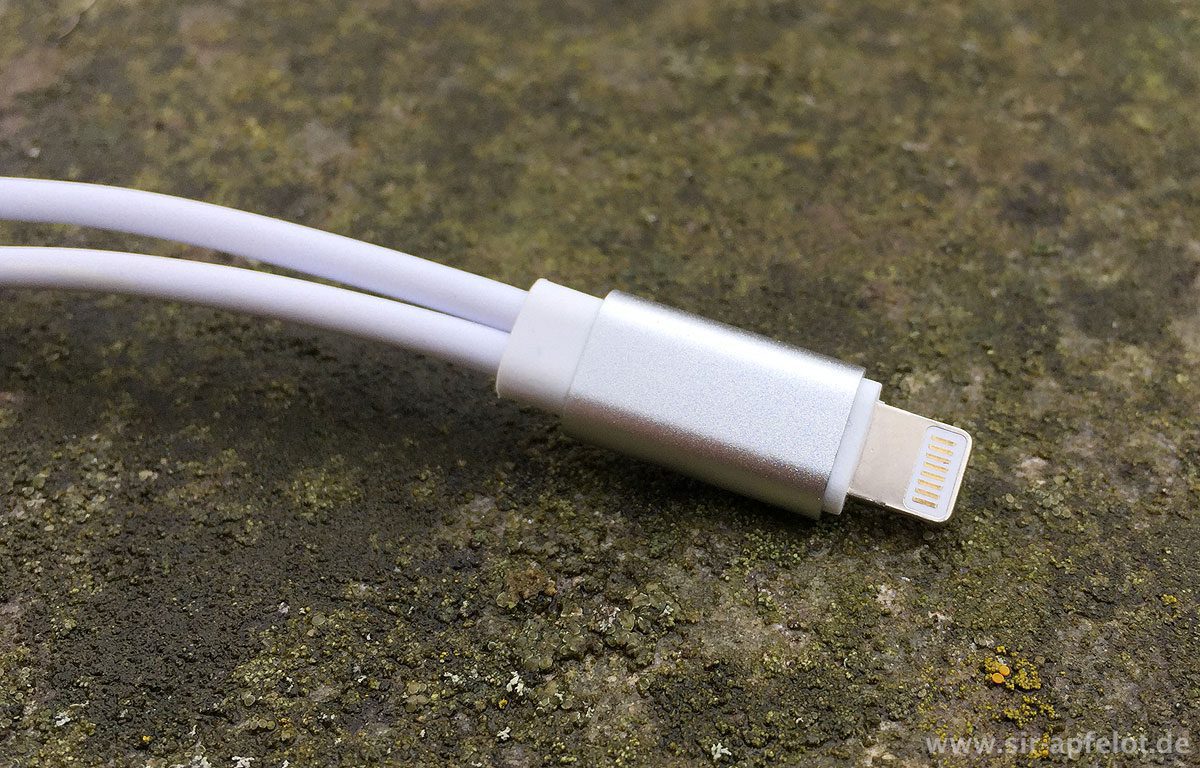 Missing MFI certification - no problem (yet)
A note regarding the non-existent mfi certification But I would like to give one more thing: If after a certain time you get the error message "This cable or accessory is not certified and may not work reliably with this iPhone", then I would send the OnPrim adapter back. Finally, the iPhone 7 is advertised as being able to charge and listen to music at the same time. If you can no longer use this basic function due to an error, then this would certainly be a reason to complain about the product.
As I said: So far no customer has written anything about it and nothing like this has happened to me either, but the error sometimes only appears after weeks of use and then appears irregularly when you plug in the corresponding accessories. This is just a hint ...
Conclusion: Lightning headphone adapter with charging function
In principle, I can only recommend this adapter. Even if big brands like Belkin jump into the same breach with the "Lightning Audio + Charge Rockstar" adapter and maybe achieve higher compatibility, this adapter from OnPrim currently offers two major advantages:
it is already on sale and ...
it is a very inexpensive Lightning to 3,5 millimeter jack adapter with charging function.
The Belkin adapter would have another disadvantage, because it only offers two Lightning ports, so that you also have to plug in the Apple Lightning to jack adapter in addition to this adapter. This is not necessary with the OnPrim, as it has a 3,5 mm jack socket.
If you want to take a look at the OnPrim adapter, you will find it here at Amazon. However, you shouldn't be put off by the negative overall rating, because some users have given 1-star ratings because the restrictions mentioned above are in place:
Jens has been running the blog since 2012. He appears as Sir Apfelot for his readers and helps them with problems of a technical nature. In his free time he drives electric unicycles, takes photos (preferably with his iPhone, of course), climbs around in the Hessian mountains or hikes with the family. His articles deal with Apple products, news from the world of drones or solutions for current bugs.
The page contains affiliate links / images: Amazon.de