Apple is now offering the iPhone SE with twice the storage space, but at the previous price; and the entry-level model for tablets, the iPad Air 2, has been completely overhauled once and is now offered simply as the "iPad". I have summarized the details, important technical data and prices for you.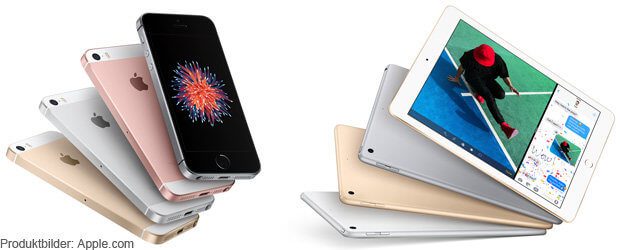 iPhone SE: double the storage for the same price
The Apple iPhone SE comes with a 4 inch retina display, a fast A9 chip and a 12 megapixel camera on the back. The M9 coprocessor ensures fast sensors and therefore unique operation - at least if you don't want to operate the old-fashioned way by typing. Movements, acceleration, GPS, Siri: everything is possible, everything can be measured. With the camera, recordings are also in 4K resolution possible; these can also be edited directly on the iPhone SE. Basically, as Apple fans, you have known the smartphone for a long time, it's not new. Only the now doubled memory makes the phone more attractive (can be ordered from March 24, 2017, 16 p.m.):
iPhone SE with 32 GB of storage for € 479
iPhone SE with 128 GB of storage for € 589
iPad is being overhauled: new entry-level model
The new tablet from Apple, simply called iPad, has a 9,7 inch retina display, an A9 chip, iOS 10, a Touch ID fingerprint sensor, an 8 megapixel camera and an HD Facetime camera, and up to 10 hours of battery life many more great specs. By the way, up to 866 Mbit / s can be downloaded via WLAN connections for streaming films and other web applications. With LTE it is up to 150 Mbit / s. You can also find details about the new iPad on the Apple website. Here, too, the release is on March 24, 2017, at 16:00 p.m.:
iPad with 32 GB storage (Wi-Fi): 399 €
iPad with 32 GB storage (Wi-Fi + Cellular): 559 €
iPad with 32 GB storage (Wi-Fi): 499 €
iPad with 32 GB storage (Wi-Fi + Cellular): 659 €
What do you think of the revised models of iPhone and iPad? Is the impulse to buy these Apple devices now greater on your part? Feel free to leave a comment on the topic :)
After graduating from high school, Johannes completed an apprenticeship as a business assistant specializing in foreign languages. But then he decided to research and write, which resulted in his independence. For several years he has been working for Sir Apfelot, among others. His articles include product introductions, news, manuals, video games, consoles, and more. He follows Apple keynotes live via stream.