If you are familiar with the topic, know the individual data sheets (or at least know where to find them) and can also recognize which product you have in front of you by certain characteristics, then Apple's range of devices is not a problem. But what if you go into the store completely clueless and say: "I want to buy an iPad". Then it becomes difficult. Not just because it's next the new entry-level model of the 10th generation its predecessor is also on offer. But also because the current iPad looks confusingly similar to the current iPad Air. And then there are the mini and pro models...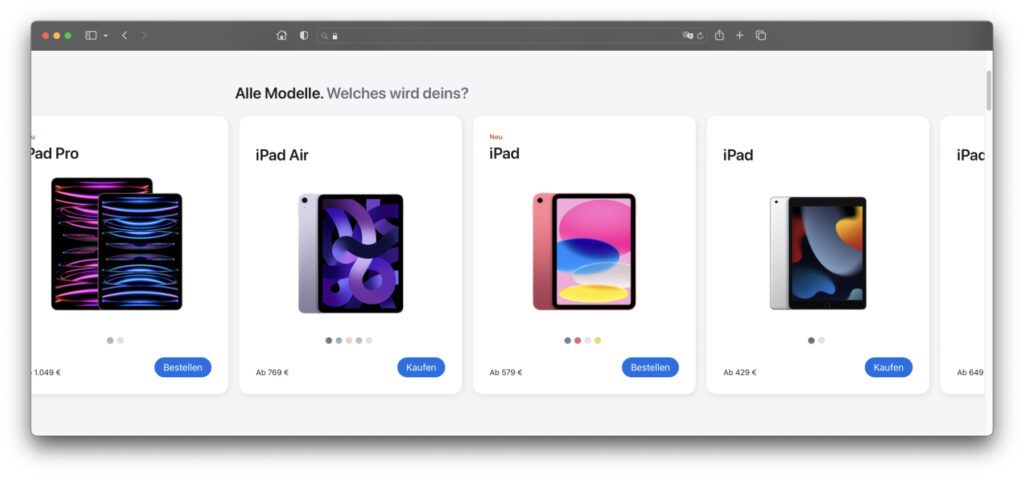 Which iPad should I buy?
Personally, I don't have an iPad and I don't need one. But maybe that's why it's easier for me to slip into the role of the uninformed person. Because if I wanted to buy an iPadOS tablet now, which one should I choose? In everyday life with email, YouTube, Netflix, photos, Apple Arcade and so on, it probably makes no difference whether I use the 2021 iPad or the 2022 iPad.
But if I want a larger display, 4K video recording, no home button, Bluetooth 5.2, WLAN 6, 5G mobile communications and USB-C for charging, then I should go for the 10th generation. It's also compatible with more recent accessories, such as the Magic Keyboard Folio instead of the Smart Keyboard. Here is a comparison of the two current models: Apple iPad 10 (2022) vs Apple iPad 9 (2021). Which one would you choose?
The iPad (10th gen) looks confusingly similar to the iPad Air (5th gen).
Although not the exact same, the current iPad and the 5th generation iPad Air very similar dimensions. Also, they both have a 10,9-inch display, a single 12 MP camera on the back, no home button, a Touch ID button on the top, and so on. Externally, they can basically only be distinguished by the packaging or unpacked by the housing colors:
iPad (10th Gen): Silver, Pink, Blue, Yellow
iPad Air (5th gen): Space Gray, Polaris, Rose, Purple, Blue (more like Turquoise)
But you should get away from the optics when comparing them. Because while the iPad uses an A14 Bionic chip, the iPad Air has an M1 chip installed, which is also used in MacBook and iMac models. It also supports the 2nd generation Apple Pencil, uses a P3 color space (the iPad only sRGB) and has a media engine for hardware-accelerated encoding and decoding of videos.
What about the iPad mini?
Currently Apple also offers the 6th generation iPad mini on. Although this is noticeably smaller with its 8,3-inch display, it also has a few other significant differences to the aforementioned tablet models. This is how the A15 Bionic Chip is used – known from the iPhone 13 series, the iPhone 14 (Plus) and the current Apple TV 4K. It is also the only non-Pro model to have a flash for photos on the back. Like all current iPads, it features USB-C, 5G and can even be used with the Apple Pencil 2.
However, it cannot be used with an Apple Smart Keyboard Folio or an Apple Magic Keyboard Folio (no Smart Connector installed), only with Bluetooth keyboards or third-party folios. At 326ppi, it has a higher pixel density than the aforementioned 264ppi iPad versions. There is also a P3 color space. The camera system of the iPad mini is the same as that of the iPad and the iPad Air. Unlike the latter, however, it doesn't have a media engine for accelerated video editing.
Differences between the 11-inch and 12,9-inch iPad Pro
This week Apple introduced two new iPad Pro models, the 11th generation 4-inch and the 12,9th generation 6-inch. Both have the M2 chip, a 12MP wide-angle and 10MP ultra-wide-angle camera system with lidar scanner and flash, USB-C with Thunderbolt 4 support, Face ID, Apple Pencil 2 compatibility and many other matching specs. But there are important differences.
Because while both bring a typical brightness of 600 nits for SDR content, the 12,9-inch model is the only one that has the additional option of delivering up to 1.000 nits in full screen mode and up to 1.600 nits for HDR content. Because it has a "Liquid Retina XDR Display" while the 11-inch model has a "Liquid Retina Display" (Details here). However, both have a P3 color space, up to 16 GB of RAM, a media engine including ProRes editing, etc.
Apple iPad Models: The Fastest Way to Compare All
As you can see, there are everyday models, some for specific fields of application and some for photo and video professionals. If you haven't been able to get a clear picture from the explanations here and if it's too tiresome for you to click on the many links and compare the technical data of the individual tablets yourself, then there is an alternative (especially since I haven't even commented on audio -Specs received).
If its the Apple website apple.com visited, then you can click on "iPad" in the menu at the top of the website. The selection of individual devices and "Compare" then appear under the menu. Click on it and select up to three iPads to compare. Scroll down and let yourself be informed by a long table with information and data. This is probably the best comparison you can get. At least if you know roughly what you want.
After graduating from high school, Johannes completed an apprenticeship as a business assistant specializing in foreign languages. But then he decided to research and write, which resulted in his independence. For several years he has been working for Sir Apfelot, among others. His articles include product introductions, news, manuals, video games, consoles, and more. He follows Apple keynotes live via stream.