The watchOS 9 operating system brings new features and possible uses to the Apple Watch. What those are, Apple said yesterday as part of the WWDC22 keynote shown. The kick-off event for the developer week traditionally served to show the innovations in the upgrades for iOS, iPadOS, macOS and other systems. The M2 chip was also presented this time. With regard to the Smartwatch, the question now arises: Is my Apple Watch compatible with watchOS 9? Of course, you can find the answer in this guide. Just scroll down a little and you will find the list of models that will receive the upgrade in autumn 2022.
These Apple Watch models are compatible with watchOS 9
Apple Watch Series 4
Apple Watch Series 5
Apple Watch SE
Apple Watch Series 6
Apple Watch Series 7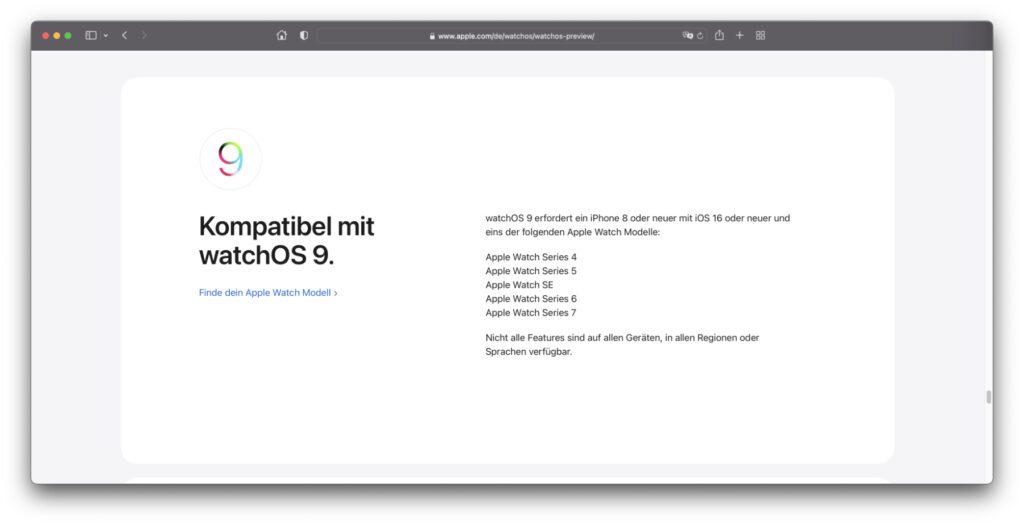 watchOS 9 Compatibility - Some watches can do more than others
As with watchOS 8 last year, one can say for the upcoming Apple Watch operating system: Not all functions will be usable with all previous and compatible series. The older generations and the slimmed-down SE model in particular will not be able to support every feature - this was the case with the ECG function last year, for example. This year, that may apply to some sports and health features. But also the sleep monitoring including the determination of the completed sleep phases may be limited to certain models of the Apple Watch.
When is the watchOS 9 upgrade coming?
The official upgrade to watchOS 9, which will be released for all users of the watches mentioned above, will not be available until autumn 2022. As always, the new system will only be rolled out when the new device that goes with it comes onto the market. This year this will probably be the Apple Watch Series 8. It remains to be seen whether there will also be an updated version of the Apple Watch SE. Of course, as always, beta versions can be used in advance. A version for developers is already available. The public beta will follow in July.
Learn more about watchOS 9 and other new systems
If you want to know in detail what innovations watchOS 9 brings to your Apple Watch, then I recommend mine Summary of the WWDC22 keynote of yesterday. I get into that too iOS 16, iPadOS 16 and macOS Ventura. Of course, you will also find the respective compatibility lists for these operating systems here at Sir Apfelot. There is also more information about watchOS 9 on the official preview page by Apple. From there I also took the list with the compatible Apple Watch Series'.
Apple WWDC22 Keynote as video
In addition to the text here and the summary of yesterday's stream linked above, you can also watch it again as a video-on-demand on YouTube. In the following I have embedded the video of the kick-off event of the Apple World Wide Developers Conference 2022 for you. What do you think of the innovations presented? Are you still missing certain features? Feel free to leave a comment :)
After graduating from high school, Johannes completed an apprenticeship as a business assistant specializing in foreign languages. But then he decided to research and write, which resulted in his independence. For several years he has been working for Sir Apfelot, among others. His articles include product introductions, news, manuals, video games, consoles, and more. He follows Apple keynotes live via stream.