As part of yesterday's WWDC20 keynote, Apple presented the new operating system for its tablets. But for which tablet models exactly? Is your iPad compatible with iPadOS 14? Here you will find the answer to this question in the form of a list of compatible iPads that will get the new OS from autumn. In addition, there are a few new features below, in addition to the 14 iOS Features get on the iPad as well as further information and sources - for example mine WWDC 2020 Keynote Summary ;)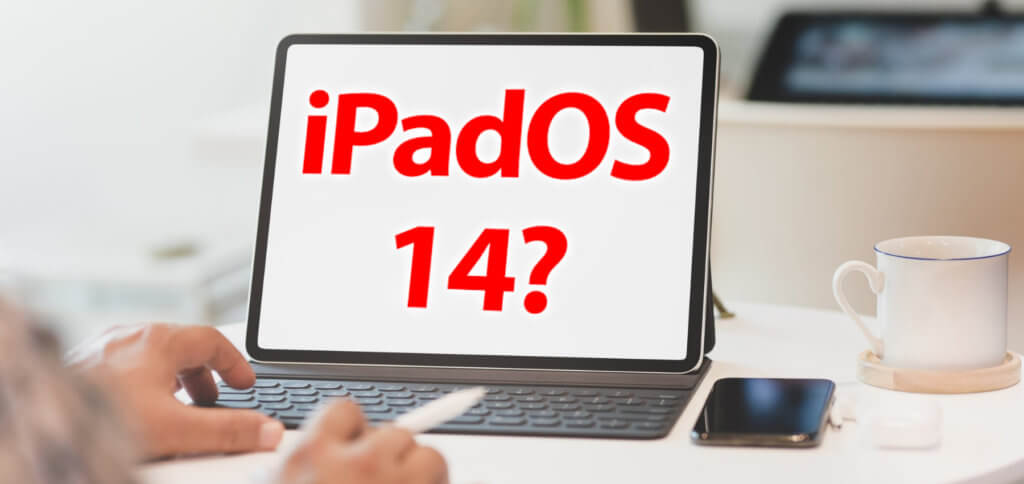 Apple iPad models compatible with iPadOS 14
There were already a lot of leaks and rumors about iOS 14 in the run-up to yesterday's presentation. As always, there was less information for iPadOS. But that's not bad, since a lot of iOS appears in iPadOS anyway. However, we had to wait for the information about which iPads will be compatible with iPadOS 14. Now Apple has published the official list on its website:
iPad Pro 12,9 inch (4th gen)
iPad Pro 12,9 inch (3rd gen)
iPad Pro 12,9 inch (2rd gen)
iPad Pro 12,9 inch (1rd gen)
iPad Pro 11 inch (2rd gen)
iPad Pro 11 inch (1rd gen)
iPad Pro 10,5 inches
iPad Pro 9,7 inches
iPad (7th gen)
iPad (6th gen)
iPad (5th gen)
iPad mini (5th gen)
iPad mini 4
iPad Air (3rd gen)
iPad Air 2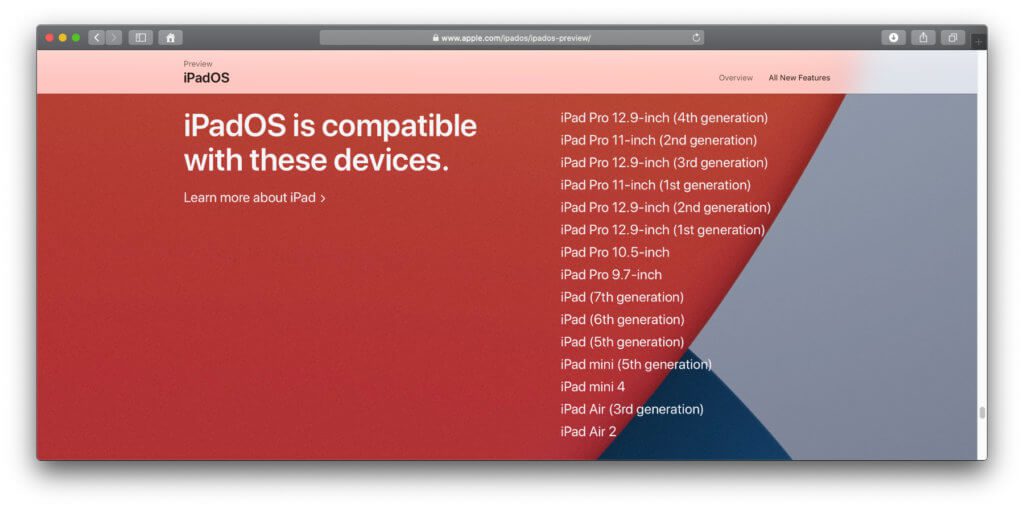 New features for iPad models with iPadOS 14
The new operating system for Apple tablets will be rolled out from autumn 2020; As you can see from the list above, the same models are provided that are already used works with iPadOS from 2019 to have. In addition to the functions and innovations that I have already brought together for you in the articles on iOS 14 and the WWDC20 Keynote linked above, the following is also coming to the iPad (complete overview at Apple):
Sidebars for photos, notes, files, calendars and other apps to make navigation and organization easier
Drop-down menus make using the app as easy as under macOS
New search function with more scope so that it can rival Spotlight on the Apple Mac
Scribble ensures better handwriting recognition; Handwritten entries with the Apple Pencil are also recognized in text fields, search fields and so on
There is shape recognition in the notes; simply draw a shape (circle, star, etc.) and continue to press the display with the Apple Pencil - it becomes a geometric shape
Better augmented reality through ARKit 4
Siri comes with a new look, new knowledge and new functions; instead of full-screen use, Siri now appears at the bottom right so that you can still see the information on the display
And much more that I have already shown you elsewhere
The new macOS 11.0 Big Sur: These Mac models get the upgrade
Watch Apple WWDC 2020 Keynote Now
Did you miss the June Special Event yesterday evening that started this year's World Wide Developers Conference? Then you can either read through the summary linked at the beginning or the corresponding one Video on YouTube look at. You can of course also find it using the player embedded below;)
Jens has been running the blog since 2012. He appears as Sir Apfelot for his readers and helps them with problems of a technical nature. In his free time he drives electric unicycles, takes photos (preferably with his iPhone, of course), climbs around in the Hessian mountains or hikes with the family. His articles deal with Apple products, news from the world of drones or solutions for current bugs.