If you want to get into the trade and open a shop or a goods store, you will at some point have to deal with the topics of the cash register system, register cash obligation / GoBD, and possibly the providers iZettle and sum up deal with. What the two providers of mobile POS systems iZettle and Sum Up offer, whether they comply with the requirements of the Federal Ministry of Finance and further information can be found below.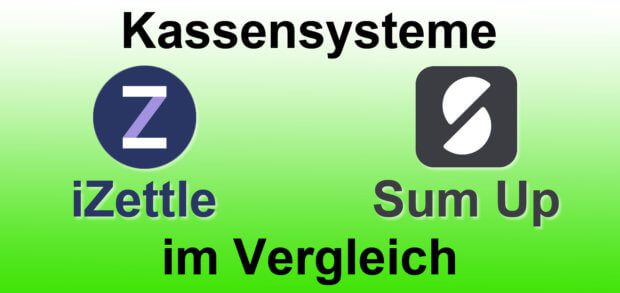 Cash register system for start-ups
If you want to open a shop, a snack bar, a goods store or something similar where your customers want to calculate the prices at a till and accept money by cash, EC or credit card, then there are some guidelines from the federal government. In order to prevent tax fraud, electronic cash registers must have technical security devices. This emerges from several resolutions in recent years, which also stipulate that and how these safety devices must be certified. More on the subject on the following graphic and on the Website of the Federal Ministry of Finance.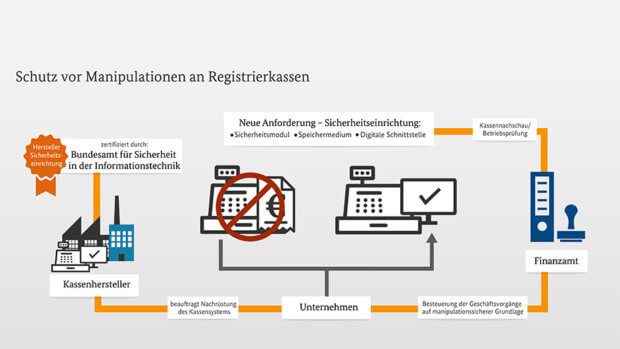 What does GoBD mean?
GoBD is short for Principles for the proper management and storage of books, records and documents in electronic form as well as for data access. The abbreviation GoBD stands for the successor regulations of the GDPdU, i.e. the Principles of data access and the verifiability of digital documents. The GoBD was issued in 2014 by the Federal Ministry of Finance in its final form at the time and has been valid since the beginning of 2015. In 2016 they were adjusted again, which you can read on the page linked above. The aim of the regulations is to prevent tax evasion and fraud in trade.
This is what the iZettle system offers
Candy store, souvenir shop, record store or the next big franchise for selling tech and digital goods? The provider iZettle seems to have a solution for everything. You can set up yourself extensively with various devices such as cash register systems, card readers, receipt printers, cash drawers, barcode scanners and the like.
In addition to managing income in cash and in the form of plastic, there are other possible uses due to the digital system:
Generate reports on sales and revenue
Filtering of reports by location, employee, etc.
GoBD-compliant work according to the requirements of the Ministry of Finance
Automatic inventory management, notification in the event of expiry
Archiving of receipts, reimbursement at the push of a button
If you want to know more about iZettle, the iOS- and Android-compatible devices and the individual services, visit the Website of the provider. Below I have also put together a comparison with the provider Sum Up for you.
Card reader, iPad, cash register and more from Sum Up
I saw Sum Up in action for the first time at my lawyer, who logically does not conduct any goods business, but also accepts payments that somehow have to be archived in a traceable manner. I found the input of the amount in the iPhone and the debiting of the amount via EC card and the Sum Up card terminal quite interesting. This can also read credit cards or receive data from the plastic cards via NFC. In addition, Sum Up offers complete point of sale (POS) cash register systems with iPad, iPad holder, cash drawer, receipt printer, etc.
There are no monthly fixed costs when using Sum Up and the associated card reader and software. These features and services are also included:
GoBD-compliant cash register system for cash and plastic receipts
iOS or AndroidApp for extensive use
Online dashboard and reports
Digital bookkeeping, inventory, personnel management, etc.
Support by email and phone
Would you like to find out more about the provider and browse the Sum Up shop to find exactly the right POS system for your shop, franchise, restaurant or delivery service? Then take a look at the Page of the provider .
Comparison of iZettle and Sum Up
Both offers are modern, digital cash register solutions for start-ups and all those who want to modernize their cash register system. Both iZettle and Sum Up convince with clear interfaces and many useful features. Nevertheless, here is a small comparison that - admittedly - shows differences primarily in the price of the POS system:
| | | |
| --- | --- | --- |
| | iZettle | sum up |
| Compatibility with iOS and Android | Ja | Ja |
| Compatible with Apple Pay? | Ja | Ja |
| Offers its own hardware at a fixed price (no rental or leasing) | Ja | Ja |
| Fixed costs per month (without cash register system and tariff) | €0 | €0 |
| Opportunities for reports, branch management, digital accounting, etc. | Ja | Ja |
| So does GoBD offer conformity? | Ja | Ja |
| Costs for the cheapest system | 79 € for the card reader; until August 31.08.2017, 29 only 39 € or XNUMX € | € 79 for card terminal; until August 31.08.2017, 39 only XNUMX € |
| Transaction costs (when using reader and app) | 0,95% per EC and 2,75% per credit card payment | 0,95% per EC and 2,75% per credit card payment |
| Cash register system (POS) costs | Currently from € 649 | 999 € (including iPad 2017) |
| Monthly costs / tariffs when using the cash register system | No | Tariffs can be selected from € 39 per month |
| Information and shop | Website / Offers page | Website |
Conclusion on the topic
It is 2017 and both legislation and general digitization are pushing retailers, service providers and other economic operators to ever new systems. With the offers from iZettle and sum up In particular, entrepreneurs and those who have just become self-employed who want to accept payments by debit card, credit card, Apple Pay and Co. can keep their fixed costs low. The card readers are inexpensive and neither offer any monthly costs. In addition, the costs for transactions and the processing times of the payouts of up to 2 or 3 days are the same.
What do you think of these providers? Have you already had experience with them or are you looking for a modern cash register system? App for iPhone, iPad and Android devices just came across this article? Have I forgotten something important? Feel free to leave a comment with your opinion!
After graduating from high school, Johannes completed an apprenticeship as a business assistant specializing in foreign languages. But then he decided to research and write, which resulted in his independence. For several years he has been working for Sir Apfelot, among others. His articles include product introductions, news, manuals, video games, consoles, and more. He follows Apple keynotes live via stream.