The provider avaGram For a long time it was an insider tip for everyone who wanted to display Instagram profile pictures in high resolution in the browser. Because where you can click on most of the pictures on an Insta profile to enlarge them, this procedure does not apply to the avatar of the account. Since avaGram is down, you have to look for an alternative - and go with it izuum you found one quickly. Instagram profile pictures can also be displayed in their original size with izuum.
izuum - avaGram alternative for large Instagram profile pictures
If not much can be seen on the small preview image of the Instagram profile or if you want to take a closer look at the beautiful, interesting or puzzling picture of an account, then zooming in will help. In addition, "izuum" is an imaginative paraphrase of "I zoom", in German: "I zoom". And that is exactly what the tool does, which can be viewed as an avaGram alternative. All you have to do is enter the username in the izuum search field and hit enter. It is important to note that the @ -handle is to be understood as the username. At the Sir Apfelot Instagram Profile would that be sir.apfelot.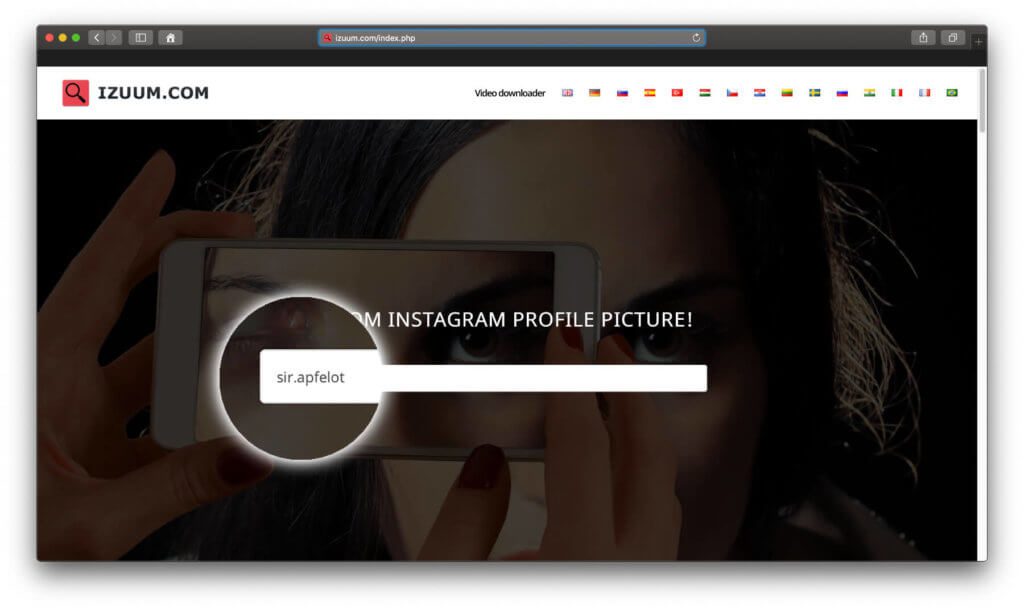 Instagram profile picture - View original size
If you have entered the profile name or its @ handle correctly and pressed Enter, the izuum page will then display the loaded profile picture. Depending on the source file, this is much larger than if you right-click on the Instagram profile and use the browser's "Open image in new tab" feature. In addition, the "View original size" button is displayed, which loads and displays the Instagram profile picture in its original size in high resolution.
Legal information about izuum
If you use the avaGram alternative izuum to display Instagram profile pictures in high resolution, then this is perfectly legitimate. It is also okay to save pictures from the Internet privately. However, Insta avatars are to be treated in the same way as other images that you did not create yourself. Be it a photo, abstract picture or drawing - almost everything is subject to copyright law and in most cases may not be published in a modified form. In addition, the display of the izuum tool here is not intended to ensure that unlawful photos of people and personalities get into other people's hands or that they are denigrated as a result or by modification.
Instagram Mac App: Here is all the information about the solution!
After graduating from high school, Johannes completed an apprenticeship as a business assistant specializing in foreign languages. But then he decided to research and write, which resulted in his independence. For several years he has been working for Sir Apfelot, among others. His articles include product introductions, news, manuals, video games, consoles, and more. He follows Apple keynotes live via stream.