A soundless moving image, a so-called GIF, enhances blog posts, chats, tweets and other Internet communication. If you want to quickly and easily access the outstanding GIF library from Giphy.com on your Mac, you should take a look Jiffy Look at the tool. Jiffy by Sindre Sorhus is available in the official Mac App Store, is free and offers you the opportunity to browse and use the seemingly endless expanses of Giphy GIFs. To quickly call up the search text field and the preview displays from the macOS menu bar, you can either click the corresponding icon or use a key combination.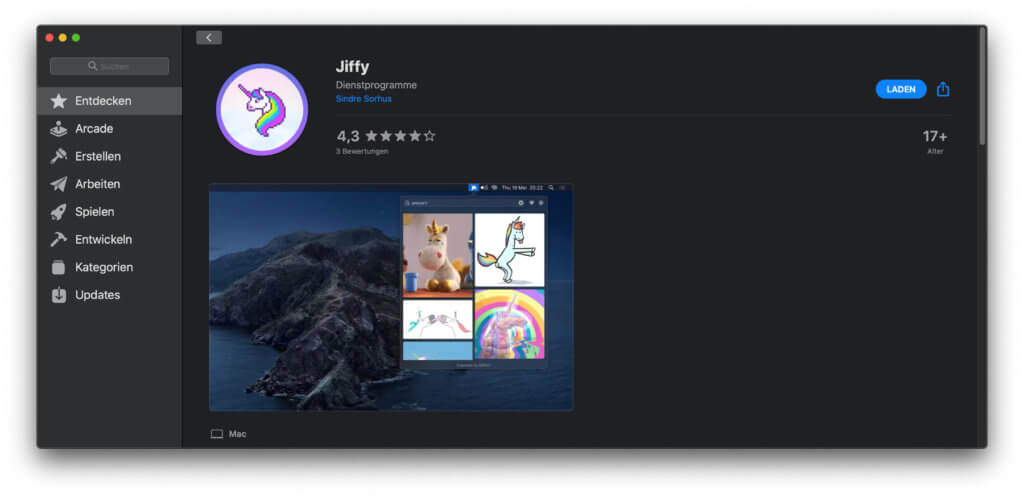 Jiffy App - Find Giphy GIFs in the Mac menu bar
The Jiffy app is in Mac App Store available and only 2,2 MB in size. In order to use it, of course, there must be an internet connection so that the Giphy directory can be accessed. After searching for GIF animations and finding the right moving image, you can either download it or copy its URL to use or embed it elsewhere. If you want to integrate the images directly into a chat, you can also drag and drop them into a messaging app. The tool is compatible with Mac, MacBook, iMac and other Apple computer models that use a 64-bit processor and have at least macOS Catalina 10.15.4 installed.
[appbox app store id1502527999]
If you have a compatible Mac, you can also use Jiffy to set favorites from the Giphy media library. This gives you quicker access to your favorite animations and frequently used reactions. If you don't want to click into the menu bar in a chat, while writing a blog post or the like, you can also highlight a word and find the matching GIF by right-clicking it and selecting "Search GIFs with Jiffy" in the menu that appears. Further functions and possibilities are presented in the App Store, including those planned for the future. Check it out ;)
via GIPHY
Jens has been running the blog since 2012. He appears as Sir Apfelot for his readers and helps them with problems of a technical nature. In his free time he drives electric unicycles, takes photos (preferably with his iPhone, of course), climbs around in the Hessian mountains or hikes with the family. His articles deal with Apple products, news from the world of drones or solutions for current bugs.