To use an Xbox, PlayStation or Nintendo Switch controller on a Mac, you usually need an additional driver or a compatible game client such as "Steam". Or just that Joystick mapper. For gamepads of the Microsoft and Sony consoles there has been support for iOS, iPadOS and macOS devices since Apple Arcade at the latest. But if you want to get even more out of the joystick, gamepad or controller, you still need third-party software. The joystick mapper app, for example, helps to integrate USB and Bluetooth controllers into the system, into individual games and other apps by individually mapping the buttons and sticks, i.e. assigning functions.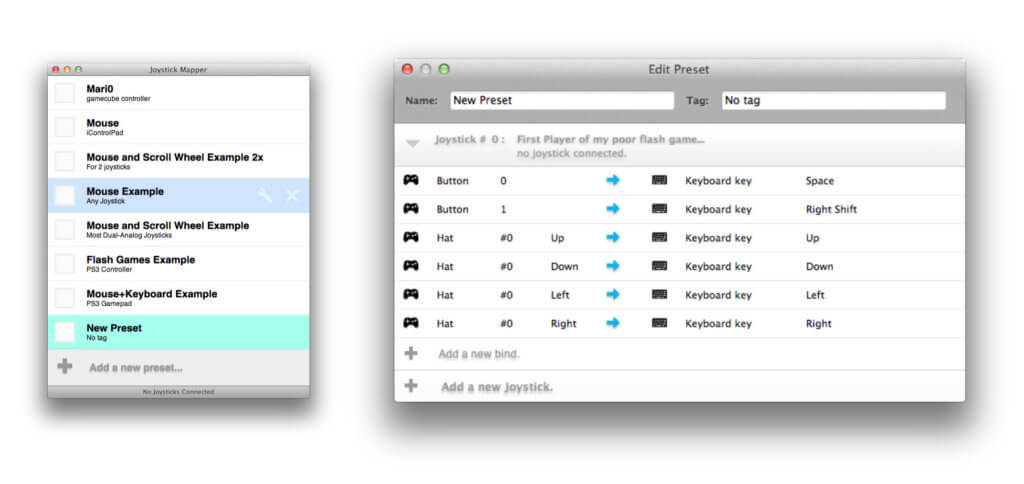 Use of the Joystick Mapper app for macOS
Granted that Developer website doesn't look too modern. However, Joystick Mapper for Mac, iMac, MacBook and Co. has only recently been updated. It is now a 64-bit app that also runs smoothly under macOS 10.15 Catalina. With the help of Joystick Mapper you can assign keyboard keys, mouse axes, mouse buttons, the mouse wheel and similar input commands to the buttons, joysticks, wheels and buttons of gaming controllers. System commands, controls for apps (music, image editing, word processing, etc.) and, last but not least, inputs for games can also be placed on the gamepad. Instead of WASD, arrow keys and mouse, thanks to the joystick mapper you play the way games should be played;)
Functions of the app for Mac, iMac, MacBook and Co.
According to the developers, the following practical functions lie dormant in the Joystick Mapper app, which is supported from Mac OS X 10.9:
Each button, each stick and each axis of the controller can be assigned a function, mouse or keyboard key
Each of the four directions of an analog stick can be assigned separately
Mouse movements are simulated smoothly
The mouse pointer speed can be set individually, also by direction
Analog shoulder buttons can be mapped as buttons
Any unusual combination is possible: any button, control pad or DPad, analog stick or analog trigger can be mapped as a keyboard command, mouse input, click or scroll
Presets can be used directly and are easy to adjust
Compatibility is given with Bluetooth and USB devices
The app's interface is easy to use
For key combinations such as cmd + C or cmd + V, the two keys only have to be assigned to the same input. Compatibility is only guaranteed for devices that support the HID joystick interface use. Another third-party driver may be required for Xbox controllers. Xbox 360 controllers do not work with Bluetooth and therefore require an adapter. You can find more tips and hints in the Mac App Store.
Joystick Mapper Download in the App Store
You can find it in the Mac App Store Download the app for € 5,49. Version 1.2 is currently available (as of November 21, 2019). This measures 1,8 MB and comes with 64-bit support for use with macOS Catalina. In addition, it is now possible to assign up to 32 mouse buttons. We also fixed some bugs and got problems with the Xbox One S controllers out of the way. You can see further information, functions, options and restrictions of the Joystick Mapper App in addition to the ratings of previous users in the Mac App Store. There the software is currently at number 140 among the popular utilities for the Apple computer.
[appbox app store id528183797]
Integrate mice, trackpads and trackballs: USB overdrive for your Mac
Jens has been running the blog since 2012. He appears as Sir Apfelot for his readers and helps them with problems of a technical nature. In his free time he drives electric unicycles, takes photos (preferably with his iPhone, of course), climbs around in the Hessian mountains or hikes with the family. His articles deal with Apple products, news from the world of drones or solutions for current bugs.