The Kensington Studio Dock is a holder and docking station for the Apple iPad Pro. In addition to a freely adjustable angle, it not only provides power to the tablet, but also connections such as Ethernet, USB-C, USB-A, HMDI, headphones (jack) and SD card reader. The dock can also be used to charge the iPhone, AirPods and Apple Watch. A well-thought-out accessory that you can use for the iPad Pro with 11-inch or 12,9-inch display diagonal from 2018, 2020 and 2021. Directly to the Amazon page with Prime Shipping go with this link.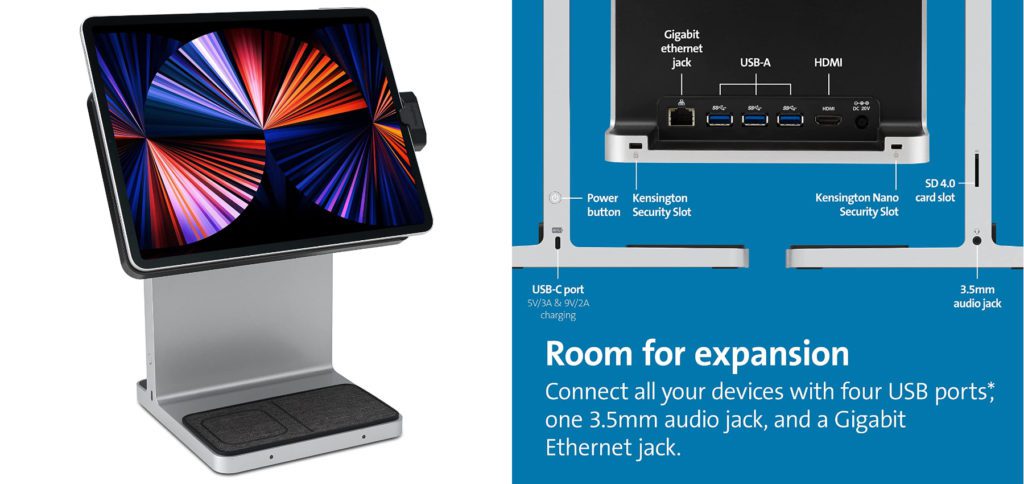 Kensington StudioDock - Workstation for the Apple iPad Pro (2018, 2020, 2021)
The Apple iPad Pro can be attached to the Kensington StudioDock in both portrait and landscape format and angled individually. The display of screen contents, entries with the fingers and the Apple Pencil as well as FaceTime calls are easy to implement. The holder ensures that the tablet does not slip or fall. In addition, it is not only supplied with power via the USB-C connection, it also enables data exchange as well as image and sound output. These connections are available for this:
1 x Gigabit Ethernet
3 x USB-A
1x USB-C
1 x HDMI
1 x SD slot
1 x 3,5 mm jack
1 x mains connection for power supply
You can use the Kensington StudioDock for the Apple iPad Pro to import and edit photos and videos, to merge or exchange files from different storage media and to charge other devices. The USB-C connection has an output of up to 18 watts at 5 V and 3 A or 9 V and 2 A. A local network or the Internet via LAN connection can be used via the Ethernet port. Image and sound output are possible via HDMI and jack. The possibilities that arise with this, as well as with the other connections and, last but not least, with the powerful tablets as a computing unit, are wide-ranging.
107,12 EUR
Charging space for iPhone, AirPods and Apple Watch
As a complete workstation for the Apple iPad Pro, the Kensington StudioDock also offers options to enable compatibility with other Apple devices. Because data exchange with the iPhone or Apple Watch is only possible if their batteries hold out. The same applies to the input and output of audio signals via the Apple AirPods (Pro). There are charging areas for all of the devices mentioned - at the foot of the holder for the AirPods case and the iPhone, as well as an attachable charging area on the USB-C port for the smartwatch. You can find details, pictures and a video on the linked product page.
After graduating from high school, Johannes completed an apprenticeship as a business assistant specializing in foreign languages. But then he decided to research and write, which resulted in his independence. For several years he has been working for Sir Apfelot, among others. His articles include product introductions, news, manuals, video games, consoles, and more. He follows Apple keynotes live via stream.
The page contains affiliate links / images: Amazon.de