Kinguin is a digital market platform on which, among other things, Steam Keys for video games are traded. You can buy some games cheaper by purchasing the corresponding key via Kinguin and registering it in the Steam client. Before doing so, however, you should compare the offers with the prices on Steam, especially during promotional periods. Furthermore, it is advisable - as on every trading platform on the Internet - to look at the ratings of the sellers. This way you can be sure that you are accepting a serious offer. In addition to video game keys, Kinguin also has in-game items and software licenses (e.g. for MS Office).
Abbreviation: You can go directly to the website here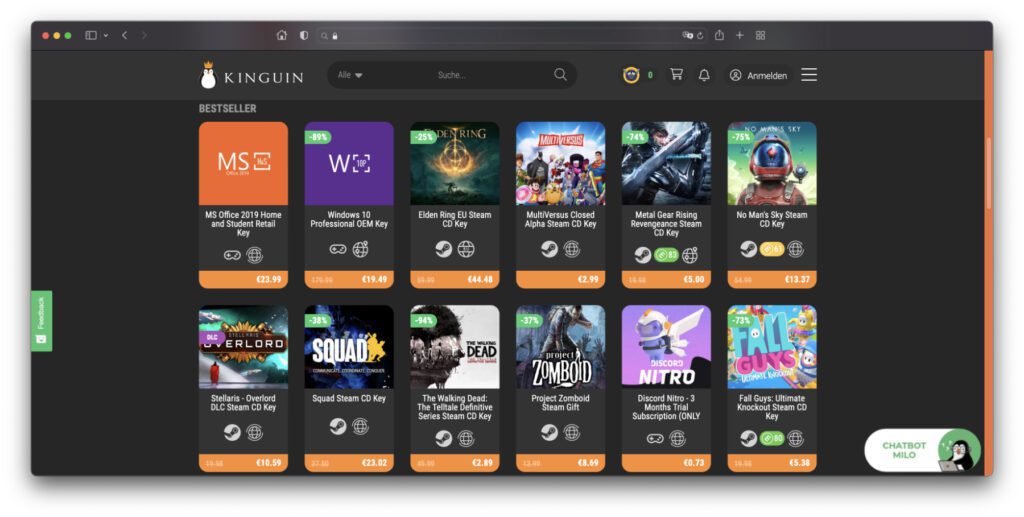 Kinguin: Buy games cheaper with traded license keys
In addition to a Steam key for the game client on PC and Mac, you can also get license keys for other clients and platforms from Kinguin. These include GOG, EA Origin and Uplay as clients on the computer, but also console licenses – for example for the Xbox or PlayStation. You can even find big discounts for Nintendo Switch games on Kinguin.
As mentioned at the beginning, you should only buy from those dealers who can show a good rating. As on every trading platform, whether eBay, eBay classifieds or Amazon, fraudsters can also be on the move here. And compare prices! The game "Rust" is z. B. offered more expensive than on Steam. That's why you can buy it right there.
Counselor: Which SD card to use for the Steam Deck?
More offers at Kinguin: Items, Software, NFTs, Crypto
If you are looking for game keys, the search function and the menu navigation on the Kinguin website will help you quickly. For other offers you have to scroll a bit and click on one or the other link. At the bottom you will find B. the filters for genres, platforms, the software section (with licenses for Windows, Office and more) and the trading section for in-game items.
The latter are not traded in euros but with Ethereum, a crypto currency. Or to put it another way: At Kinguin you will also find NFTs, if that should interest you. What do you think about the offer? Have you ever bought a game or software key from Kinguin? Feel free to leave your opinion and experiences in the comments! I am curious whether we have found a good savings opportunity here or something dubious.
After graduating from high school, Johannes completed an apprenticeship as a business assistant specializing in foreign languages. But then he decided to research and write, which resulted in his independence. For several years he has been working for Sir Apfelot, among others. His articles include product introductions, news, manuals, video games, consoles, and more. He follows Apple keynotes live via stream.