Koogeek, a high-quality manufacturer of smart gadgets and accessories for the smart home, has again published a campaign on Amazon. With the coupon codes presented in this short message you can secure up to 56% discount on selected products. There is a choice of two smart light switches with an app connection and a blood pressure monitor, which can also be read out using a mobile phone application. For older users, it also has an LCD display and voice output. The discount campaign runs until June 13, 2018.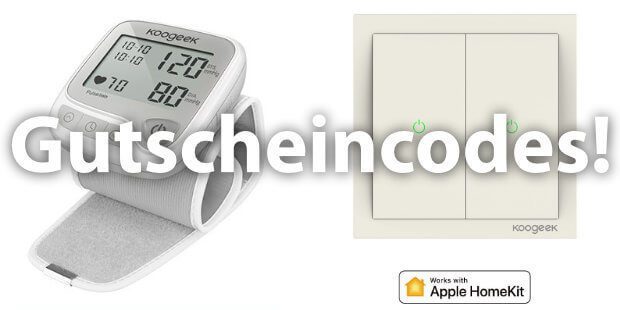 Koogeek Deals: Vouchers valid until June 13, 2018
The first offer with a 48% discount is a Koogeek Wifi Smart light switch with Apple HomeKit support and Siri controls. A grounding cable is required. After redeeming the voucher code XKUJQ4M7 at Amazon's virtual cash register, the price drops from 39,99 euros to 20,99 euros. If you want to see more details and buy the light switch, then just click this link.
The second offer is also a light switch for the smart home, but with two buttons for one lamp each. You can also use this gadget by integrating it into Apple Home and operating it via Siri to switch two lamps on and off individually. Secure yourself with the code 3X6X2J7C a discount of 56% and pays only 49,99 euros instead of 21,99 euros. More details and the option to buy are available on this Amazon product page.
All good things come in threes - that's why there is also a Koogeek offer. The smart blood pressure monitor with memory function for up to 99 data sets, voice output and alarm in the event of irregularities as well as alarm clock function (also for taking tablets) and integration into the corresponding app is also cheaper. Just use the voucher code 2VOZB7JN and save 52%. Pay only 14,99 euros instead of 30,99 euros when shopping through this product page.
After graduating from high school, Johannes completed an apprenticeship as a business assistant specializing in foreign languages. But then he decided to research and write, which resulted in his independence. For several years he has been working for Sir Apfelot, among others. His articles include product introductions, news, manuals, video games, consoles, and more. He follows Apple keynotes live via stream.