Are you already using macOS 10.14 Mojave diligently on your Mac and are annoyed that you can only turn the system dark mode on or off, but not assign it individually for each app? Then the LightsOff app, which you can download from the developer website, should help you. After installation, the tool sits in the menu bar and helps you to assign the macOS Mojave Dark Mode to individual apps with a simple list for ticking off the programs to be assigned. So you can use between light and dark mode without constantly changing the design.
Update 02.12.2022/XNUMX/XNUMX: The app is no longer available!
I just got the feedback from a reader that the app is no longer available. I couldn't find them either and the developer website was deleted as well.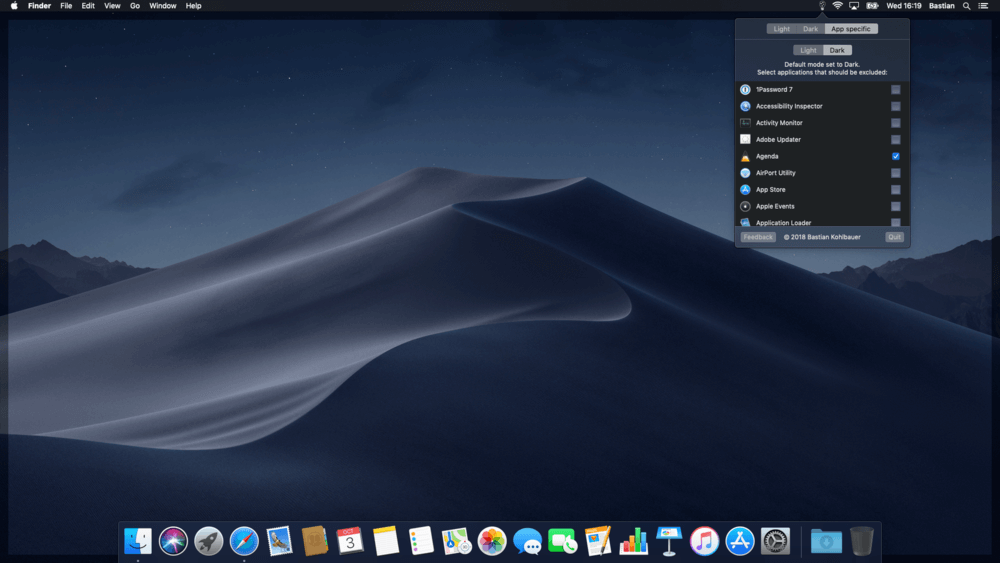 Assign Mojave Dark Mode individually - LightsOff App
The small tool for the Mac, iMac and MacBook was developed by Bastian Kohlbauer. This allows you to assign dark mode to individual apps under macOS 10.14 Mojave or disable it when you use it. Should Mail, Pages, Keynote, maps and similar programs for everyday office work shine brightly, but Safari for evening Netflix pleasure or iBooks for reading before falling asleep have a rather dark appearance, then you can try LightsOff by Bastian Kohlbauer ;)
macOS 10.14 Mojave - more than just light and dark
Here in the blog you will find numerous other helpful articles, guides and instructions for the Mac operating system from 2018 in addition to the LightsOff app. From the presentation of macOS 10.14 at WWDC 2018 to the September keynote from the Steve Jobs Theater to viewing and Solving Mojave problems is all included. Here is a small list so that you are more familiar with the current operating system with Dark Mode, LightsOff and HomeKit:
After graduating from high school, Johannes completed an apprenticeship as a business assistant specializing in foreign languages. But then he decided to research and write, which resulted in his independence. For several years he has been working for Sir Apfelot, among others. His articles include product introductions, news, manuals, video games, consoles, and more. He follows Apple keynotes live via stream.