Yesterday, Apple presented the new Mac operating system macOS Monterey as part of the WWDC21 keynote. The successor to macOS Big Sur brings a few exciting new features and adjustments to Mac, iMac, MacBook and Co. Movies, series, music and the screen can now be shared via messages. Universal Control ensures mouse, keyboard and trackpad use across multiple Macs and the iPad. And so on. You ask yourself: is my Mac compatible with macOS Monterey? You will get the answer to this question in this guide with a list of Mac models that get macOS Monterey as an upgrade.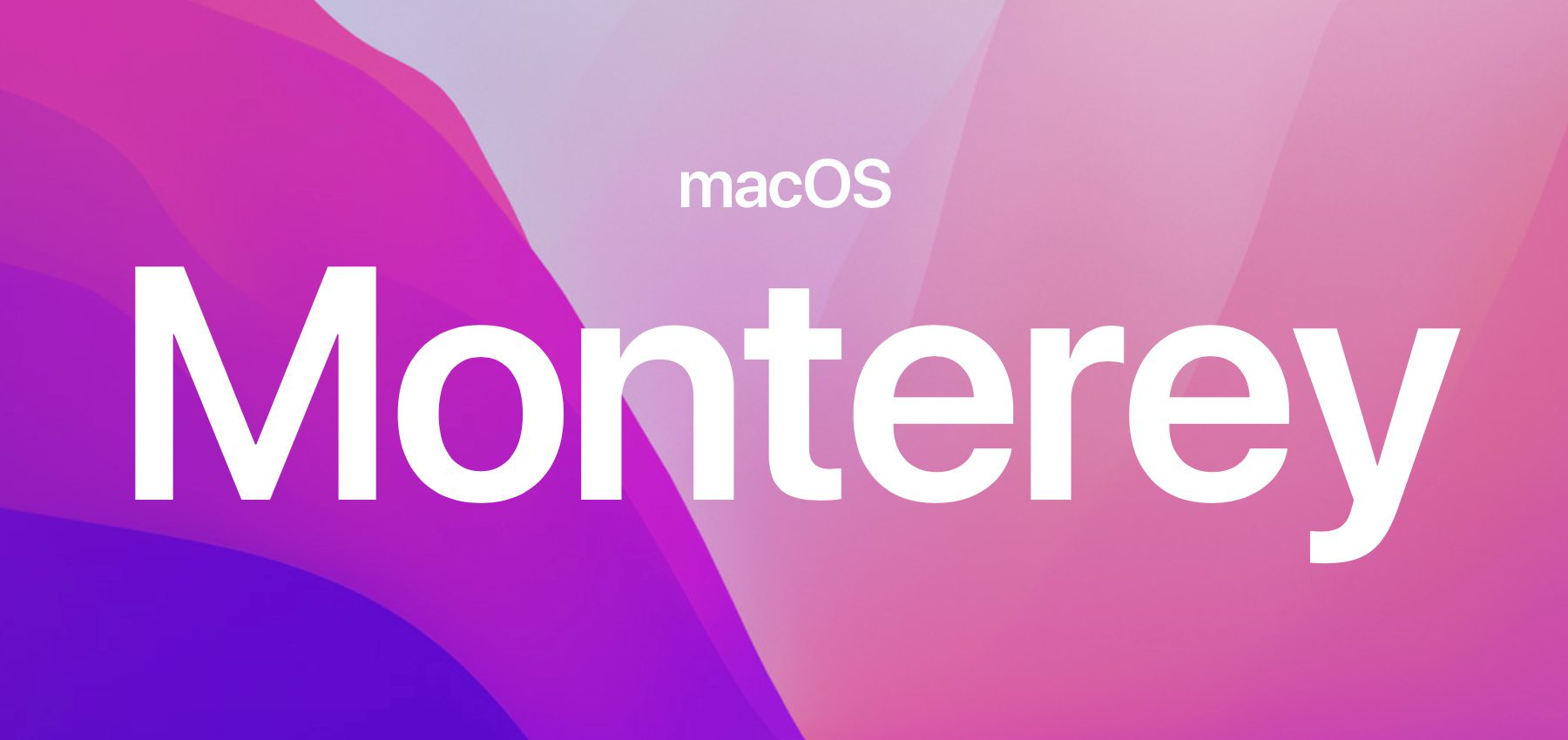 These Mac models are compatible with macOS Monterey
Here I clarify for you the question of which Apple Mac can be updated on Monterey. The comparison to the Big Sur compatibility. Because with the macOS version, which will appear as an upgrade in autumn 2021, not so many Apple computers can be used. For some, the possibility of use shifts by one or two generations.
iMac late 2015 and newer
iMac Pro 2017 and newer
MacBook Air early 2015 and newer
MacBook Pro early 2015 and newer
Mac Pro late 2013 and newer
Mac mini late 2014 and newer
MacBook early 2016 and newer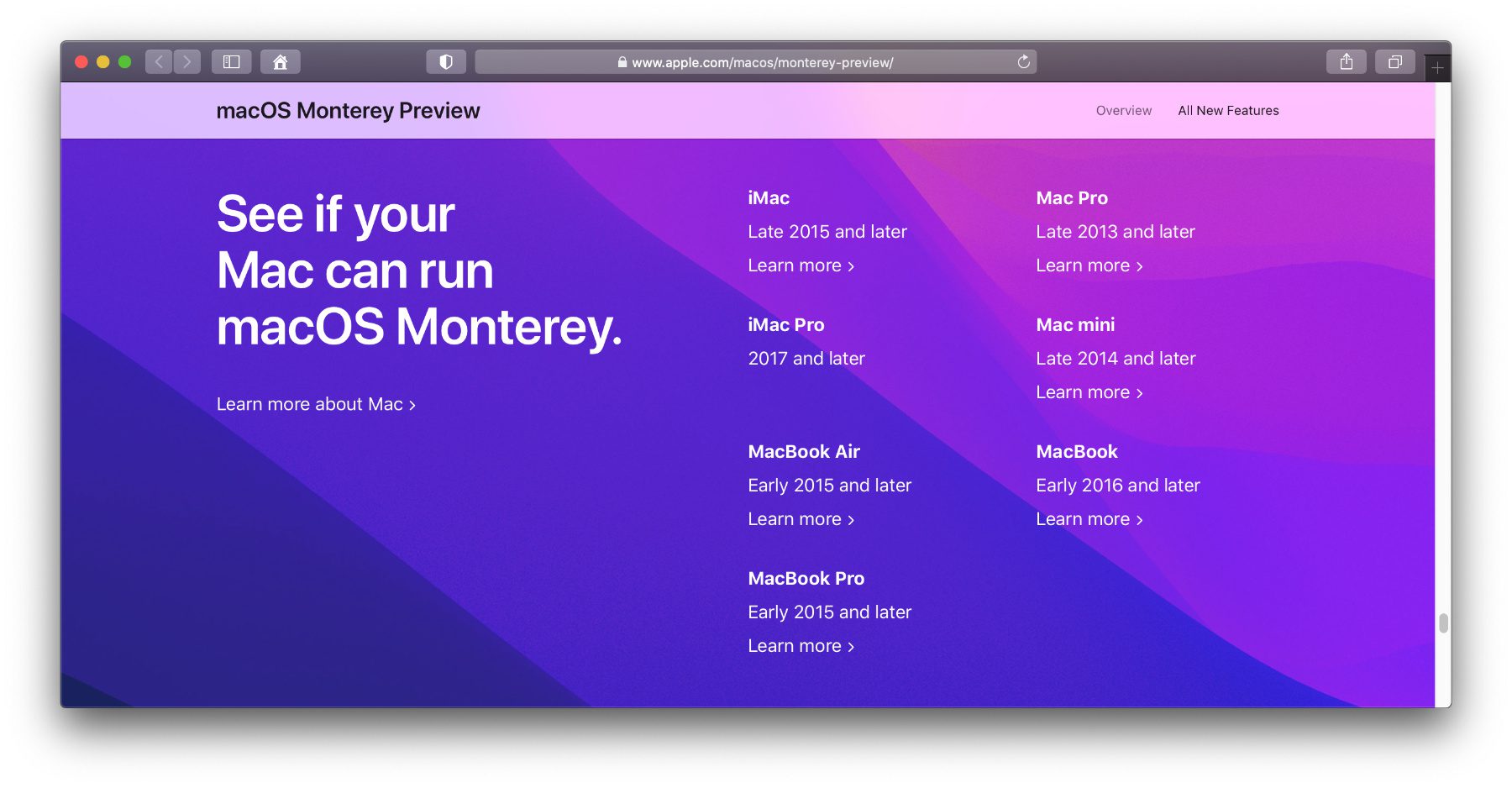 macOS Monterey - These Mac models are compatible (detailed list)
The short list in the last paragraph shows you from which age group which computer or laptop model can be used with the new Mac operating system from Apple. But which individual generations and years can be used? Is my Mac, iMac, or MacBook Pro compatible with macOS Monterey? You can clarify that in detail with this list. I do not give any inch size information. All display sizes from 13,3 "to 16" for the MacBook up to 21 ", 24" or 27 "for the iMac (and all others) are included.
iMac for macOS Monterey
Apple iMac, late 2015
Apple iMac, 2017
Apple iMac Pro, 2017
Apple iMac, 2019
Apple iMac, 2020
Apple iMac with M1 chip, 2021
MacBook Air for macOS Monterey
Apple MacBook Air, early 2015
Apple MacBook Air, 2017
Apple MacBook Air, 2018
Apple MacBook Air, 2019
Apple MacBook Air, 2020
Apple MacBook Air with M1 chip, 2020
MacBook Pro for macOS Monterey
Apple MacBook Pro, early 2015
Apple MacBook Pro, 2016
Apple MacBook Pro, 2017
Apple MacBook Pro, 2018
Apple MacBook Pro, 2019
Apple MacBook Pro, 2020
Apple MacBook Pro with M1 chip, 2020
Apple MacBook Pro with M1 Pro, 2021
Apple MacBook Pro with Max M1 2021
Mac Pro for macOS Monterey
Apple Mac Pro, late 2013
Apple Mac Pro, 2019
Mac mini for macOS Monterey
Apple Mac mini, late 2014
Apple Mac mini, 2018
Apple Mac Pro with M1 chip, 2020
MacBook for macOS Monterey
MacBook, early 2016
MacBook, 2017
When will the macOS Monterey upgrade for the Mac come?
As usual, the new operating system for Apple computers will only be rolled out when the new devices are available for it. There are currently a lot of rumors about new MacBook Pro models with 14- and 16-inch displays. When these will come on the market - September, October or November 2021 - has not yet been said. What is certain, however, is that this OS as well iOS 15 for the iPhone, iPadOS 15 for the iPad, watchOS 8 for the Apple Watch and tvOS 15 for Apple TV will be released in autumn 2021. Developer betas have been available since yesterday. From July there will also be public beta versions.
Official information from Apple: Preview page for the new macOS
Further information on macOS, iOS, iPadOS and Co.
Now the question should be Is my Mac compatible with macOS Monterey? have received a sufficiently comprehensive answer. If you want more information from yesterday's WWDC21 keynote from Apple Park in Cupertino, I recommend my summary of the event: WWDC21 Keynote Summary - New Systems, No Hardware. There you will also find the new iPadOS for the iPad, the new iOS for the iPhone, the new watchOS for the Apple Watch, details on new possibilities with HomeKit, innovations in wallet, weather, Siri, iCloud and much more. If you don't just want to read and look at a few screenshots, just watch the keynote with the video embedded below.
After graduating from high school, Johannes completed an apprenticeship as a business assistant specializing in foreign languages. But then he decided to research and write, which resulted in his independence. For several years he has been working for Sir Apfelot, among others. His articles include product introductions, news, manuals, video games, consoles, and more. He follows Apple keynotes live via stream.