For memory bars that are actually built into a PC, there are special M.2 SSD adapters, thanks to which they can be used as an external hard drive. However, there are many different manufacturers and models. Which criteria you should consider when choosing such an M.2 SSD housing and which of the devices are recommended, I have put together for you in the following. Do you have any comments, tricks or your own recommendations on the topic? Then leave a comment;)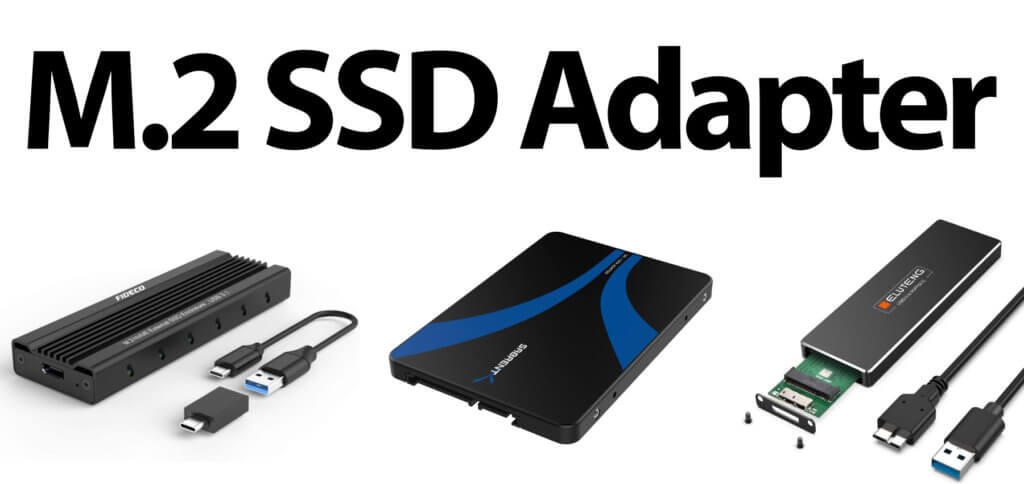 Criteria for the right M.2 memory bar housing
From cheap to expensive, there is a wide variety of housings with which the SSD bar can be connected as an external hard drive via USB to the Apple Mac, Windows PC and Linux machine. But if you are already investing in such a memory expansion, you shouldn't shy away from the costs of a good M.2 SSD adapter. Here are three criteria that will help you choose:
How is the heat from the SSD dissipated? When the fast storage bar is in operation, heat can develop, which should be removed passively via the housing or actively via a cooling system. If this does not happen, the durability of the memory will be negatively affected.
Can I connect via USB-C? New Mac, iMac and MacBook models rely on Thunderbolt 3 with a USB-C port. At least one USB-A to USB-C adapter should therefore be included in the scope of delivery. A direct connection for Type C would be best.
Does the device have an external power supply? Some Apple Macs cut the power to the USB ports when they are idle and thus also eject external hard drives that do not have their own power supply. Not all Mac models act like this during sleep mode.
The best M.2 SSD adapters on Amazon
Like many other hardware, accessories and gadgets, there is of course a selection of M.2 SSD adapters on Amazon. There is a lot here, from 8,99 euros to 39,90 euros. Here are the items that I rate the best from this product category:
External M.2 SSD enclosure from FIDECO (PCIe and SATA)
On Product page of the FIDECO device you can choose two different models; one for memory bars with M-Key in the four sizes 2230, 2242, 2260 and 2280 and one for memories with B-Key with the same sizes. The good thing about the two offers: Not only does the adapter have a heat sink, through which the resulting heat is dissipated, there is also a USB-C to USB-A cable and a USB-A to USB-C cable. Adapter included. You can connect this external M.2 SSD housing to a wide variety of Apple Mac models and PCs.
SSD M.2 NVMe housing for PCIe M-Key from ICY BOX
This model comes from ICY BOX, which has a USB-C connection and a housing equipped with fins. This means that the heat generated during operation of the storage bar can be better dissipated. The connection to the accessory device is USB-C with USB 3.0 Gen 2 (up to 10 GBit / s). In addition to a transport bag, the scope of delivery also includes two cables - one to USB Type C and one to Type A. On the Amazon site you can choose three colors (black, anthracite and silver).
M.2 adapter for B + M Key SSDs from ELUTENG
This model from ELUTENG does not come with an external power supply or a special heat sink; Nevertheless, the gadget equipped with a thermal pad has an average of 4,3 out of 5 stars as a customer rating (as of May 26.05.2020, 3). The set includes not only the adapter and a USB-2 cable for fast data transfer, but also the said thermal pad for heat dissipation and a screwdriver. M.22 SATA SSDs with sizes of 30 x 22 mm, 42 x 22 mm, 60 x 22 mm and 80 x XNUMX mm are supported. Further details, pictures and customer reviews as well as customer ratings can be found on the Product page on Amazon.
M.2 SSD to 2,5-inch SATA III adapter from Sabrent
Sabrent has a model that allows you to install an M.2 flash memory in the computer via SATA III or by means of one corresponding adapter to be connected via USB. There is no direct cooling here, but the case is made of aluminum. It should therefore be able to dissipate enough heat if it is placed appropriately inside or outside the computer. There is no separate power supply and must be implemented via the given connection. On the Product page of the article you will find all the details and also some information on compatibility with different memory bars.
2,00 EUR
M.2 NVMe SSD to PCIe 3.0 adapter from ICY BOX
It is not intended for a USB connection, but for the PCIe interface in the computer Express adapter from ICY BOX. Here the memory bar is permanently installed and inserted into the computer hardware with a quick connection and without cable detours. The best thing about it: For only 19 euros you get the model with a heat sink. This means that the heat generated by the bar is dissipated via aluminum slats and carried away by the ventilation in the computer. This keeps the memory cool and lasts longer. Many reviews are good and very good for the article. A few complain about the construction or other small things - so it is worth taking a look at the customer reviews before buying;)
More M.2 SSD adapters in the bestseller list
Wasn't the right M.2 SSD adapter for you among the presented articles? Then maybe you can help this search result list continue - or the bestseller list embedded below. This comes from Amazon and always shows the latest recommendations, which are made up of price-performance and customer ratings:
Jens has been running the blog since 2012. He appears as Sir Apfelot for his readers and helps them with problems of a technical nature. In his free time he drives electric unicycles, takes photos (preferably with his iPhone, of course), climbs around in the Hessian mountains or hikes with the family. His articles deal with Apple products, news from the world of drones or solutions for current bugs.
The page contains affiliate links / images: Amazon.de