In the last few months it happened again and again that I had a collective debit from a company on my account and then had to puzzle over by hand which of the existing invoices they took to get the total amount. The company simply did not specify any invoice numbers as the intended use and in some cases even included credit notes, as invoices were not issued with reduced VAT. A chaos…
Compiling the right invoices can be quite time-consuming if you have 12 invoices and three credit notes in front of you and then you have to come up with a certain amount for the tax advisor to be happy.
I had had fun with the Mac computer for a while, but then you do the math and have no overview of which bills have already been factored in and which have not - even if you got the right amount at some point.


The rescue in need: CalcTape
I still vaguely remembered that at some point I stumbled upon a Mac app that made it possible to create an invoice in a kind of text editor and also allow notes to be made next to it.
After a short research, I was able to locate the app again: CalcTape!
The app is available as a Mac App in the Mac App Store and as a iPad app or iPhone app. All apps are in the "under 10 euros" range.
Percentage calculation included
One thing that I have only just discovered: CalcTape is also capable of calculating percentages, which is of course very helpful for some tasks. The usage is pretty simple: you just write "+ 19%" and CalcTape calculates the percentage value and also mentions it next to the invoice.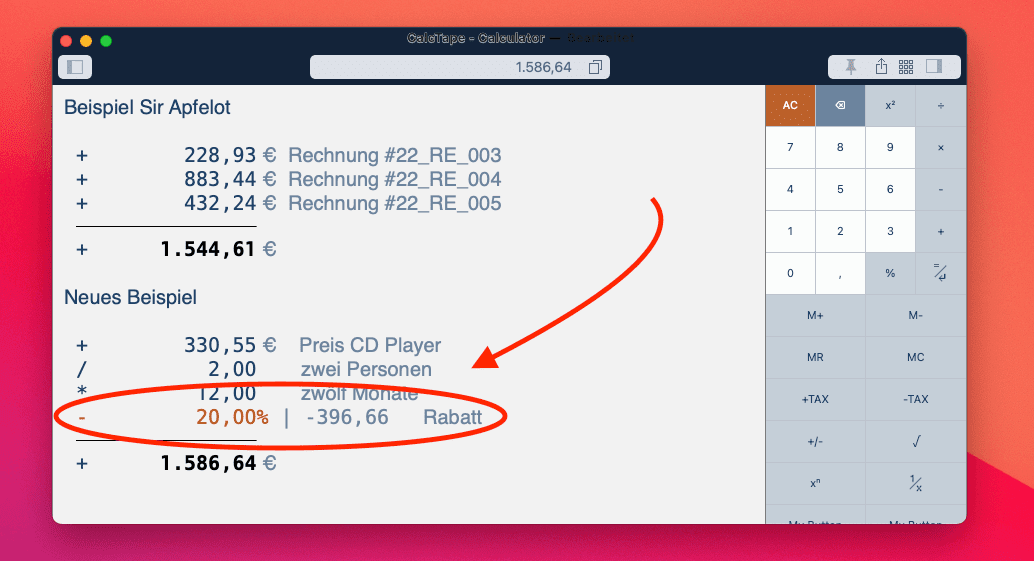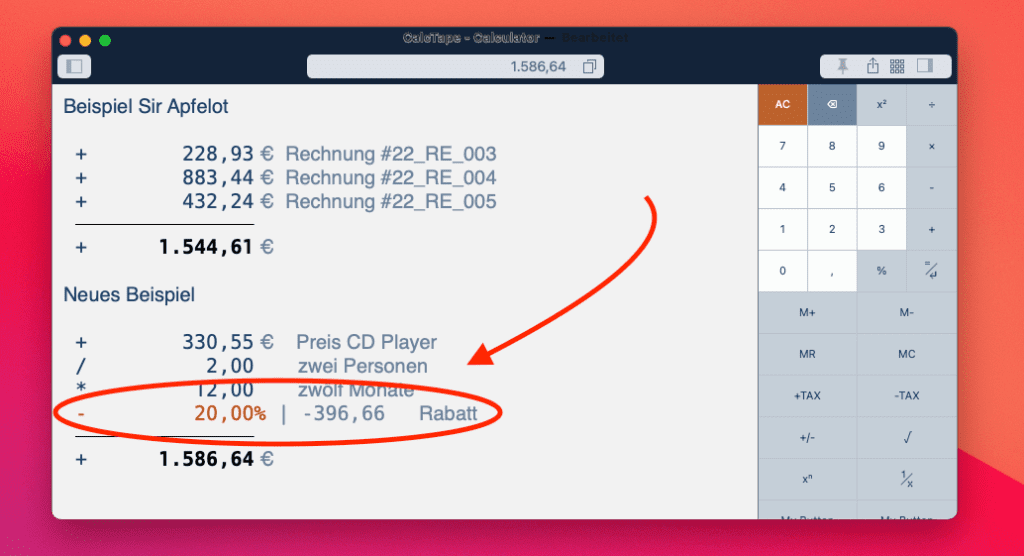 A complete list of the features of the Mac app can be found here:
Enter a long list of calculation items at once and still keep track - like a adding machine with strips of paper.
If you correct or change individual calculation items, the complete calculation is automatically updated.
Use intermediate results to structure and review your calculation.
Comment on individual calculation items to show the meaning and context of the calculation.
Save your calculations to files. You can open and edit these files again later. CalcTape recalculates all results after each change.
Use CalcTape files as templates. Perform similar calculations and what-if analyzes by simply changing individual values.
Scrap slip for the invoice in between is always automatically saved.
Put several invoices next to each other for comparison.
Work with variables and create "speaking" calculations.
Define as many user keys as you want.
Use parentheses and trigonometric functions when declaring variables.
Use the programmable keys, for example, for simple tax calculations.
iCloud support (macOS 10.10 and higher). Sync your calculations with iPhone and iPad.
CalcTape masters the four basic arithmetic operations, exponentiation and percentage calculation.
I think that you have more functions at hand than you actually need. But still: nice to have everything available.
CalcTape as a web app
What I've just found is the CalcTape web application. If you don't necessarily need your bills on your Mac or iPad and can live with the fact that they are gone after you close your browser, you can also use the free web app use.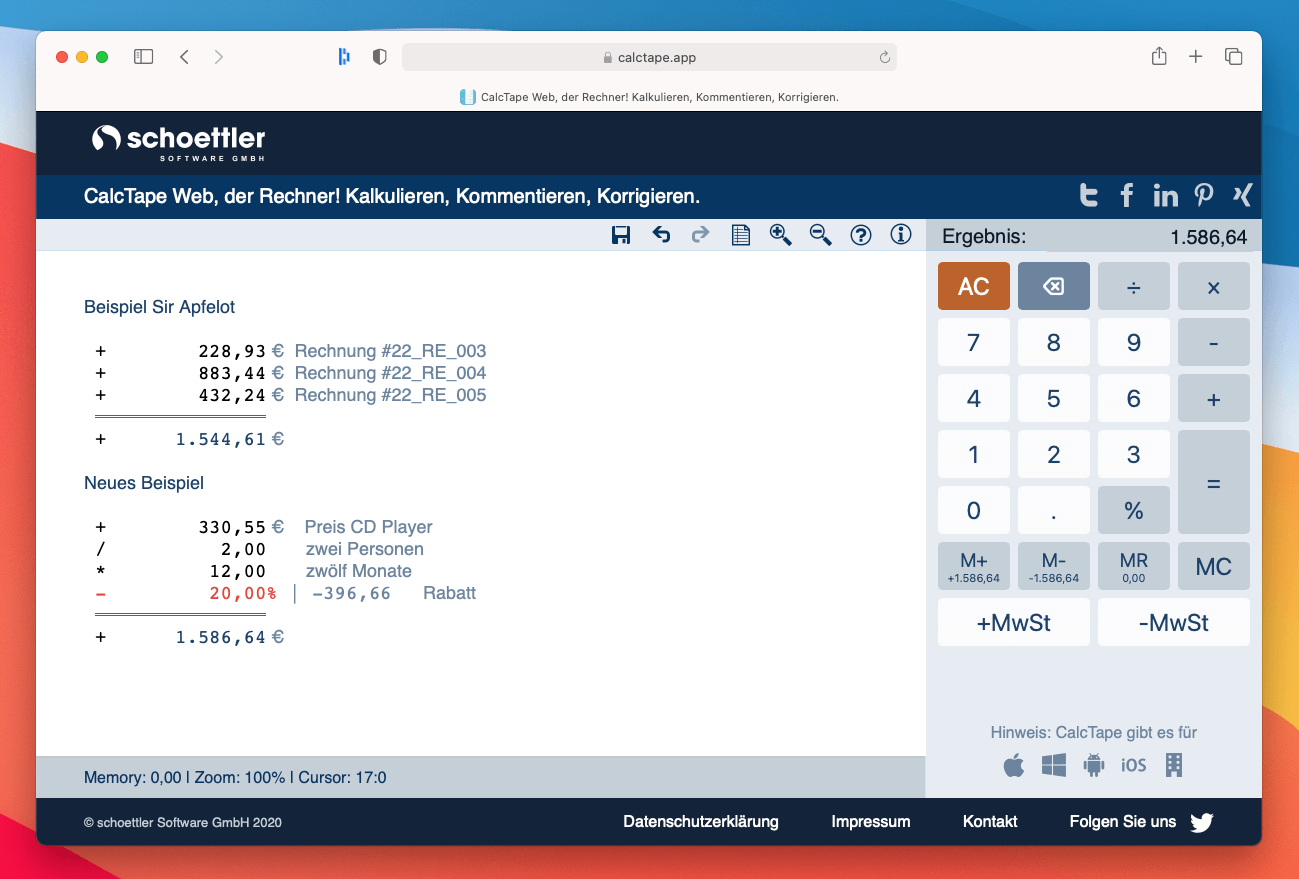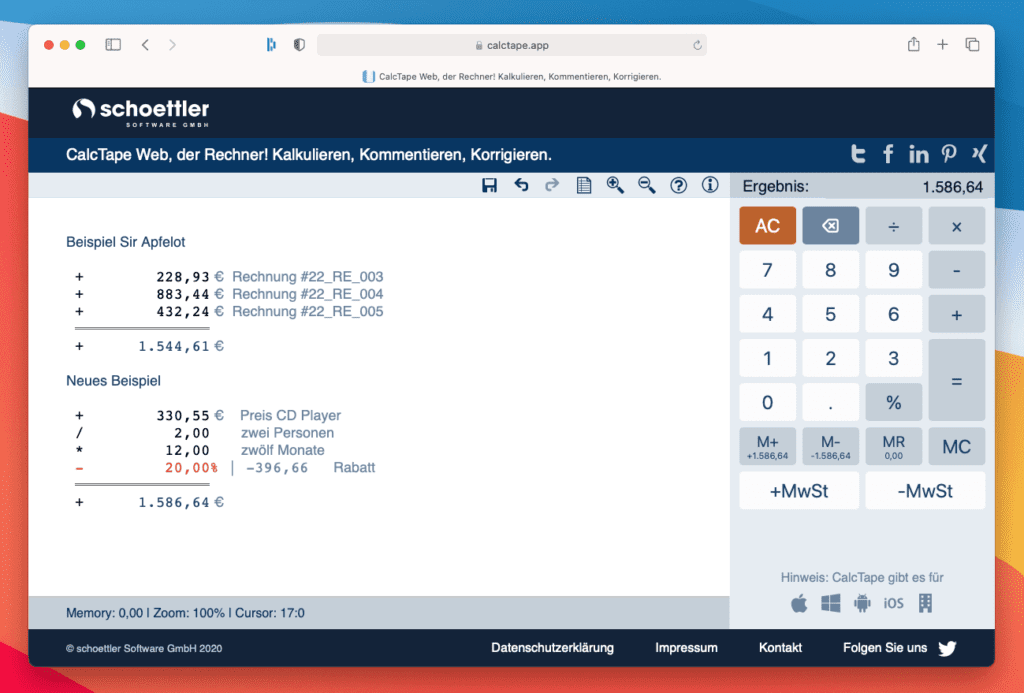 Free, Pro, and Business Windows versions of CalcTape
The software developers at CalcTape also offer different versions of their app - but only for the Windows operating system. There are a few additional features if you opt for a paid version. If you want to equip your entire company with over 100 licenses, you even get the "Business" model, in which your own company logo is integrated into the app.
I didn't need that now, but for the sake of clarity I would like to briefly insert the version comparison here.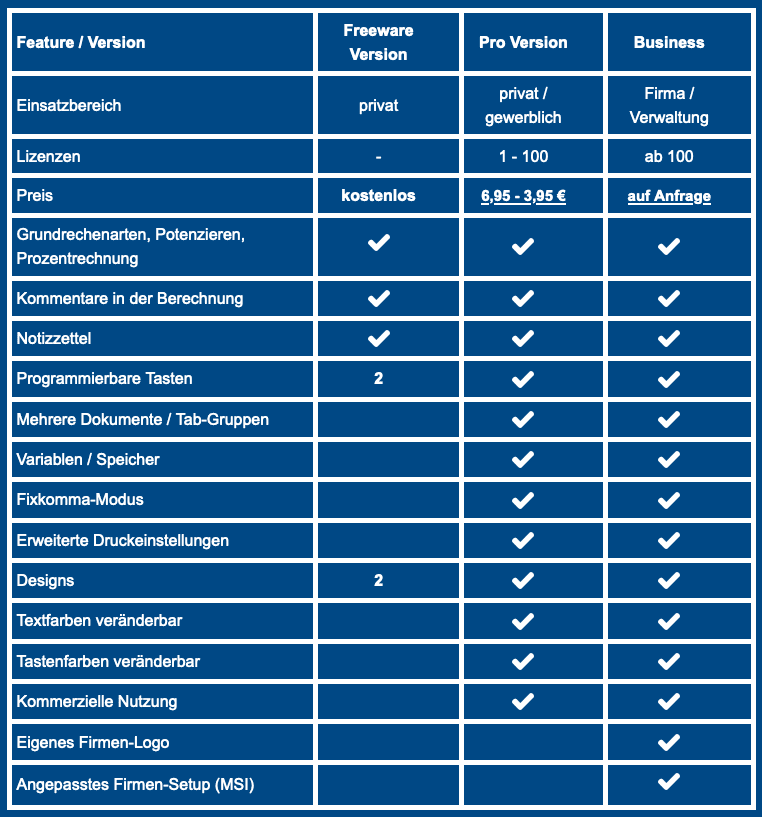 I don't need CalcTape every day, but the app relieves me of unpleasant tasks that keep recurring. That's why it's worth a few euros to me. Maybe you also have a use for it. I would be happy to hear about your use case.
Update 06.05.2021/XNUMX/XNUMX: Shelf calculation with CalcTape
Yesterday I found another practical application for CalcTape. I was looking for a storage rack for my office and came across an offer where you can configure your rack - within certain limits.
Since I work a lot with Really Useful Boxes to sort my electrical stuff, I had to work out how many shelves I need and how many boxes I can get on the shelf. Since each shelf is also 4 cm high, this space requirement is included in the calculation. Sounds easy, but when you start calculating with the pocket calculator, you notice that you quickly lose track of how many floors you have now included in the calculation.
Here CalcTape is again the best solution, because you can see your complete invoice at a glance and you can even write notes in the margin. I love this little app ...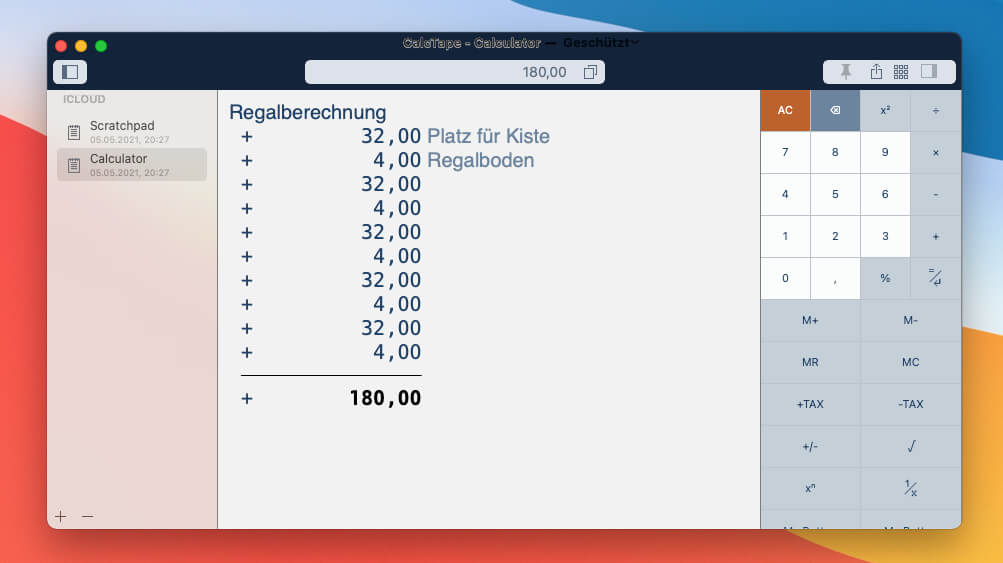 Jens has been running the blog since 2012. He appears as Sir Apfelot for his readers and helps them with problems of a technical nature. In his free time he drives electric unicycles, takes photos (preferably with his iPhone, of course), climbs around in the Hessian mountains or hikes with the family. His articles deal with Apple products, news from the world of drones or solutions for current bugs.