Via the free app CheatSheet I had read about Stefan Fürst a while ago, but then kept forgetting to try it out. Yesterday I came across the app's website by chance and interpreted this as a sign of fate to finally install CheatSheet.
Explained in short form, a CheatSheet (in German "cheat sheet") in any app at the touch of a button gives a list of all the shortcuts that can be used in the corresponding program. A very useful thing if you like working with Shurtcuts.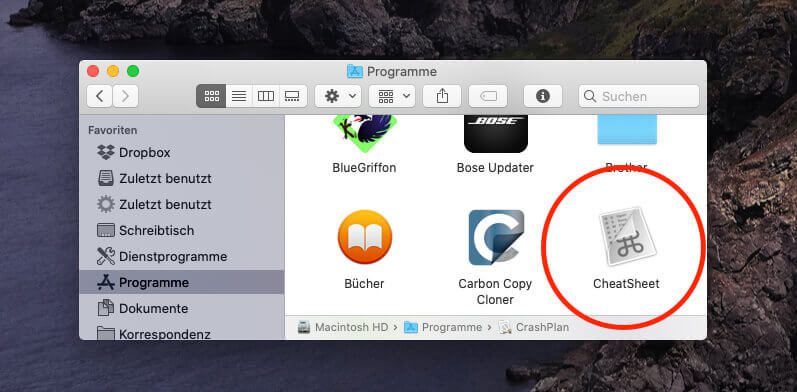 Numerous security warnings and approvals for macOS
If you use macOS Catalina (nicknamed "macOS Vista"), you will have noticed that you often have to nod your approval or receive information about possible security risks when you download an app from the Internet. If the app in question also wants access to the keyboard input, approval is required again.
With CheatSheet you have to do numerous such hints and grant the appropriate permissions in the system settings before you can start properly.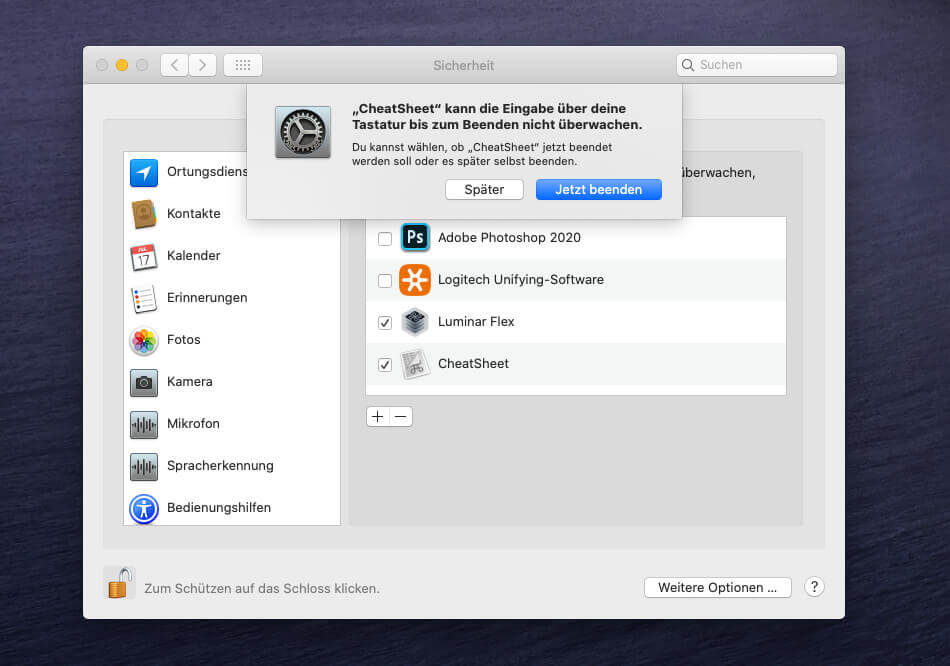 Activation: Hold down CMD or ⌘
If you have worked your way through all of these windows, you can finally use CheatSheet. This works by going to the app of your choice (or staying in the Finder) and holding down the CMD or ⌘ button for a few seconds. This will open a window that takes up almost the entire screen and shows all the keyboard shortcuts that you can currently use.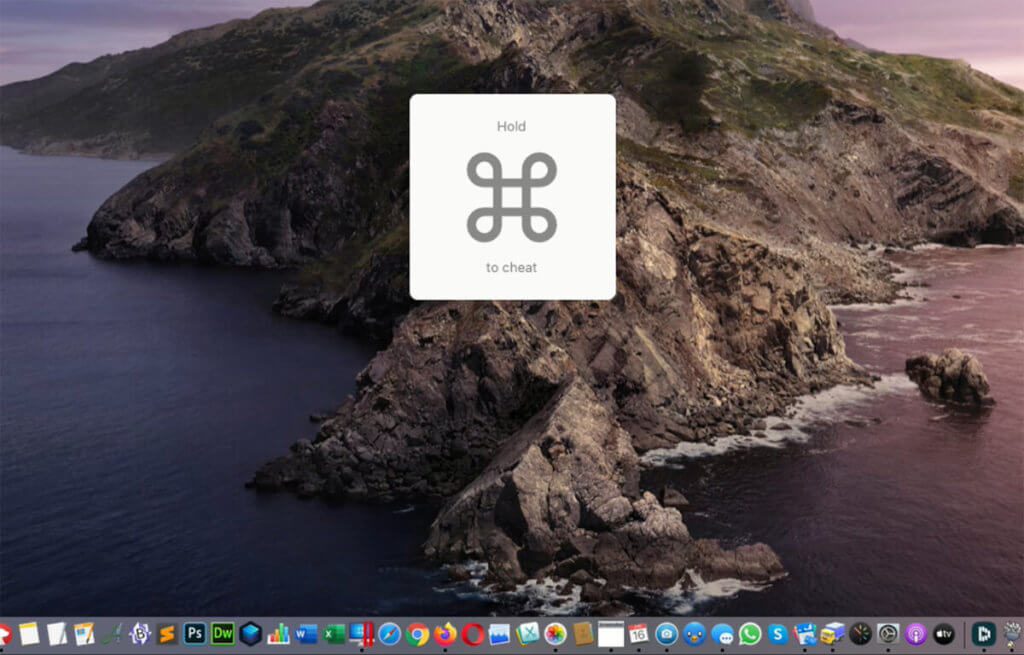 CheatSheet allows you to work faster with key combinations
Why should you bother to figure out all the keyboard commands in an app? Simple explanation: If you regularly use the same commands in a Mac app, you can save yourself the work of the mouse and do a lot of things with the push of a button. It's much faster and also impresses people who watch you at work. ;-)
For example, I have made it easier for me to do a lot of work in the Finder or Photoshop. Instead of repeatedly navigating in the menu with the mouse, you can stay in Photoshop with the tool that you are editing and change tools at the touch of a button or even quickly call up automatic corrections.
In any case, I can no longer imagine my day-to-day work without keyboard shortcuts.

The display of the shortcuts is context-sensitive
One thing that I was particularly interested in about CheatSheet is the question of whether the display of the shortcuts depends on what you have just done in the program. In the Finder, Photoshop or other apps, you often have commands in the menu that are grayed out if you cannot call them up in the current situation.
For example, if I haven't made a selection in Photoshop, I can't use the keyboard shortcuts to change that selection.
CheatSheet "understands" this and only shows the key commands that you can currently use. If this were different, you would probably have to scroll through pages of lists in programs like Premiere or Photoshop to see all the shortcut keys.


Shortcut list is scrollable
If you call up CheatSheet in programs with more extensive command options, the list of shortcuts may no longer fit on one screen. The CheatSheet developer has made provision for this case and made the list scrollable. Unfortunately, there is no scroll bar to see, so at first it is not clear that there is something to scroll here.
Settings and print options
If you have called up CheatSheet, you can access the clear setting options of the app in the window that appears at the bottom right via the gear symbol. There you can specify, among other things, how long the key press on CMD (⌘) has to be so that CheatSheet feels addressed.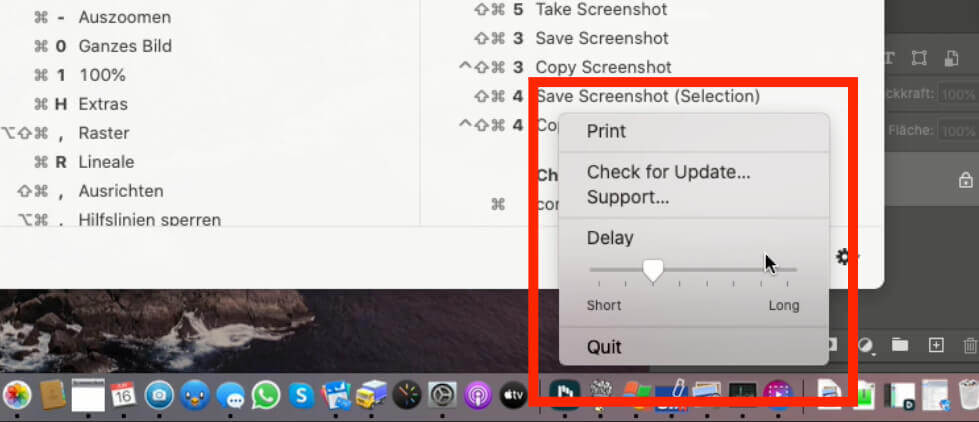 There is also a "Print" button there, which you can use to print out the displayed shortcuts or output them as a PDF.
This is also helpful if you want to take a screenshot of the display, because when you press the CMD + SHIFT + 4 (or 3) buttons for a screen shoot, the CheatSheet window is hidden again before you can save it. If you were previously in the settings, the display remains open and only disappears again if you hold down the CMD button again.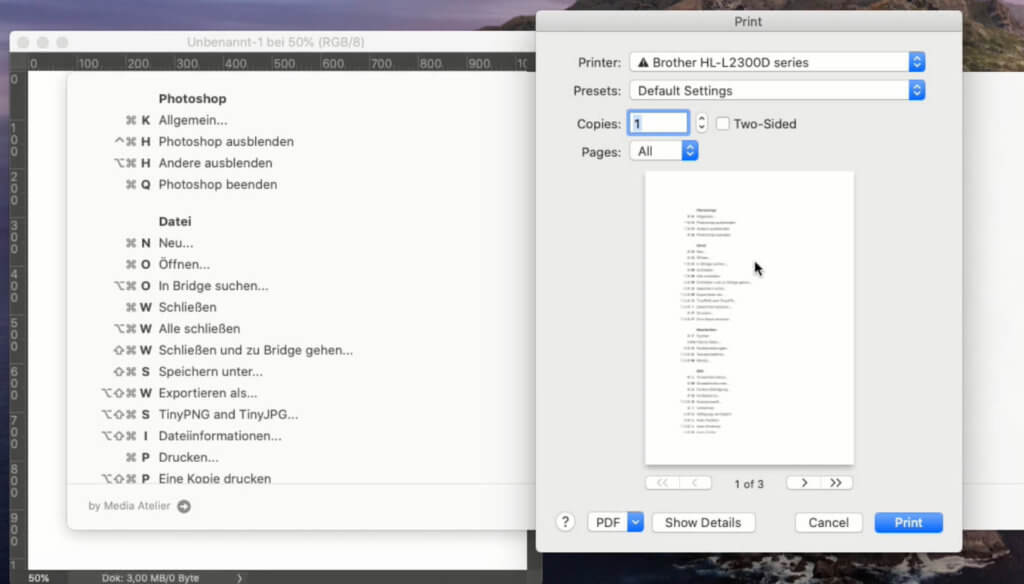 Remove CheatSheet from Autostart and exit the app
The CheatSheet app creates itself - unfortunately without asking - as a login object so that it starts with the system start. That was a bit too brash for me, because I would like to determine the programs that start up on restart myself.
Since I will use CheatSheet every now and then, but certainly not all the time, I would like to remove it from the autostart. This can be done under System Settings> Users & Groups> Login Objects. In the list of apps, select CheatSheet and then click on the minus symbol.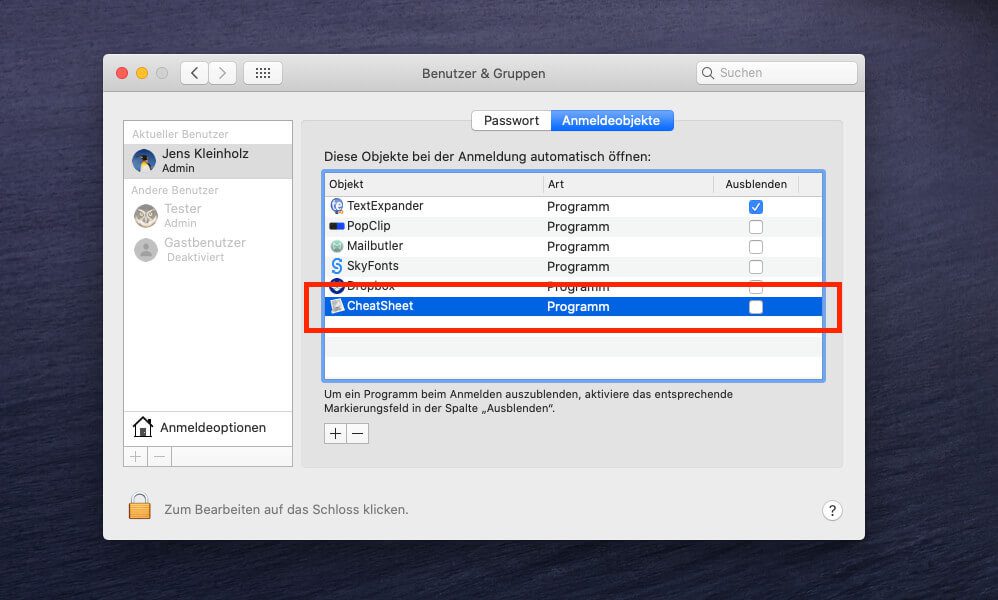 Negative: CheatSheet keeps writing itself to the login objects
As I just had to find out, CheatSheet enters itself into the login objects after EVERY program start. This is behavior that I find very disadvantageous. The decision about this should be left to the user and not made by the programmer. In my opinion, this point is a big minus for CheatSheet - even if it does not affect the good functioning of the software. I will pass it on to the developer and hope that he will add an option for in the settings.
Update 18.06.2020/XNUMX/XNUMX: CheatSheet is removed from the login items
As the developer of CheatSheet has just informed me by email, CheatSheet automatically enters the Mac's autostart, but as soon as you close the app via the options, it wears off again. That's a solution I can live with. The negative aftertaste is eliminated ...
Quit CheatSheet
Closing the app is also a thing in itself, since CheatSheet does not appear in the app switcher (CMD + Tab) or in the dock like a normal program. With CMD + Q, as you would do with normal apps, you won't get very far with CheatSheet.

To exit the app, press CMD until the shortcuts pop-up appears. In this window you select the gear wheel at the bottom right and you will find the menu item "Quit" under it, which you select to exit CheatSheet.
My conclusion on CheatSheet
The app is a little gem for people who would like to work more with keyboard shortcuts. Sure, you could go a step further in terms of looks and user-friendliness, but the developer Stefan Fürst provides the app for free, which is why you should be a little more grateful here and refrain from complaining.
For Mac beginners and those users who would like to work more effectively, CheatSheet is certainly a very good app. I definitely leave them on my Mac to explore keyboard shortcuts in one or the other program. You can always find workflows that can be optimized. : D
Oh, almost forgot: You can use CheatSheet download here from the developer.
A reader and the developer of CheatSheet referred me to the paid tool "KeyCue' pointed out, which is obviously something like CheatSheet on Drugs. Anyone who is willing to invest 20 euros will be happy with it, as it not only offers a lot more graphically but also in terms of functionality than CheatSheet. I will definitely install it and then report in a separate post.
Screenshots from some programs
To show what the output from CheatSheet looks like, I've taken some screenshots from Mac programs that I use frequently. By the way, I haven't found an app that CheatSheet didn't work under.
With Lynne, a graphic artist and designer has joined the team who contributes articles on the topics of homepage, web development and Photoshop. YouTube has recently become one of her areas of activity. Lynne is (unintentionally) very good at generating error messages and thus ensures a steady influx of problem-solving articles, which repeatedly make the Sir Apfelot blog a popular contact point for Mac users.