With my iPhone contract, I deliberately chose one that included a high data volume before you were throttled to Stone Age speed. However, I only use a small part of the data volume directly with the iPhone, because much more often I use the iPhone on the go as a personal hotspot to access the Internet with my MacBook. The data traffic of the Mac runs via the iPhone and the data consumption generated by the Mac also falls on the iPhone accordingly.
Update 2017: A report on what's new in Trip Mode 2 and 3 you can find here
Many Mac apps access the internet connection in the background
Anyone who has ever connected their Mac to the Internet using the iPhone's personal hotspot function will have noticed how quickly the included volume on the iPhone is shrinking. This is mainly due to MacApps, which are started when the system starts and then access the Internet connection in the background. In my case, these are, for example, synchronizations of iCloud and Dropbox, loading e-mails and also updates of programs that are already loaded in the background and are then ready for installation (with many programs you only get the message AFTER loading that a update is ready for installation).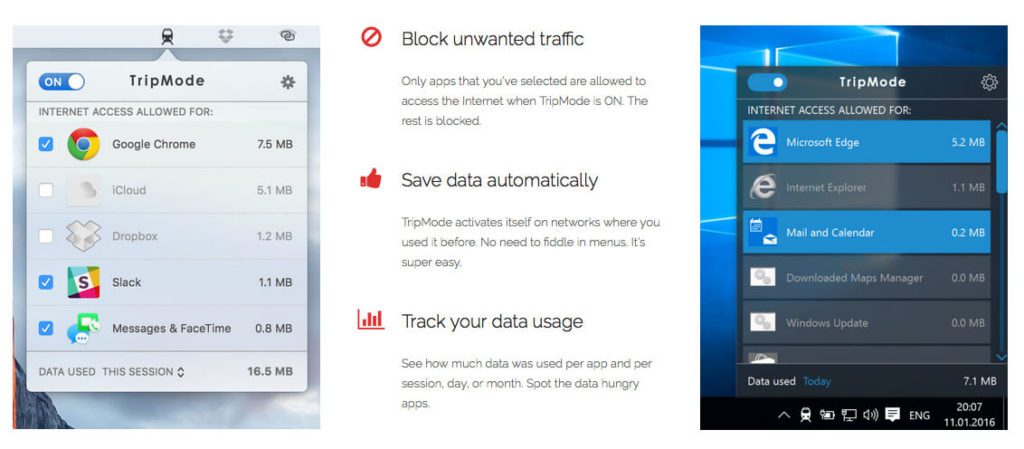 TripMode - monitoring and blocking of the internet connection
In order to save the data volume as much as possible, I got the paid Mac app a few months ago Tripmode Installed. This is installed in the menu bar and offers a button there with which TripMode can be switched on and off. This works with two clicks. If you have activated TripMode, you can very easily allow or deny access for each program in a program list.
Also very helpful is the summary of how many MB of data were used in the last or current session as well as the information on how many MB each individual program has "on its conscience". This allows you to quickly see who the worst culprits are and then specifically disable them. I like looking at the list, because it's so exciting to see which programs are busy sending or receiving data over the network.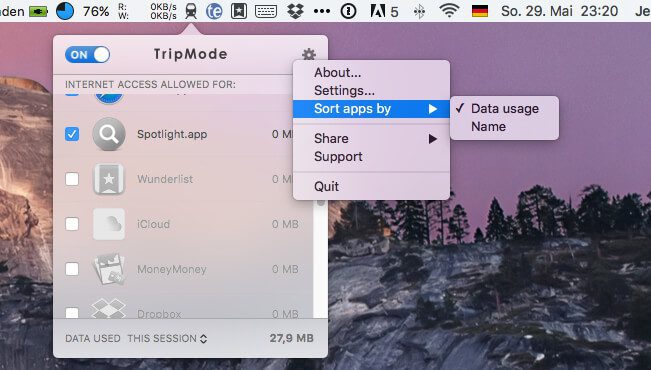 Another practical feature is the automatic activation of TripMode. The app remembers the network names and the status of the app in the respective network. Once you have activated TripMode in a network, it will always switch itself on in this network in the future when you connect to the network.

My approach to "saving data"
TripMode is usually activated for me when I surf the net from my iPhone via LTE at home or on the go. Then I basically switch everything off first and then specifically deactivate only those Mac apps that I also use. Dropbox and similar data hogs are usually only activated when I need to do something with them.
Another good tip for saving data volume is the Browser "Opera" with the "Opera Turbo" feature, which I presented in more detail in this article.
Important questions and answers about TripMode
There is a FAQ section on the TripMode homepage. I have briefly translated this for you and included it here so that you can get your open questions answered straight away. If something is still open afterwards, ask me via the comment function - I'll be happy to help.
How does TripMode save mobile data for me?
If TripMode is activated, all data connections that want to open programs are blocked. Now you can specifically enable these programs that you want to allow the connection to. All other programs do not consume a byte of mobile data.
Is there TripMode for Windows and Mac cheaper as a bundle?
Yes there is. It is best to have a look at the FAQ on the developer's website. There is a link to a payment page.
Can I use TripMode with any Wi-Fi, 3G / 4G network?
Yes, simply activate TripMode in the respective network via the menu bar and then it should always activate itself when you come into the respective network. (This also works with the Personal Hotspot, which I mentioned above, because for TripMode this is also a Wi-Fi network like others.)
Why isn't TripMode available in the Mac App Store?
This is because TripMode uses an OS X feature called "Kernel Extension". However, according to Apple's guidelines, apps are not allowed to use this if they want to be listed in the Mac App Store.
Will TripMode record my internet data?
No, TripMode only logs the app and the data volume so that the developers can better optimize the app for everyday use. Internet addresses, content, passwords and logins are not recorded.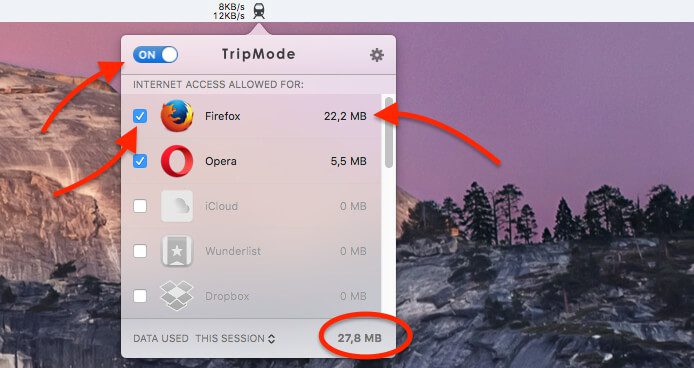 My conclusion on TripMode
I have been an avid user of the TripMode app for months and have had very positive experiences with it. I have already used the app to work with a mini data volume of 500 MB, which I had to add to my smartphone contract last year in order to get internet access in Italy. There was no WiFi in the apartment and TripMode was my salvation. I deactivated it briefly and within a few minutes 250 MB were gone without doing anything useful with it.
The 7,99 USD that the app currently costs can easily be saved in nerves and data volume. :)
You can here with the developers on tripmode.ch also get a free demo version as a download. Then you can decide whether you want to buy the app or not.
Jens has been running the blog since 2012. He appears as Sir Apfelot for his readers and helps them with problems of a technical nature. In his free time he drives electric unicycles, takes photos (preferably with his iPhone, of course), climbs around in the Hessian mountains or hikes with the family. His articles deal with Apple products, news from the world of drones or solutions for current bugs.