The developer company MacPaw, from which, among other things, the software subscription offer SetApp conducted a survey to find out what Mac users think of apps in general. How many do you have installed and how many do you use on a daily basis? What can an app cost, and are single purchases more popular than subscriptions? These and other questions were answered in a survey of 462 people (from the USA). I have summarized the most important data from the "Mac Apps Report 2021" in this article.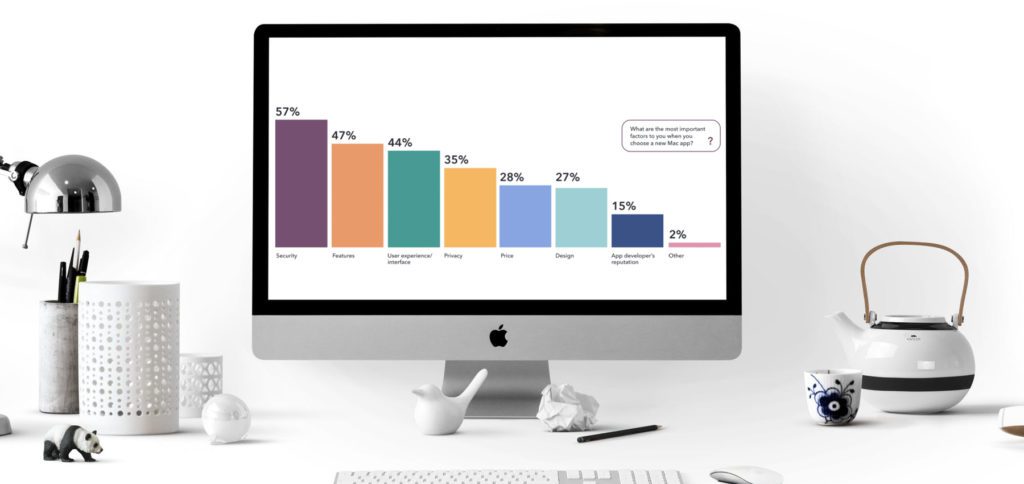 An average of 31 apps, 12 of which are used daily
How many apps do you have installed on macOS? According to MacPaw's SetApp survey, published yesterday as the "Mac Apps Report 2021" veröffentlicht users installed an average of 31 programs. Twelve of these are used on a daily basis. The average spending on Mac apps by those surveyed over the past twelve months was $ 36. When asked which payment model they prefer, only 14% said they prefer subscriptions. After all, 36% have clearly spoken out in favor of purchasing a full version license individually. "It depends," said 38% of people.
Am I more productive when using an Apple Mac?
When it comes to device usage, Apple's mobile computing solutions are clearly ahead. The MacBook Pro and MacBook Air were cited as the preferred models, with 42% and 33% respectively. It is also interesting that the users (56% female and 44% male according to their own information) prefer native apps that are specially made for macOS. When asked whether the Mac and its apps do their job better, 24% responded with "very close" and 31% with "close". Only 5% stated with "don't identify at all" that this did not apply to them at all. Perhaps the demographics are not entirely unimportant: 18 to 44 year olds 32%; 45 to 60 year olds 47%; Over-60s 21%.
Purchase decision: what speaks for or against buying an app?
Of course, the developers at MacPaw also think about what motivates users to buy an app or take out a subscription. And of course there was also one question and the other. For 50% of those surveyed, it was clear that the actual use of an app, i.e. its basic function, is a main reason for purchasing it. Furthermore, it has to fit into the budget. A total of 38% stated that a free demo version can have a positive influence on the purchase decision. For 24%, recommendations from others also play a role. For 23%, the decisive factor was whether there were discounts or other benefits. If you add all this up, you will see that multiple answers were possible.
Other criteria were also checked. The distribution of the importance of the individual points here in the overview (here, too, multiple answers ensure the distribution):
Security: 57%
Features: 47%
Usage experience / interface: 44%
Privacy: 35%
Price: 28%
Design: 27%
Developer reputation: 15%
Other: 2%
What is important to you when buying an app?
What criteria do you use to decide whether to buy software for the Apple Mac? And when is a subscription to a macOS app right for you? Feel free to leave a comment on the topic! And if you want to test over 210+ full versions at a low subscription price and use them permanently, then SetApp from MacPaw could be exactly the right offer for you. You can see the details here. You can also find information about the new MacPaw Space in Kiev in this post: MacPaw Space - Apple Museum announced with 323 products.
After graduating from high school, Johannes completed an apprenticeship as a business assistant specializing in foreign languages. But then he decided to research and write, which resulted in his independence. For several years he has been working for Sir Apfelot, among others. His articles include product introductions, news, manuals, video games, consoles, and more. He follows Apple keynotes live via stream.