You probably know the Mac key combination to close an app window (cmd + W). And you probably end programs with a shortcut (cmd + Q). But what if you want to close all the windows of a program at once without closing the app in the background? There is also a keyboard shortcut for this under macOS on the Apple computer. Which it is and which advantages it offers compared to the ones already mentioned, I have summarized that for you in the following.
Update 28.01.2021/XNUMX/XNUMX: OPTION + close window
The old post text below describes how to close all windows with the key combination CMD + OPTION + W. Unfortunately, this no longer works under macOS Catalina and macOS Big Sur.
But I found a new way to get the job done:
Hold down the OPTION button
Click the red button in the top left to close in one of the app windows
All windows of the app disappear - unless there are unsecured files underneath, which prevent them from closing.
Mac keyboard shortcut: Close all windows of a program
If you've opened multiple images and PDFs with the Preview app, are working on multiple Word documents at the same time, or have different Finder windows open, the Mac screen can quickly look messy. If you have to clear it quickly, it helps to close all app windows or finder windows at once.
The key combination that can be used for this is alt + cmd + W. In addition to the command key and W, there is also the option key. You can easily try out the shortcut to practice if you open several Finder windows, several TextEdit documents or the like. Then press alt + cmd + W; all windows of the app or the finder will be closed. At the point under the dock symbol you can see that the app is still active.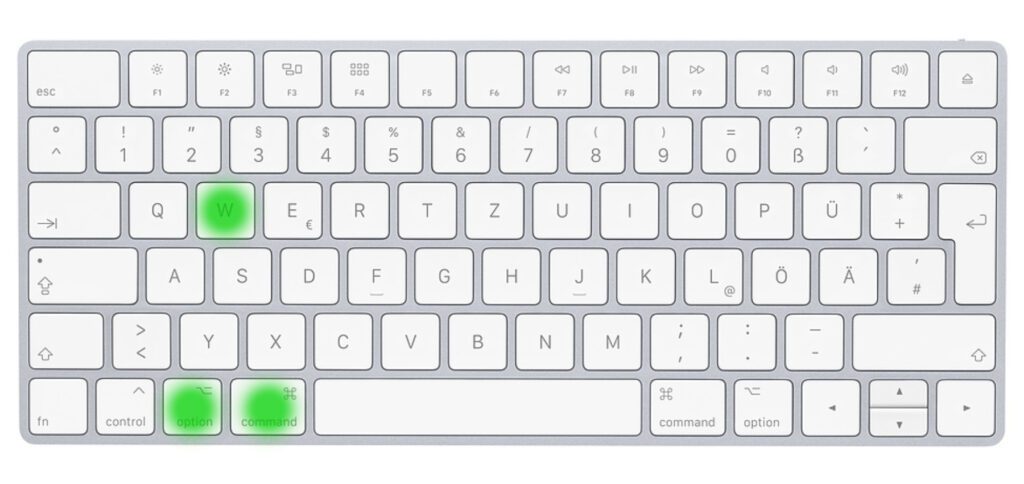 Close all windows vs. close the app completely
But what are the advantages of this approach? Well, when you quit the app with cmd + Q, all of the program's processes will be terminated. This means that data that has not yet been saved can also be lost. In many apps you will be asked if you want to save when you press cmd + Q, but there is probably also software that does not do this.
If you use cmd + alt + W, the temporary data of the software will remain. If you then reactivate the window, i.e. reopen the app with the respective documents or projects, they will be loaded with the last processing status - at least ideally.
After graduating from high school, Johannes completed an apprenticeship as a business assistant specializing in foreign languages. But then he decided to research and write, which resulted in his independence. For several years he has been working for Sir Apfelot, among others. His articles include product introductions, news, manuals, video games, consoles, and more. He follows Apple keynotes live via stream.