The REFOG company provides you with a keylogger for Apple Mac devices that records keystrokes, websites visited, chat processes, programs used and so on. The keylogger program works not only on the Mac, but also on Windows PCs - and that for all users, not just for the user who installed the program.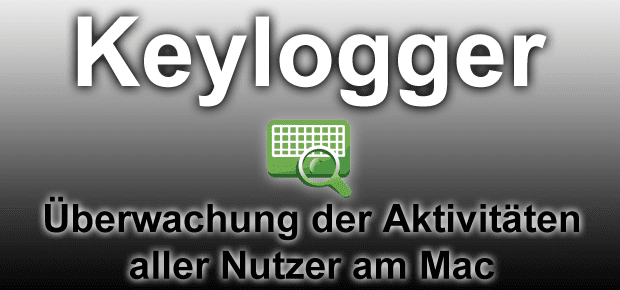 Why do you need a keylogger software?
The REFOG product page states that you can record your children's usage behavior with the program in order to see whether they are downloading illegal music, viewing violent, pornographic or otherwise unsuitable content. It also shows that you can monitor the usage behavior of your spouse with the Mac keylogger.
But I find the latter borderline, since monitoring computer usage not only shows a lack of trust, but is also a kind of breach of trust. However, if you are concerned about excessive online shopping, gambling in online casinos, or consuming harmful information and thoughts, then it may help.
And personally I use the software to have a little emergency backup while writing. I have here in an older article explains why. ;-)
REFOG Keylogger: Infographic on Internet and computer use by children
According to the company and its infographic, there are around 130 Internet users who are not older than 14 years. In addition, the age of first use continues to decrease; IoT devices, i.e. gadgets that use the so-called "Internet of Things", also contribute to this. But dangers and unsuitable content await children online. You can block these, but you can also bypass the blockages. This is why keylogger software can help - certainly not in the long term, but for sample tests.
Here is the REFOG infographic:
Functions of the REFOG keylogger software at a glance
Recording of keystrokes, including written texts, entered URLs, Google searches and so on
Regular screenshots of the entire desktop for monitoring consumed texts, images, videos, etc.
Recording of browser history, pages visited on the Internet, downloads, etc.
Overview of the programs used and the system incidents
Chronological listing of the things mentioned according to user accounts so that everything can be assigned
Setup and use of the monitoring software
After the Download the software from the REFOG website it has to be installed first. A password must then be set. This password should not be forgotten, because this is the only way to call up the program. Once installed, it runs automatically on the Mac (or Windows PC). The keylogger always acts in the background and is not visible to the individual users. He secretly records everything I have listed for you above. In order to get access to the recordings, you need the password again - and of course you have to know where to call the program.
REFOG software compatibility: Apple OS X, macOS and Microsoft Windows
The keylogger is available for both Mac and iMac, as well as the MacBook, MacBook Air, MacBook Pro and so on. The keylogger software can also be installed on Windows PCs and laptops. According to the provider, these systems are supported:
Mac OS 10.12 Sierra, OS X 10.11 El Capitan, 10.10 Yosemite, 10.9 Mavericks, 10.8 Mountain Lion, 10.7 Lion, 10.6 Snow Leopard, 10.5 Leopard
Windows 10, 8.1, 8, 7, Vista, XP
About REFOG: Success through corporate oversight
REFOG was founded in 2002 and since then has primarily developed monitoring software for companies, industry and private users. The program Employee Monitor made the company famous. According to REFOG, it is particularly popular with finance companies. Already "on more than 48 million computers in 201 countries around the world"The programs, keyloggers and monitoring solutions from REFOG have already been installed, the company announces on its website. "Our mission is to provide reliable and functional solutions for employee monitoring in companies. We help customers protect trade secrets and intellectual property and comply with company guidelines without putting employees under pressure, and without filters and prohibitions.", It also says.
Download Keylogger for Mac: the free download of the monitoring software
One can of course be critical of such a program. Why you should monitor your husband or wife - especially without a known problem that can manifest on the computer or the Internet - is not entirely clear to me. With regard to the children, I don't see things as entirely positive either. However, the forbidden, or at least the wicked, is always very attractive, that is clear. However, such monitoring and recording of user activities should not replace information about computer usage and Internet content.
With these thoughts in mind, I would now like to give you the link for the download: Click here. Remember, however, that monitoring loved ones on the computer can be seen as a breach of trust and mistrust - and rightly so. In addition, you should not maliciously spy on people with this software. Not just because it is illegal on machines that are not your property; but also and above all because it is not really morally justifiable. As I said: there are exceptions in individual cases - in the case of gambling addiction, suspicion of illegal activities, thoughts about (self) hatred, (mental) illness, suicidal thoughts and so on that are disseminated or consumed on the Internet.
Note for the evaluation of the recordings
Surveillance is all well and good, but what exactly do you do with the collected data? As already indicated, I do not advocate any use of the keylogger software. However, it can help to understand dangerous or simply undesirable activities. How did the virus get onto the computer? Are the children circumventing the Internet block or the blocking of game sites? Which online gambling sites still have to be blocked because the partner spends too many nights there (and leaves too much money there)? Which forums should be blocked for sending dangerous thoughts? These questions can be clarified. I cannot and do not want to give any detailed information about talking to the individual users. Only this much: only reason wins, anger only creates defiant reactions and thus perhaps other unsightly things on the computer.
Conclusion on the topic and your opinion
REFOG's keylogger is user-friendly (at least for the user in the true sense of the word). The program has a nice interface and can be operated intuitively, extensive computer skills are not required. However, monitoring is not morally justifiable for many groups of people. Perhaps in individual cases and when bringing up children. In short: if you should use the program, please be careful.
What do you think of that? Feel free to write a comment on the general topic of user monitoring on the Mac or specifically on the REFOG keylogger.
After graduating from high school, Johannes completed an apprenticeship as a business assistant specializing in foreign languages. But then he decided to research and write, which resulted in his independence. For several years he has been working for Sir Apfelot, among others. His articles include product introductions, news, manuals, video games, consoles, and more. He follows Apple keynotes live via stream.