When you start your Apple Mac, iMac or mobile MacBook or activate the lock screen, not only the users and some options are displayed in the login window, but also a message set in macOS. By default, it's "Welcome to my Mac," "Welcome to XYZ's Mac," or something like that. In many situations, however, it can be worthwhile to change the text that is often not really perceived at all. I will show you below how you can set the message on the Mac lock screen / in the login window yourself.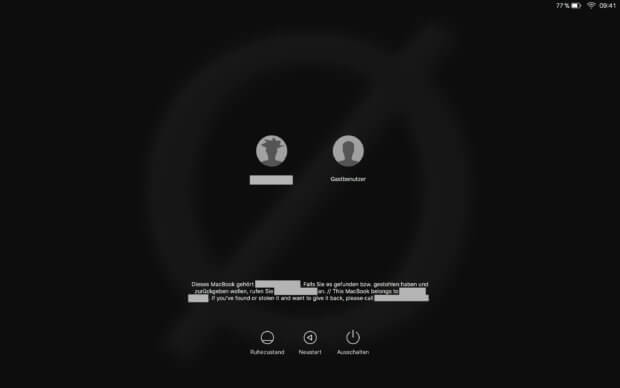 Lock screen / login window: Set your own message
Whether in the office, in the coworking space, while traveling, on vacation or even with larger, non-mobile Mac computers as well as with all models in the private sector: it can be worthwhile to personalize your macOS at first glance. For example, you can give your name and contact details when you are on vacation or when using the MacBook in an open-plan office or at a trade fair / conference so that honest finders can return your notebook if it is lost. A reference to the hotel or the flight that you took or wanted to take can also be helpful for the return.
That's how it works:
Opens the apple menu in the top left
Click on "System Settings ..."
Click on "Security" in the window that opens
Click on the lock in the lower left and enter your password
Now check the box next to "Show message on locked screen" and then on "Set message for locked screen ..."
Enter your individual text and confirm with "OK"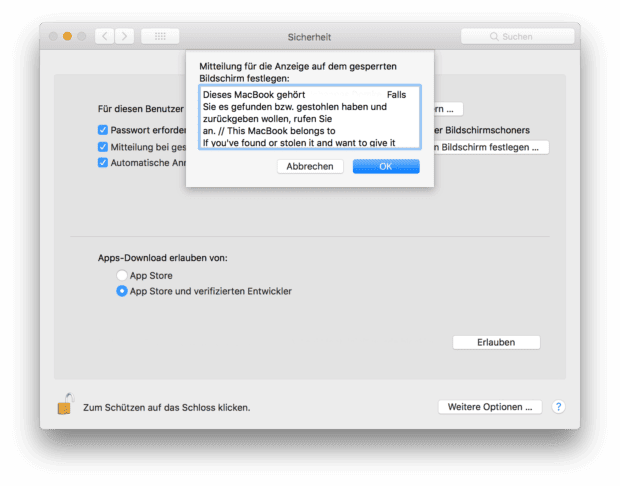 More tips and tricks
Here in the Apple blog Sir-Apfelot.de you will find many more guides and instructions on Apple operating systems such as macOS, iOS, watchOS and tvOS. From Error during installation about best macOS keyboard shortcuts to the instructions for Reset Mac Password everything and much more is included;) You are also welcome to subscribe to Sir Apfelot's newsletter or push notifications; then you always stay up to date!
After graduating from high school, Johannes completed an apprenticeship as a business assistant specializing in foreign languages. But then he decided to research and write, which resulted in his independence. For several years he has been working for Sir Apfelot, among others. His articles include product introductions, news, manuals, video games, consoles, and more. He follows Apple keynotes live via stream.