With iOS 16, iPadOS 16.1 as well as last but not least macOS 13 Adventure made it possible for Apple to retrieve emails sent via the Mail app. Various periods of time can also be set up for this revocation of an incorrectly sent e-mail. How it all works, which settings you can use and what else you need to pay attention to when delayed shipping is activated, I have summarized this for you in this guide. Feel free to leave a comment if you have any comments on the topic :)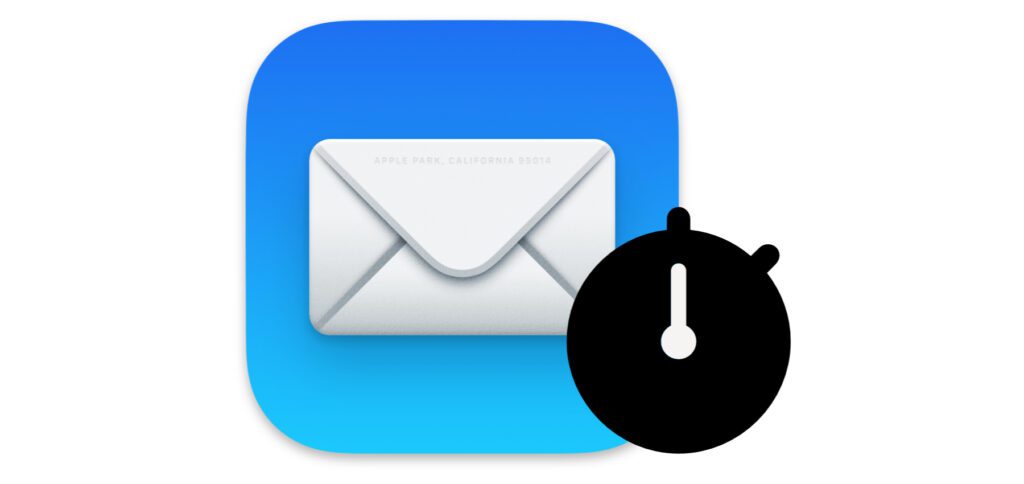 Mac Mail App: Send email revoked in three different ways
After you have sent an email with Apple's own Mail app from macOS Ventura, you can retrieve it in three different ways. This means that all users who work directly in the Appwindow, via a menu or via a key combination. Because not only does the note "Cancel sending" appear in the bottom left of the program window, this item is also available in the "Edit" menu in the menu bar. The keyboard shortcut is command + Z or ⌘ + Z.
So the procedure is roughly this:
Send the written e-mail
Realizing that a mistake was made or something was forgotten
The button in the window or the shortcut use
Alternatively in the menu bar Edit here
Then the first menu item Cancel sending click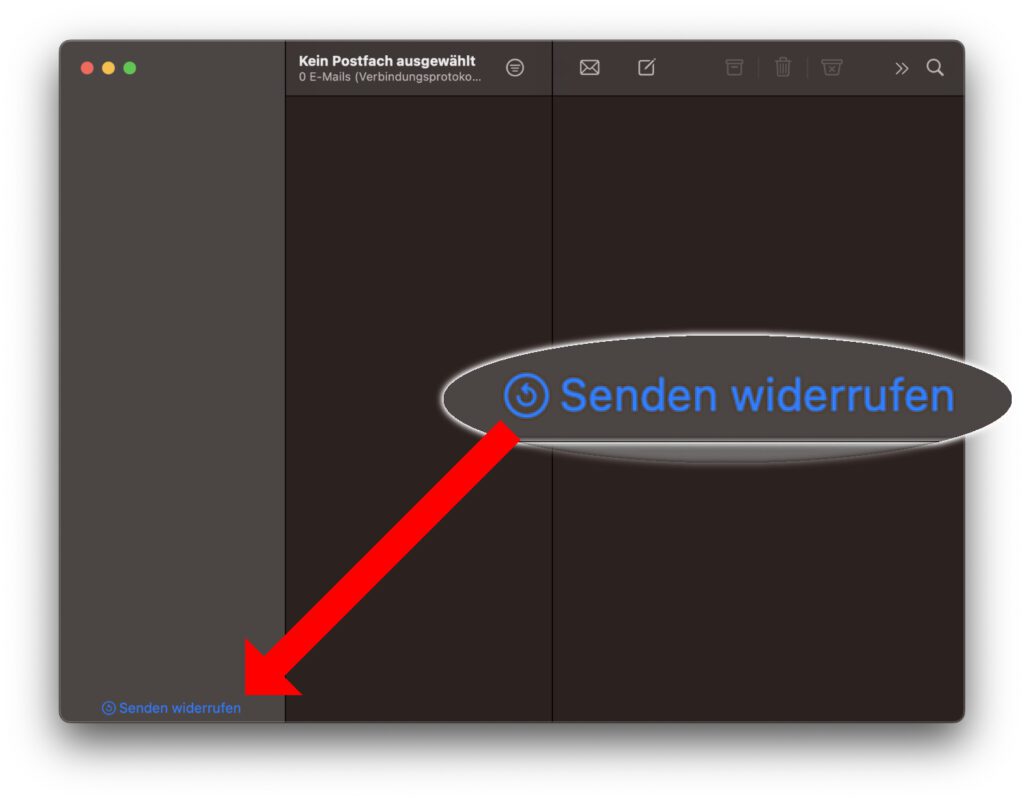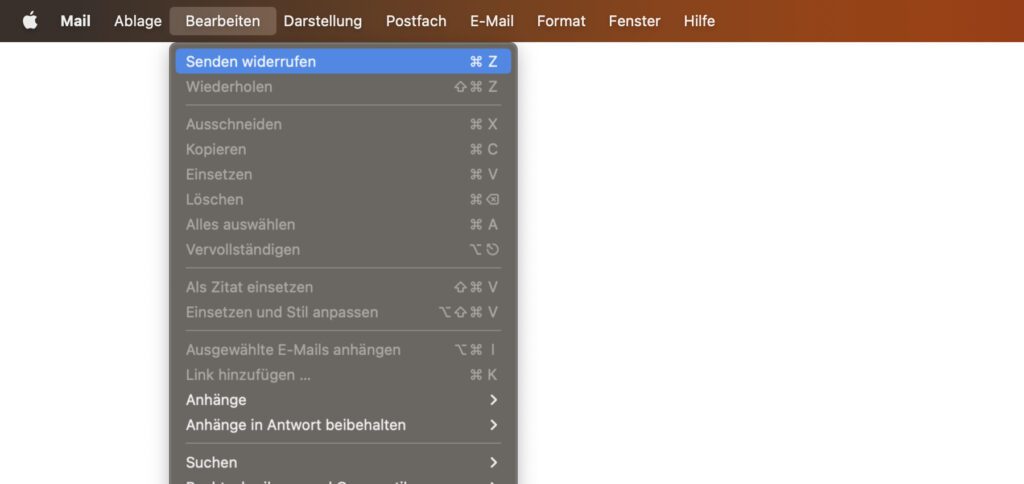 E-mail dispatch in Mail App: Delay adjustable from 10 to 30 seconds
By default, you have 20 seconds to retrieve an email after sending it in the Mail app. However, this may not be enough time to skim the message again, check the recipients and check the attachments. There is therefore the possibility of extending the period to 30 seconds and XNUMX seconds. To do this, proceed as follows:
Click in the menu bar Email Address
Then choose the point Settings from
Click the Compose tab in the Settings window
Under "Send:" you will find the item "Delay to revoke sending"
Select "No Delay", "10 Seconds", "20 Seconds" or "30 Seconds".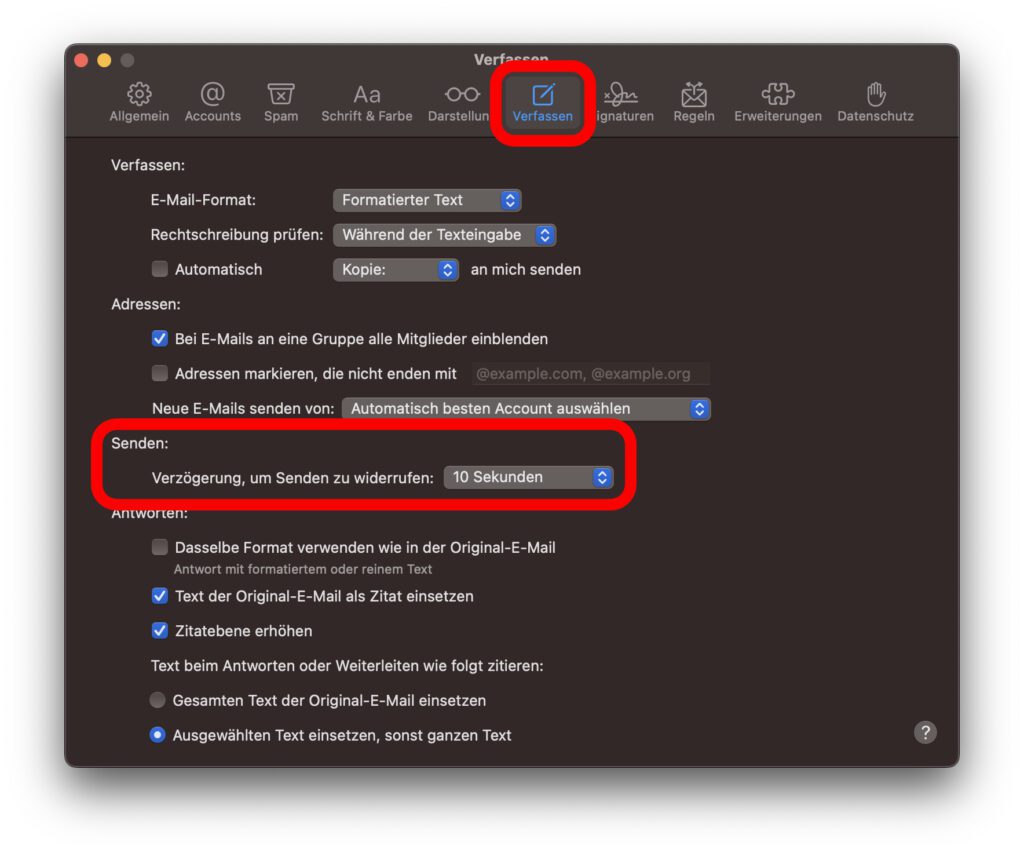 Mac must remain powered on and connected to the internet
It is important to know that the e-mail is saved locally for the set waiting period and then sent from the app. Depending on the setting, three things must be in place up to half a minute after the message is sent: the Mac must be switched on, the Mail app must remain open, and there must be an Internet connection. This is the only way you can be sure that the e-mail will reach the selected recipients. If you rarely make mistakes and want to send emails immediately, then select "No delay" in the Apple Mac mail settings shown above.
Apple source: Here
After graduating from high school, Johannes completed an apprenticeship as a business assistant specializing in foreign languages. But then he decided to research and write, which resulted in his independence. For several years he has been working for Sir Apfelot, among others. His articles include product introductions, news, manuals, video games, consoles, and more. He follows Apple keynotes live via stream.