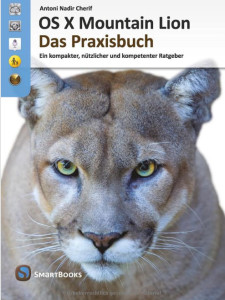 The operating system [OS X Mountain Lion-> mac-os-x] - version number OS X 10.8 - is a very advanced, but also very extensive operating system. At Amazon I discovered a great book that has a lot of content and thus offers helpful knowledge for every target group: The practical book for OS X Mountain Lion. For beginners, who are sitting at the Mac for the first time, questions will arise every now and then, which this book can answer well. Even for users who are fed up with Windows and have now decided on an Apple computer, support is provided in the sense that they are shown how to transfer the data and how to find the functions in OS X. that they of Windows know from here.
For die-hard OS X fans, there is also a lot on offer, because the book is full of helpful tips and tricks, which you are sure not to know all. With the book, I immediately had the idea to use it as a gift for friends who just got their first Mac. You can find out most things somehow on the Internet and rummage in forums, but sometimes it is just nicer to leaf through a book. And printed forum pages are also difficult to give away. :)
The book is also helpful for a faster workflow, because it presents many good tips for faster work. Among other things also the shortcutswho often make working on the Mac a pleasure.
OS X Mountain Lion 10.8 - The Practice Book
Antoni Nadir Cherif's book has a good 700 pages on which you can read a lot of inside knowledge about the Apple operating system. It's also very useful for looking up something every now and then.
Jens has been running the blog since 2012. He appears as Sir Apfelot for his readers and helps them with problems of a technical nature. In his free time he drives electric unicycles, takes photos (preferably with his iPhone, of course), climbs around in the Hessian mountains or hikes with the family. His articles deal with Apple products, news from the world of drones or solutions for current bugs.
The page contains affiliate links / images: Amazon.de