EpocCam App you can use your Apple iPhone or an Android smartphone as a webcam on your Mac or PC. This works across all manufacturers, so that you can also use an Android device on a Mac computer or an iPhone on a Windows PC. In the version with less resolution, advertising and the like, the whole thing is free. EpocCam Pro with better resolution and ad-free display costs € 8,99 for iOS and € 5,99 for Android. However, the free version should be sufficient for a zoom call in the company, a Skype call with the family or similar matters. In the following you will find all information about installation and usage.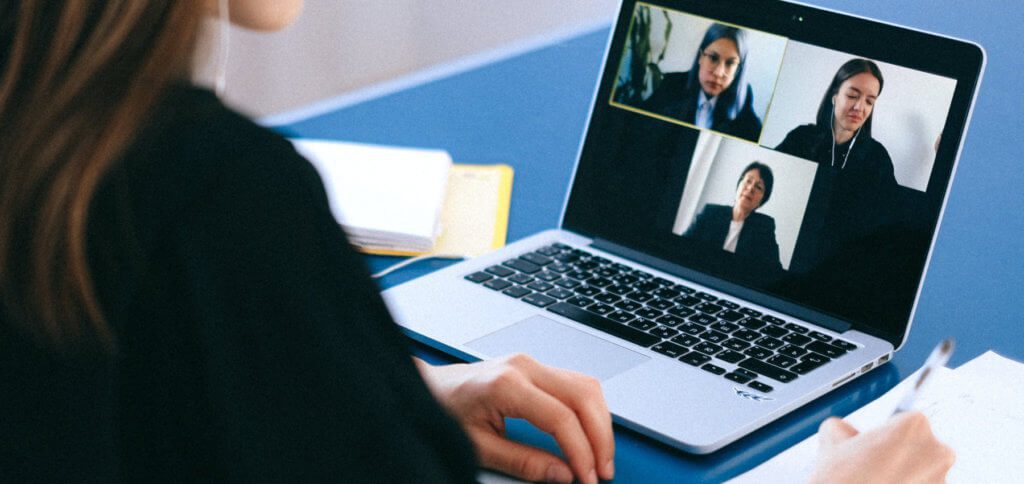 Install the EpocCam app on the smartphone
Setting up EpocCam on your smartphone is very easy. You simply download it from the Apple App Store or the Google Play Store and install it. That's about it, actually. Before you can use the smartphone camera as a webcam replacement, you need the driver for your computer. That's what the next paragraph is about.
[appbox app store id449133483]
[appbox googleplay com.kinoni.webcam2]
Download the EpocCam driver from the Kinoni site
The driver for macOS or Windows, which is necessary so that you can use the smartphone camera as a webcam, can be found on the official website Developer website. There you will also find instructions for using the software developed by Kinoni - and under step 2 you will find the driver download for the computer. Just click on the macOS version if you are using a Mac or the Windows version if you are using a PC. After the download you install everything and you are already done with this step.
EpocCam does not work with FaceTime!
After a reader asked me how he can get EpocCam to use his iPhone as a camera in FaceTime, I went on a search and unfortunately bad news for you: EpocCam does not work with FaceTime or Photobooth, if you have macOS Mojave, macOS Catalina or Big Sur installed.
The reason for this are restrictions that Apple has built into the operating system, which EpocCam cannot circumvent. You can find the exact explanation here in a support article from EpocCam.
In macOS 10.4 Mojave, Apple built-in applications use hardened runtimes. Apps using hardened runtimes can not load third party plugins unless explicitly allowed by app developers. This means that third party camera drivers do not work with Apple apps. We are trying to find a solution to this, but at the moment there is nothing we can do about this issue.
So currently you can use the iPhone as a webcam with Zoom or Skype, but it doesn't work with FaceTime.
Use smartphone camera as webcam: Here's how!
Now all you have to do is dial in the two devices (mobile phone and computer) in the same network (e.g. in the same WLAN), start the EpocCam app on the iPhone or Android device and select "EpocCam" on the computer as the source for the video transmission. You can see if that works on the Apple Mac QuickTime try out. Just start the QuickTime Player, click in the menu bar filing and then on New film recording. In the app window you can now see a record button in the middle and an arrow next to it. You click on the latter to select the video source. "EpocCam" should now appear as an option. Click on it and the camera transfer from iPhone to Mac (or whatever you use) will start;)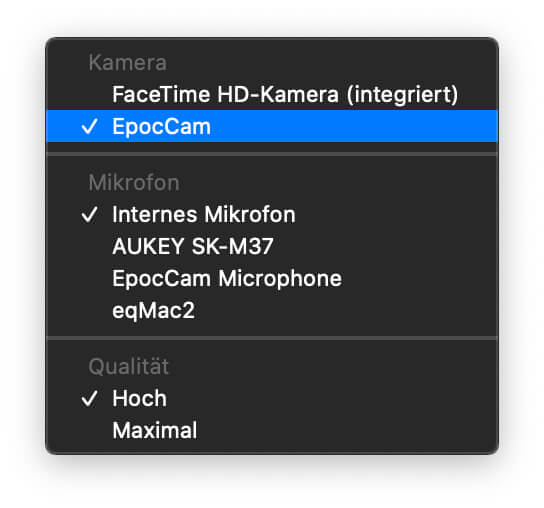 Buy a smartphone stand or bracket
If you find this guide helpful, why not do some shopping via my affiliate links Smartphone tripod or Smart phone holder for the table. These little helpers are useful for video conferencing because you don't have to hold your cell phone tight or lean against it somewhere wobbly. You also support my blog with your purchase via the affiliate link. Thanks!
4,00 EUR
Jens has been running the blog since 2012. He appears as Sir Apfelot for his readers and helps them with problems of a technical nature. In his free time he drives electric unicycles, takes photos (preferably with his iPhone, of course), climbs around in the Hessian mountains or hikes with the family. His articles deal with Apple products, news from the world of drones or solutions for current bugs.
The page contains affiliate links / images: Amazon.de