The MacBook Pro 2016 comes with a USB-C port, making it perfect for charging with a power bank, i.e. an external battery, on the go. Which power bank is conceivable for the MacBook and MacBook Pro 2016 with USB-C connection, what capacity the battery of the Apple laptop has in Wh or mAh and other facts I have summarized for you. (Update from February 5, 2017 below)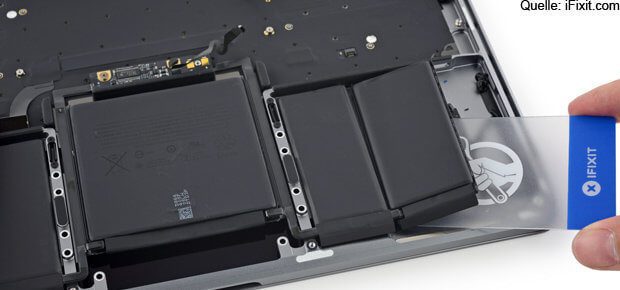 What is the battery capacity of the MacBook Pro 2016?
Yesterday I already got one for you Test of the new Apple laptop presents. It was about the most important criteria for users of the MacBook Pro. The battery life also played a role, even if the capacity in Wh or mAh was not mentioned. I would like to make up for that with regard to external batteries: Loud iFixit the battery of the Apple laptop has a capacity that depends on the model. The following data results:
MacBook Pro late 2016, 13 inch, Function Key Edition: 54,5 Wh
MacBook Pro late 2016, 13 inch, Touch Bar Edition: 49,2 Wh
The Wh values ​​can be converted into mAh using the determined voltage of 11,41 V. To do this, divide the Wh by the number of Vs and multiply the whole by 1.000. This results in the following mAh values:
MacBook Pro late 2016, 13 inch, Function Key Edition: 4.776 mAh
MacBook Pro late 2016, 13 inch, Touch Bar Edition: 4.312 mAh
USB-C power bank for the MacBook and MacBook Pro
Update (February 5, 2017): I'm not a physics pro, so it's been pointed out that what I've said below isn't entirely accurate. You probably have to take the Wh of the MacBook and divide it by the output voltage of the power banks (usually 5V) to be able to make a comparison. For the Funcion Key Edition, this results in a requirement of 10.900 mAh for a full charge; and for the Touch Bar Edition, it's 9.840mAh. The two following anchor models are "only" enough for about two charges. (end of update)
So now we already have a clue for the desired capacity of the power bank. This should of course be used for some loads; a memory of 10.000 mAh should be a minimum and be enough for two charges in the models described above. 20.000 mAh as in the following Anker model is ideal, especially since you can then carry the power bank with you on the plane (often 100 Wh is the maximum for external batteries). But be careful: the Anker PowerCore + 20100mAh USB C power bank According to the manufacturer, it is not suitable for the MacBook Pro, but only for the MacBook:
And here is the Anker PowerCore + Powerbank for the MacBook with a total of 26.800 mAh:
External battery for the MacBook Pro 2016: USB-C power bank
There are also restrictions on the following model. According to the product description, the PowerOak K3 Powerbank can charge the MacBook Pro, but only the 11, 12 and 13 inch models. The models in 15 or 17 inch size can allegedly not be supplied with the 36.000 mAh power bank. So much for the manufacturer. However, one reads in a 5-star review: "Optimal solution for all apple devices. MacBook Air, iPad, iPhone. It also works with the MacBook Pro 15 ″ […] "- what do you think, is trying here over studying?
PowerOak K3 133Wh / 36.000mAh MacBook powerbank
Powerbank for Apple MacBook / MacBook Air / MacBook Pro (series from 2006-2018) and other PD2.0 Type-C laptops / tablets ...
Flexibly charged with AC / PD-Type-C: You can use the PowerOak K3 power bank via a charger for mains adapter and ...
All in one quick charge: it has 4 output ports. A 16,8V / 4,6A for MacBook Pro and MacBook Air ...
Try it out and send it back if necessary?
If you select searches at Amazon and looking for external batteries for the MacBook Pro late 2016, you can quickly see that the devil is once again hiding in the details. You have to pay attention to which model you have exactly and what information is provided by both the manufacturer and the customer. What do you think, just order such a power bank as described above and then try it out, also with a 15 "or 17" model? If necessary, you can send the power bank back or use it for iPhone, iPad and the like ... Leave your opinion as a comment;)
(And here are some tips from Apple regarding battery performance: Click )
After graduating from high school, Johannes completed an apprenticeship as a business assistant specializing in foreign languages. But then he decided to research and write, which resulted in his independence. For several years he has been working for Sir Apfelot, among others. His articles include product introductions, news, manuals, video games, consoles, and more. He follows Apple keynotes live via stream.
The page contains affiliate links / images: Amazon.de