Last night Apple threw an update for your Mac into the ring, which mainly focuses on bug fixes. At the same time, an update for iOS (version 14.0.1) is available, which is also a typical bug fix update. I think no further updates should be expected with macOS. The next then is the big upgrade to macOS Big Sur.
Update: 28.09.2020/XNUMX/XNUMX: Update causes massive problems with some systems
My reader Simon (thanks!) Pointed out to me that this security update can cause problems. Most of the time such updates go smoothly, but in this case there seem to be some users who have had quite a few incidents with the system after the update. Here is a small list that I am at Mr Macintosh have found:
Memory issues - Reports of large increases of memory usage = no free memory and a large amount of compressed memory.
Slow boot & high fan speed
System slowness / stalling in finder
New local users cannot be created through Users & Groups.
Migration assistant crashes to login window when started.
Large amounts of system.log entries - Class asn1SetToken is implemented in both /System/Library/PrivateFrameworks/StoreServices.framework/Versions/A/StoreServices
Errors when using tmutil localsnapshot /
Error when running softwareupdate -l (not sure if it causes any issues with the software update binary)
System locks up in Desktop & Screen Saver> Screen Saver when trying to select a picture type screen saver.
WindowServer Process using 4 times amount of memory. Should be anywhere between 40-125MB after the update it jumps to 400MB
cDock 4 - Dock customization app becomes unusable.
Menu bar sometimes does not change after switching from applications back to the finder.
At this point, perhaps, a few reading tips on the new Mac operating system:
Shortly after the release of macOS Big Sur, I will have one again Collective contribution with problems and solutions for the new macOS. But for that it has to be published first ...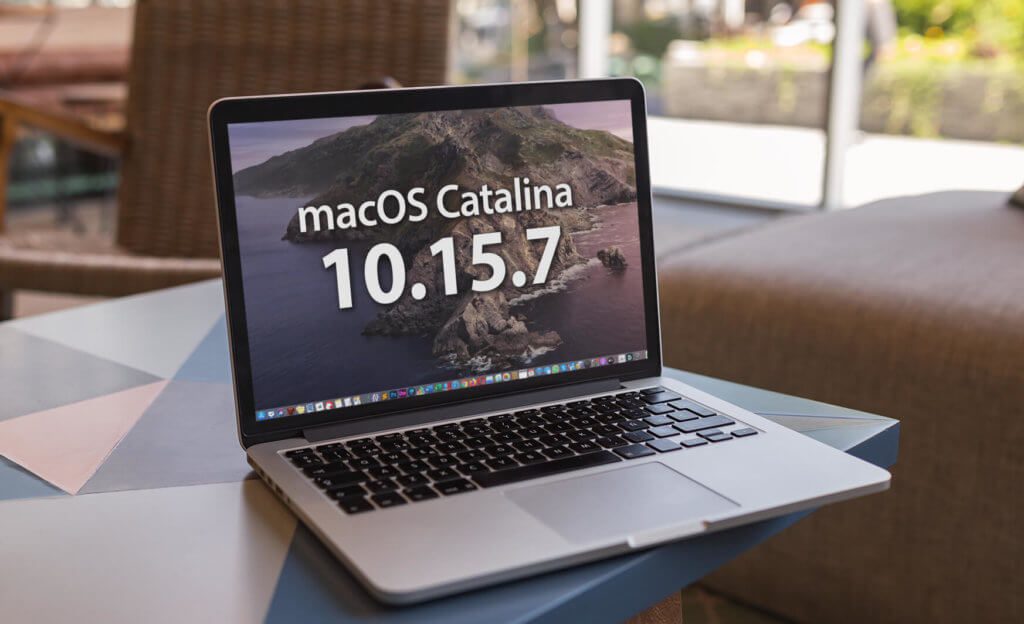 Fixed problems with WiFi and iCloud
Apple itself reveals the following additional information with the update:
macOS Catalina 10.15.7 update –– restart required

macOS Catalina 10.15.7 provides critical security updates and bug fixes for your Mac.

Resolves an issue that prevented macOS from automatically connecting to wireless networks
Fixes an issue that could prevent files from syncing through iCloud Drive
Corrects a graphics issue that could occur on iMacs (Retina 5K, 27 ″, 2020) with Radeon Pro 5700 XT

Some features may not be available in all regions or on all Apple devices. More information about the security content of this update is available at: https://support.apple.com/kb/HT201222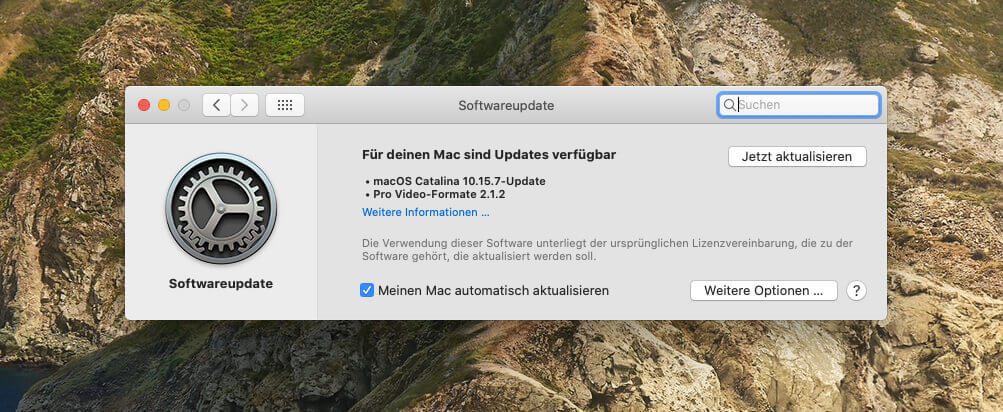 Mac: no WiFi connection to the router
The WiFi issues that are being addressed here relate to the fact that some Macs refused to reconnect to the router when, for example, they woke up from sleep. I had received such messages from readers recently and in some cases we were able to fix them by setting the wireless network to 2,4 GHz or 5 GHz. The solution is here in the post described in detail.
iCloud bug also fixed
According to Apple, the update should also fix a problem with iCloud synchronization. I very much hope that this is also about the iCloud Photo Library, because in the past few weeks it has very often refused to sync new photos from the iPhone. Only a restart helped me here, but this only solved the problem temporarily.
It would be desirable if the update provided more reliability in this context.
Security update included
As I read at Heise, macOS 10.15.7 also offers a fix for four security-related bugs, known as Model I / O, Sandbox and ImageIO, that allow attackers to execute code.
For the older macOS versions High Sierra and Mojave, these gaps are also closed with security updates.

Where can I find the update?
If your Mac doesn't notify you of the update with a notification, you can go to System settings> Software update install yourself.
If you select this point, the Mac will automatically search for new updates and should display the macOS Catalina Update 10.15.7.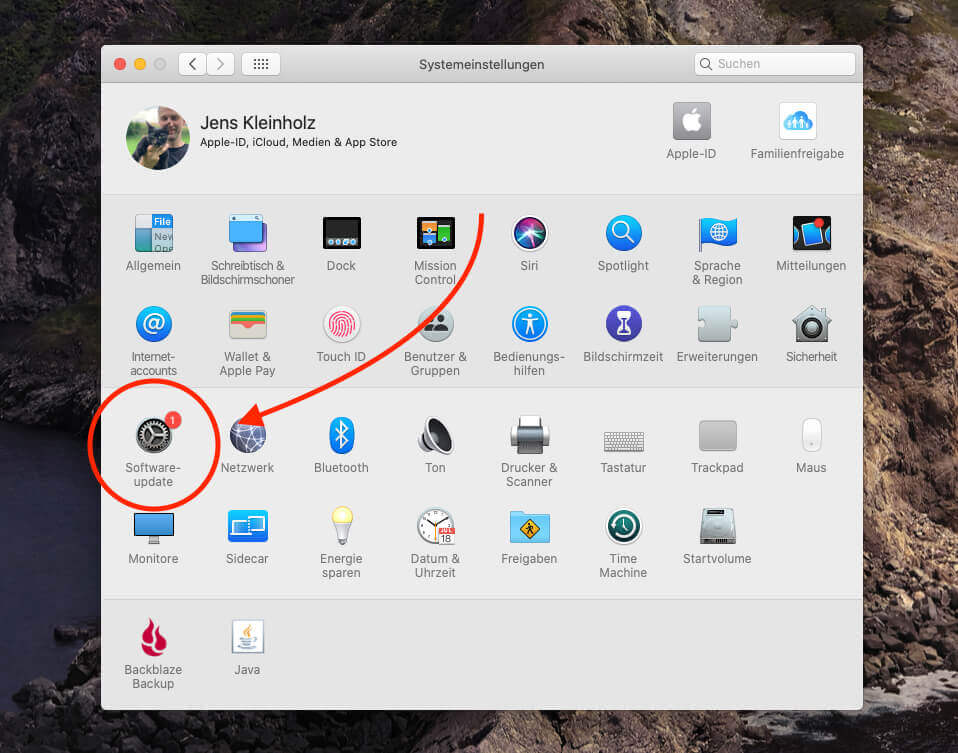 My recommendation: install with caution!
It sure sounds silly to some tech-savvy people to give a recommendation here, but I have some readers who have little to do with computers and who ask me whether or not to install the XYZ update.
While I always recommend backups and a little patience for major updates (like the coming one on macOS Big Sur), you can assume with this update that the Mac will not cause any problems afterwards. On the contrary: It is a bug fix update that is not aimed at new features, but rather fixes existing problems. For this reason I install such updates as quickly as possible.
A reader just wrote me that he got massive problems with the update and spent a day recovering data with the TimeMachine. Other people also seem to have run into problems with the 10.15.7 update, like this post here shows. For this reason, I have to withdraw my first recommendation to install the update directly and would say that you should do a 1: 1 backup with Carbon Copy Cloner, Super Duper or Smart backup should do.

The update requires a reboot, but my Mac booted cleanly after the update and so far I have not seen any negative effects.
You are welcome to leave a comment here and write whether something strange has occurred to you.
Jens has been running the blog since 2012. He appears as Sir Apfelot for his readers and helps them with problems of a technical nature. In his free time he drives electric unicycles, takes photos (preferably with his iPhone, of course), climbs around in the Hessian mountains or hikes with the family. His articles deal with Apple products, news from the world of drones or solutions for current bugs.