At the keynote at the opening of Apple WWDC 2019, the technology giant from Cupertino has its new Mac operating system macOS 10.15 Catalina presented. With the name one says goodbye not only to the mountains (El Capitan, Sierra, High Sierra) and the desert (Mojave), but completely to the mainland. So off the coast of California you will anchor at Santa Catalina Island from autumn 2019 (Wikipedia). What this means for the Mac, iMac and MacBook, what new features and changes there will be and what else you should know, I have summarized for you in the following. There are also innovations that the developers among you should address;)
Event summary: Report on the WWDC Keynote from Monday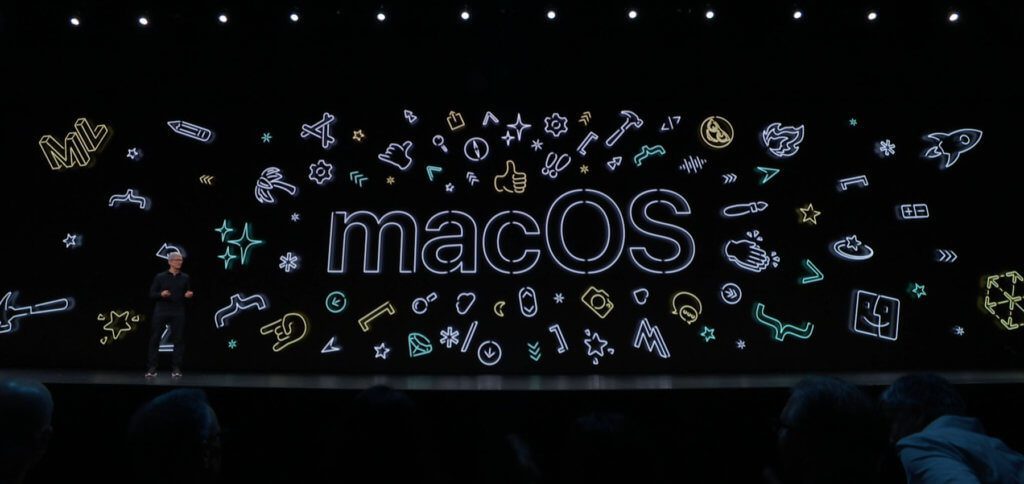 iTunes is divided into: Music, Podcasts, TV and Finder
As previously announced or leaked by some media, with macOS 10.15 Catalina the iTunes Split app. Instead of packing even more content into the former "Rip, Mix and Burn" software of the Mac, Apple is thinning it out. The individual functions are divided as follows:
Apple Music - Play, buy and stream music
Apple podcasts - Play, download and stream podcast content
Apple TV - App for channels, series, films and multimedia content purchased in iTunes
MacOS Finder - Is responsible for iPhone synchronization from macOS 10.15 onwards
Operating aids and extensions: SideCar, Voice Control, FindMy, etc.
Also to Sidecar There were one or two leaks in advance, which were completely confirmed at the WWDC 2019 keynote: the iPad can be used as a second screen via cable or wirelessly and as a graphics tablet on the Mac with Apple Pencil. Especially on the go, the MacBook should help users to stay creative and productive.
There is also more productivity and, for the first time, access to the use of Mac and iPhone Voice Control. Voice control of Apple devices is intended especially for physically handicapped people. In addition to commands for opening programs and files as well as for writing texts, messages and e-mails, there is also a number display to precisely select buttons, menu items and the like. A feature with which Apple has lagged behind Microsoft's Windows for many years. The innovation: in addition to the Mac, the operating help can also be used on the iPhone.
With
FindMy
Another leak is confirmed: namely that Find My Friends and Find My iPhone will be merged. But that's not all. For stolen or lost MacBooks (with T2 chip) in sleep mode, there are better ways to find them from macOS 10.15 onwards. Because they send out a signal via Bluetooth that is forwarded (anonymized and encrypted) by surrounding Apple devices such as iPhones and MacBooks. In this way, the MacBook can also be located without WLAN and without active operation.
This comes from the iPhone with iOS Screen time- or. Screen time-Feature on the Mac. After News, Home and Co., this is a further approximation of the mobile operating system and macOS. With the Screen Time app, users on the Apple computer can see how long they have used which applications and thus determine whether and how long they were productive or simply wasted time.
Project Catalyst - create macOS apps from iPad apps in just a few steps
There was great approval among the live viewers of the Apple WWDC 2019 Keynote when the Project Catalyst was presented. This is because apps designed for the iPad can be implemented for the Mac in just a few steps. Certainly there are currently numerous workshops and lectures in the context of Apple's World Wide Developers Conference in San Jose, which is still ongoing.
Thanks to Project Catalyst, you no longer need your own macOS development team, which should benefit young companies in particular. Adjustments for the control with mouse, keyboard, trackpad, etc. can be implemented quickly. As a testimonial, Robert Chatfield from Atlassian spoke about creating the Jira Cloud app within a few days. During the demonstration it was shown that theoretically you only have to tick "Mac" in Xcode to add those for "iPhone" and "iPad" and thus create a third app.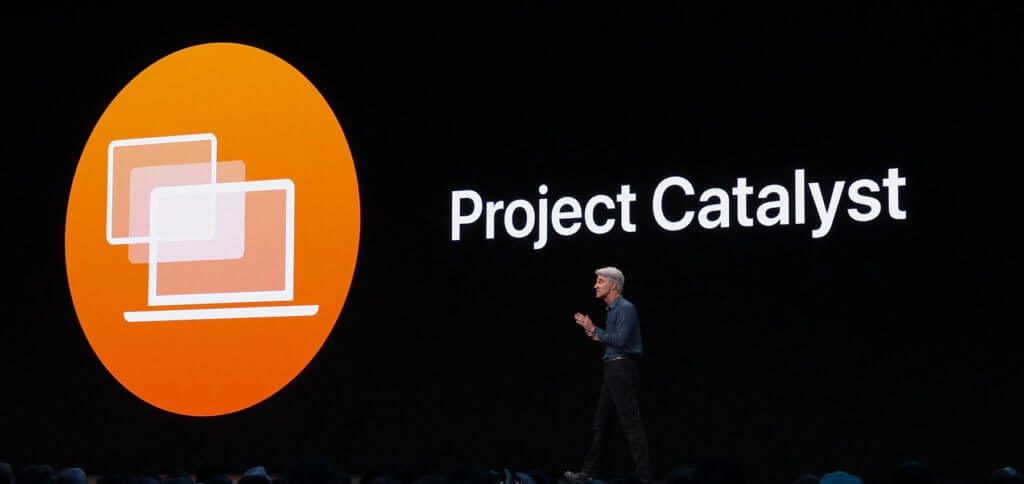 More information and details about Project Catalyst: Apple's developer page
SwiftUI - New framework for Swift programming
With Swift, Apple launched a new programming language a few years ago that was based on old frameworks from the C era. With the SwiftUI Apple, according to its own statements, has now initiated a paradigm shift. Because now programs can be designed directly in the preview; Elements, texts and images brought in via drag and drop are converted directly into code. Conversely, code is converted to preview in real time.
In addition, much less code is required for programs, so that writing is faster and easier. A live demo was presented on stage by Josh Shaffer, Apple Software Engineer. It was also shown that live tests can also be carried out in real time on the connected iPhone or iPad. In conjunction with Project Catalyst, SwiftUI is a good step for Apple to support developers - especially beginners and young teams. In addition, more people can become enthusiastic about programming with it.
More about SwiftUI in Xcode: Apple's developer site
Augmented Reality - ARKit 3 with RealityKit and Reality Composer
In the past few years the Augmented reality (AR) has become an important topic at Apple as well as on the keynotes. That is why new features and innovations were presented in this area at the WWDC 2019 keynote. By means of the ARKit 3 With RealityKit and Reality Composer, for example, it is now possible to create software that places people between AR levels and thus between 3D objects. People can thus be displayed even more immersively in real time in a virtual world.
There was a demonstration by two representatives from MOJANG. If that doesn't mean anything, their app should sound more familiar: Minecraft. With "Minecraft Earth", MOJANG is launching its AR app this summer, with which Minecraft worlds can be located, edited and also accessed in the real world. Thanks to ARKit 3, players or people in front of the camera of the iPhones and iPads used for this can be integrated directly into the world of pixels and blocks - with layers in front of and behind them.
Besides, it is now too Motion capturing possible in real time. This means that the movements of a person can be converted directly (or with a small delay) into movements of a virtual character. This should not only be advantageous for Minecraft Earth, but also especially for creative apps, for filmmakers and all creative people who cannot afford studio equipment, expensive software and the corresponding specialists. So an interesting step that could inspire creative people to come up with new masterpieces.
Info and pictures about Minecraft Earth: Official provider page
After graduating from high school, Johannes completed an apprenticeship as a business assistant specializing in foreign languages. But then he decided to research and write, which resulted in his independence. For several years he has been working for Sir Apfelot, among others. His articles include product introductions, news, manuals, video games, consoles, and more. He follows Apple keynotes live via stream.