The new Mac operating system macOS 13 Ventura is out. This opens up new possibilities, new functions and, in some areas, better performance for compatible Apple computers. There are also other ways of working with Apple mobile devices - i.e. with the Apple iPhone and the Apple iPad. The new system settings design is still based on this. The clock app and the weather app can now also be used on the Mac. What else there is to know about macOS 13 and which sources give you information, downloads and instructions, I have compiled for you below.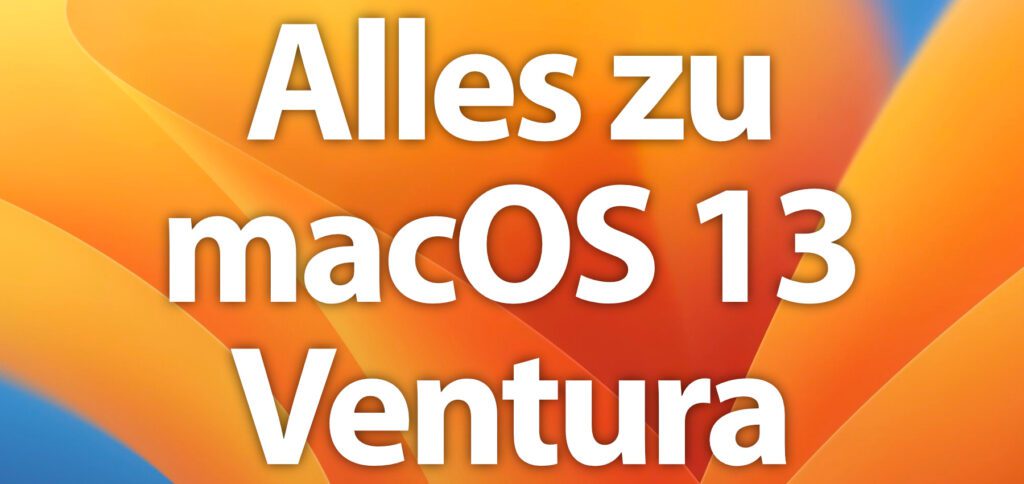 Post-Ventura installation problems and appropriate solutions
This article is primarily about the macOS 24 Ventura operating system for the Apple Mac, which was rolled out on October 2022, 13. So, specific features, tips for download and installation, sources for the macOS Ventura wallpaper, and so on are given. If you are looking for solutions to problems because errors or bugs appear after installing the system, then I would like to draw your attention to these posts:
macOS 13 Ventura – What's new in this Mac operating system?
Just as with the two systems named Big Sur and Monterey before it, Apple's Ventura is increasingly targeting users with Apple Silicon Macs. Although macOS 13 Ventura is still compatible with some Intel Macs, the number of these models is decreasing every year. The new operating system for various versions of Mac, iMac and MacBook was presented on June 6, 2022 as part of the WWDC22Keynote. Several new functions were presented, which were then implemented over half a year Beta versions released for testing and adjusted.
Innovations and improvements that could be announced and tried out are, for example, the delayed sending and the revocation of e-mails. You can also be reminded of certain emails. Spotlight, the versatile search function of macOS, has also been revised so that e.g. B. a timer can be set with it. In Safari, starting with macOS 13, Ventura can use shared tab groups as well pass keys used in place of passwords. Metal 3 has been implemented for better gaming experience; and FaceTime calls can now be moved from iPhone to Mac without interruption.
The iPhone can also be used as a webcam on the Mac without a third-party app. There is also an adaptation to the mobile devices iPhone and iPad by making the clock app and the weather app available under macOS Ventura. The design and menu navigation of the system settings have also been adapted to mobile devices. The same applies to the "About This Mac" display, which has been completely redesigned. There are also updates for handling different types of content: such as live text for videos or the Clipping function for photo content.
Here are links that will give you more insight:
These Mac models are compatible with macOS Ventura
macOS 13 Ventura is a Mac operating system based on its predecessor macOS 12 Monterey builds up, but gives it new functions, more performance in some areas and a new design here and there. Metal 3, new compatibilities with the iPhone (from iOS 16.1) and other updates lead to the exclusion of some Apple computer models that were previously usable with Monterey. The vintages no longer start at 2013 and include models from 2014, 2015 and 2016. Compatible with macOS Ventura are mainly Apple computers from 2017:
iMac from 2017 or newer
iMac Pro from 2017 or newer
Mac Pro from 2019 or newer
Mac mini from 2018 or newer
MacBook from 2017 or newer
MacBook Air from 2018 or newer
MacBook Pro from 2017 or newer
Mac Studio from 2022 or newer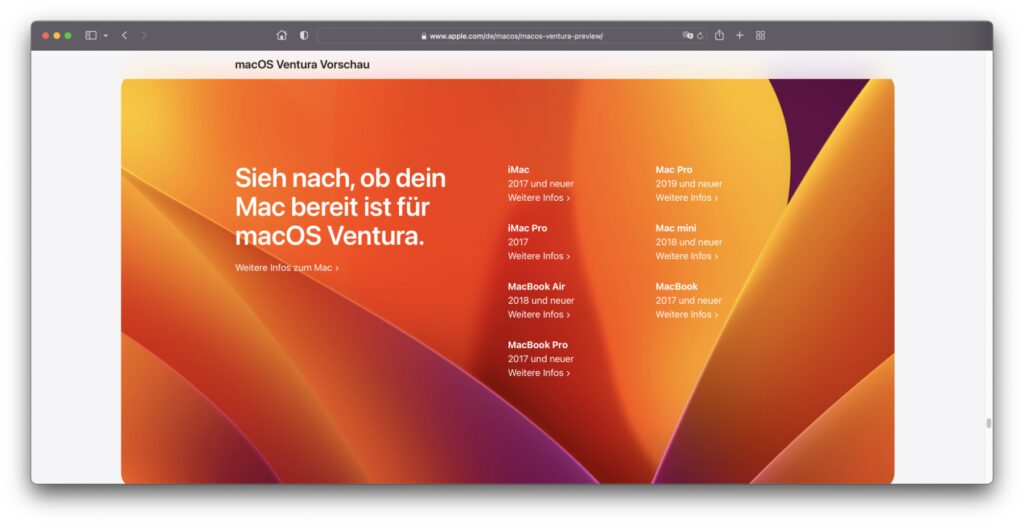 You can find more information on this topic in this individual article: Is my Mac compatible with macOS Ventura? If your computer does not appear in the list above or in the linked post, then you cannot install Ventura on it. As every year, there are patchers that allow installation on models that are actually too old. But as M1 and M2 chips and newer versions of Apple Silicon are targeted, the systems will run poorly on old Intel machines.
Download and install macOS Ventura: Here's how!
If your Mac can be used with the new system, you will likely find an appropriate upgrade note at Apple menu  -> System settings ... -> software update. There you can also start the download and installation of the new system directly. If you just want to download the system, for example to use the installation file on another computer using a boot stick, you can do this in the App Store: here is the link to it.
After downloading the "Install macOS Ventura.app" you can right-click and display the package content, for example, the SharedSupport.dmg or InstallESD.dmg. Then you have macOS Ventura as a DMG. Downloading a macOS Ventura DMG or macOS Ventura ISO from a third-party source is not recommended. No matter which reputable download portal offers you a macOS version, to be on the safe side, it is better to stick with the offers that the Apple servers use as a source.
Create macOS Ventura boot stick with ANYmacOS
A third-party app that allows convenient download of macOS and its beta versions from Apple's servers ANYmacOS by Sascha Lamprecht. This app not only allows you to download the respective installation file, but also to create a boot stick with it. So you can use the downloaded system on several Macs and don't have to initiate a separate download for each individual upgrade. Further information can be found in the linked article and on the Developer's website.
macOS Ventura Wallpaper – Here you will find the desktop backgrounds
Mac operating systems always come with their own desktop background or wallpaper, which makes them identifiable at first glance. Starting with OS X 10.9 Mavericks e.g. For example, landscapes or other impressions from California have been selected for the desktop background of new Mac systems – matching the respective names. Graphically designed wallpapers were used in parallel with macOS 11 Big Sur. With macOS 12 Monterey it was completely switched to. The flowery Ventura wallpaper is also designed in this way.
By the way, you can find an overview of all the distinctive Mac desktop backgrounds at 512pixels. In addition to the wallpaper collection, there are a few other projects on the site, some of which also revolve around Apple products and Apple software. But if you are only interested in the macOS Ventura wallpaper as a 6K download, then feel free to use it this link as a shortcut to the corresponding subpage. The download is of course free of charge and no registration is required.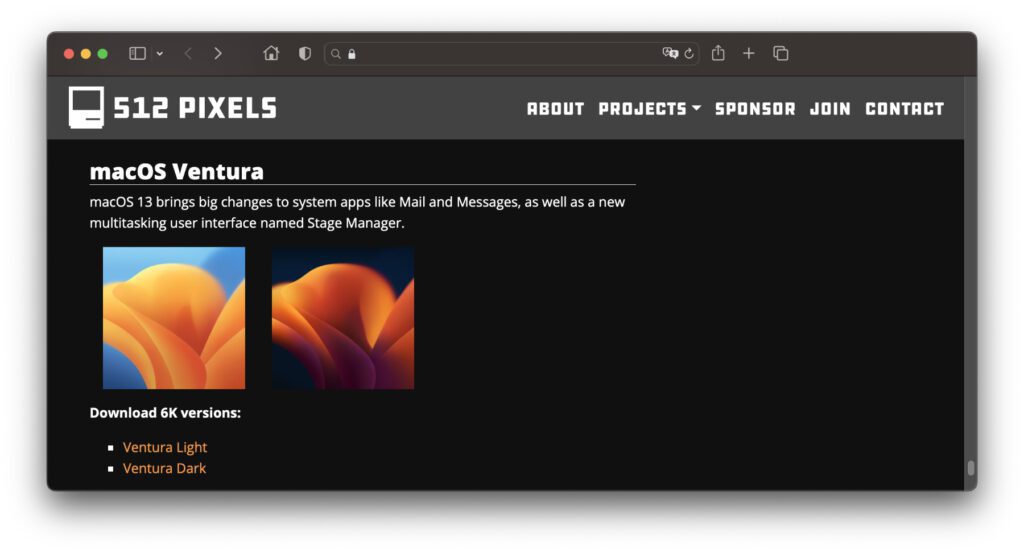 macOS Ventura manuals and guides
Here on the Sir Apfelot Blog, we'll be providing you with more and more Ventura guides, guides, and tips over time. There is also a corresponding online manual and various support documents on a wide variety of topics on the Apple website. You can also find numerous tutorials and other help videos on YouTube.
However, if you prefer to get a printed collection of illustrated instructions, guides and tips for macOS Ventura, you will find a good selection of different manuals by expert authors. In the following I will link you to a few that you can order quickly and easily via Amazon (incl. Prime).
Your opinion on macOS 13 Ventura
What do you think of the revised operating system for the Apple Mac? Are the differences to macOS Monterey too big for you? Do you find the new features and options in macOS Ventura useful? Or should Apple have taken another year and come up with something completely innovative? Please leave a comment with your opinion :)
After graduating from high school, Johannes completed an apprenticeship as a business assistant specializing in foreign languages. But then he decided to research and write, which resulted in his independence. For several years he has been working for Sir Apfelot, among others. His articles include product introductions, news, manuals, video games, consoles, and more. He follows Apple keynotes live via stream.
The page contains affiliate links / images: Amazon.de