If you often use a Screenshot or produces not just one, but many screenshots, then saving and sorting the images can quickly become confusing. If you want to know how to display all screenshots from different folders and directories and how to find all screenshots under macOS, then you've come to the right place.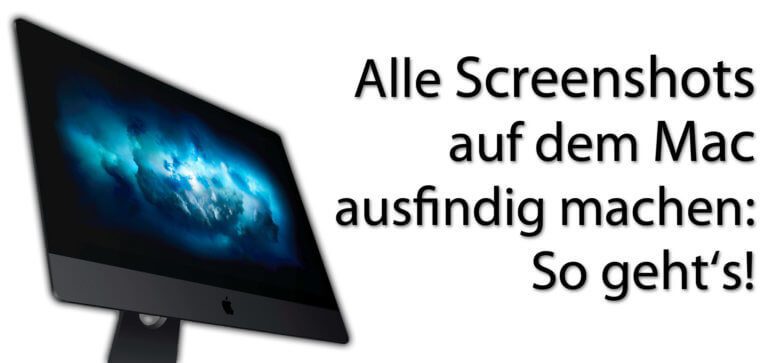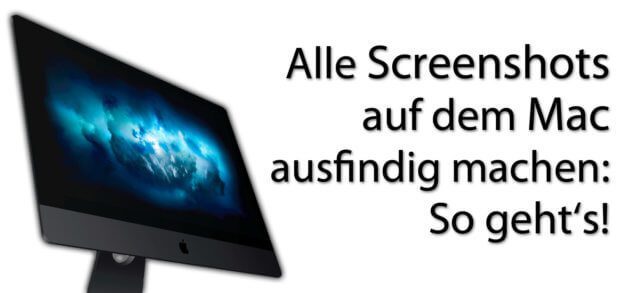 Find screenshots with Spotlight
The Spotlight search tool is a way to see all of the screenshots on Mac. Opens the search tool via the Spotlight icon in the menu bar of macOS or use the shortcut ⌘ + Space bar. And these are the individual steps to find all screenshots in the Apple operating system:
Open Spotlight as described above
The search term kMDItemIsScreenCapture: 1 enter
A list of screenshots appears that you can now work with
In addition to the preview, you can use Alt (⌥) to zoom and the command key (⌘) displays the file path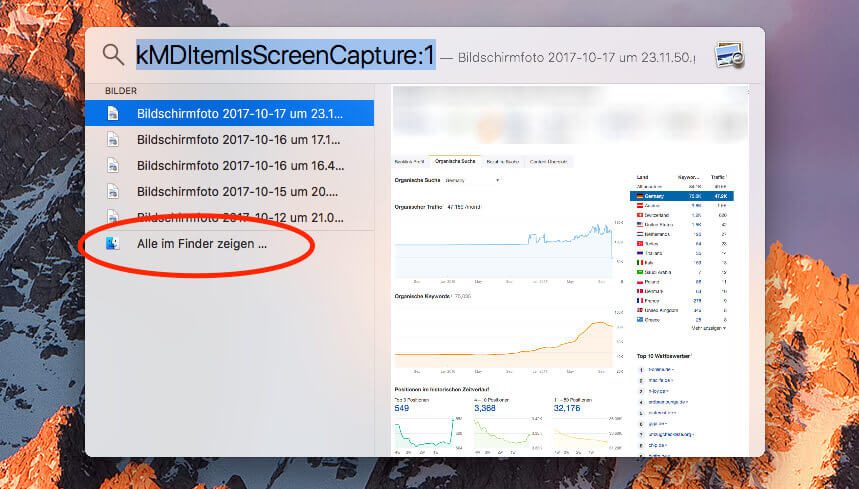 A little tip: If you have a large number of screen recordings, not all of them may be displayed in Spotlight. You will therefore find the menu item under the result list Show all in finder ... - click on it to really display all search results.
macOS: Find all screenshots with Finder
There are several ways in which you can find your screenshots under macOS on the Apple Mac. One of these ways leads directly through the file browser Finder. To do this, select the desktop of your Mac and proceed as follows:
In the menu bar next to "Finder" filing click and in the drop-down menu the item Search choose
Alternatively, you can ⌘ + F to press
The "Browse this Mac" window will appear and you'll find it in the top right corner search box for search input
Before you use the search field, select "Search:" under the window bar (symbol menu bar) This Mac instead of Desk from
Now enter the search command in the search field at the top right (next to the window bar) kMDItemIsScreenCapture: 1 a
You will now see screenshots, including those in the iCloud

A little tip: You will find a few filters above the search results. So if you are looking for all the screenshots on your Mac, because you first created them in this format, then in that format (PNG is set by default), you can find and delete all old screenshots this way. Select the filter rule "Type" is "Any" to display all results, or "Type" is "JPEG / TUFF / GIF / PNG / BMP" to list the respective formats individually.
Find all Mac screenshots with the Terminal
The third and last way leads you via a not quite as graphically prettied up interface, namely via the Port. However, this way is worth it if you want to know in which folders your screenshots are scattered on the Apple Mac, iMac or MacBook. And this is how you do it:
Starts the terminal (Go to -> Utilities -> Port)
Enter the following command in the window: mdfind kMDItemIsScreenCapture: 1
Presses Enter to execute the command
You will now receive a list of file paths and the data (date, time) of the screenshots

Not all screenshots found on the Mac?
If you want to display all screenshots on the Mac, but you are quite sure that one or more specific screenshots are missing from the results, then there is a reason for this. Because you have individual directories or folders from the Spotlight search except, then the search brings nothing. Then you have to look through these folders individually, for better or for worse.
Important note: Edited files will also be found!
Another important note: I noticed that the search also brings up screenshot files that I edited in Photoshop and re-exported. The "bit" for marking the file as a screenshot is apparently retained. If you now want to move all screenshots to the trash, please be aware that there may also be edited images that were created from a screenshot!
[sc name="macOS manual"]
After graduating from high school, Johannes completed an apprenticeship as a business assistant specializing in foreign languages. But then he decided to research and write, which resulted in his independence. For several years he has been working for Sir Apfelot, among others. His articles include product introductions, news, manuals, video games, consoles, and more. He follows Apple keynotes live via stream.