An iPhone app for mediation and stress relief is useful when work demands a lot of you and you don't relax enough in your free time either. Listening to your body, breathing evenly and turning your head off - that can and must be learned. Meditation rarely succeeds by itself. I once looked at three popular meditation apps for the iPhone from the Apple App Store and listed a few details and the download links below. In the end, I have an alternative for you that may be better suited due to your individual chances of success.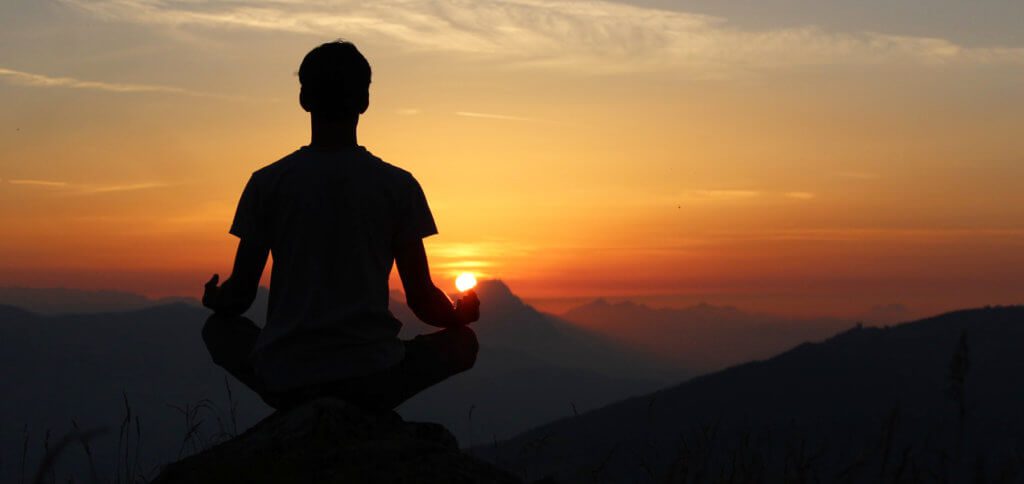 Meditation Apps - Large selection for the iPhone
Due to the Apple Health app, which can be fed with data from all kinds of devices and programs via the HealthKit, there are numerous applications in the field of health and mindfulness. Apps for meditation can convert their use into mindfulness time, so that in addition to the number of steps, pulse monitoring via Apple Watch and training data, personal time-outs are also documented. Especially for the beginning, this can be a good incentive to meditate or learn meditation on a regular basis. Three meditation apps for iOS impress with their extensive range and good reviews: Headspace, 7Mind and Calm.
Headspace
The Headspace app for the iPhone is currently listed as No. 3 in health and fitness by the App Store. The over 30.500 ratings result in an average of 4,8 out of 5 stars. If you want to use all functions, you can choose between a subscription for € 12,99 a month and a subscription for € 94,99 a year. In addition to meditation and sleep exercises, the app also includes so-called SOS exercises that are supposed to help with acute stress or a panic attack. In addition to extended sessions, there are also small mini meditations of two to three minutes. All of this is optically accompanied by cute graphics that guide you through the program and its application. You can find the headspace download in the App Store / iTunes.
[appbox app store id493145008]
7Min
The 7Mind app for the iPhone has an average of 2.800 out of 4,3 stars from over 5 reviews. It is currently listed as No. 37 in health and fitness. Guided meditations as well as rest and gong meditations for advanced learners are offered. Meditating should give you peace and strength and reduce everyday stress in just 7 minutes; hence the name. From individual meditations for every day to short sessions of one or two minutes to special meditation for children, a lot is included. However, if you want to have the full scope of services, you have to pay money here as well. The price for various subscriptions or a lifetime account ranges from € 11,99 to € 149,99. You can find more information and the 7Mind download also in a known place.
[appbox app store id943347681]
Calm
The Calm app for the iPhone is not only currently number 17 in health and fitness, but also has an average of 12.900 in the star rating with over 4,6 ratings. In addition, it was Apple's "App of the Year 2017". But in 2019, as with its predecessors, the focus is on guided meditation and peaceful sleep. Both stress and fears should be reduced. In contrast, gratitude, concentration, friendliness and the like should be strengthened. Regular use programs can be used for 7 or 21 days. But here too, without exception, all content and services are only available for in-app purchases. Prices from € 15,99 to € 74,99 are included listed on the app page.
[appbox app store id571800810]
Alternative with hardware: Muse headband with meditation app
A few days ago I gave you an interesting alternative to the meditation apps listed above described in detail in this article. It is the Muse headband, which measures the pulse as well as brain waves to determine whether you are actually relaxing and relieving stress. This is a good way to learn how to meditate, especially for beginners and those who cannot relax easily or get rid of stressful thoughts. Because with the apps listed above, there is no control body other than the user himself / herself. Only ready-made programs are offered there.
At Muse, where the app is already included in the purchase price, the background noise (sounds of nature) is modified when thoughts drift away and stress arises (thunderstorm sounds). In this way, one is clearly pointed out to a return to the relaxed and thoughtless state, but without being torn directly from the meditation. In addition, guided meditations and sound collages in individually adjustable lengths are offered. If you are interested, take a look at the post linked above; there you will find all the details, pictures of the headband and app as well as further information. You will also receive a 15% discount on purchases via the promotional link;)
After graduating from high school, Johannes completed an apprenticeship as a business assistant specializing in foreign languages. But then he decided to research and write, which resulted in his independence. For several years he has been working for Sir Apfelot, among others. His articles include product introductions, news, manuals, video games, consoles, and more. He follows Apple keynotes live via stream.