It has been a few months since I left Martin Lexow I received the mail that I could test his MacApp "Mikrolern für Swift". One short post Martin's Youtube videos are already on my blog and I installed the app at the time so that the voucher code doesn't expire, but I only recently took a closer look at it. The reason for this was that I started planning the Sir-Apfelot app and was confronted with the programming languages ​​Swift and Objective-C.
Why do I want to learn Swift?
Fortunately, I don't make my living from programming (otherwise I would probably live under a bridge), but I've always been interested in the subject itself. In the past I had even struggled with assembler on the C64 for a few years as a hobby, but now so much has happened with the programming languages ​​that I am starting from scratch. Only a little understanding of logic and experience with PHP could be seen here as an advantage over other beginners.
Since I have the option of programming Mac, Apple Watch and iOS apps with the relatively new programming language from Apple called "Swift", I think this is a good reason to get closer again to deal with the topic of programming.
Objective-C or Swift?
One of the questions that got on my fingertips at an early age was whether to study Swift or Objective-C. The Internet hasn't been terribly helpful with this, as I've had many supporters of Objective-C, but as many are enthusiastic supporters of Swift. Without further ado I wrote to Martin Lexow and asked him for his opinion. I thought to myself, if anyone here can give a well-founded tip, it is him.
His statement was that Objective-C is much more represented on the Internet because it is simply over 30 years old. Accordingly, there are many voices who break a lance for this programming language. According to Wikipedia, it was developed back in the 1980s, while Swift wasn't introduced by Apple until 2015. So 30 years versus 3 years - at first it sounds like Objective-C is reliable and serious, while Swift is more for hipsters.
My concerns were for the reason that Objective-C is perhaps superior to the relatively young Swift in terms of "power" and that certain projects can only be solved with ObjC (abbreviation). But Martin was able to reassure me here too: From his point of view, you can use Swift to develop software that is just as complex as ObjC, and it is less complicated and easier to understand to use. For complete newbies like me, Swift would be a better choice for this reason.
Learn Swift with video tutorials and examples
Now that I have decided on Swift, it made sense to get Martin's "Microlearning for Swift" app out of the drawer and look at it. And since I've already worked through several chapters of the app, it's time for me to write a small review of the app and give you additional tips for learning the Swift programming language.
In a nutshell, "Microlearning for Swift" is a collection of videos and study materials available in the form of a Mac app. The advantage of the app compared to YouTube is that you can quickly see which videos you have already watched, and even started videos can be quickly identified with a progress circle and continued watching. There are also code snippets available that can be tried out directly in Xcode - a feature that no YouTube video can have either.
And "Mikrolern" is a well-considered name, because the app wants to bring the viewer closer to the Swift programming language in very short chapters with video runtimes of a few minutes (sometimes only 2 and sometimes 5 minutes) without having to spend a lot of time "at one go". for learning. The app invites you to watch a chapter or two in between to get a little further in your "Swift studies".
If you want a little glimpse into the app, this "teaser" video (which, by the way, is only 5 minutes long) is good for you:
Why the app is better than Youtube
As already indicated above, the app offers some "features" that a YouTube video does not have: On the one hand, for certain terms in the video, Martin asks whether he should explain them again in detail. You can then acknowledge this directly with the displayed buttons "Explain", "Repeat" or "Continue" (see screenshot below).
On the other hand, files with sample code are supplied directly to the video from the micro-learning app. In the respective chapters in the video you will find a button "Files" that you can click on. Then a "Save" dialog appears, in which you can decide where the .playground file (Swift Playground) should be saved on the Mac. So you can understand what Martin explains in the video directly in Xcode.
Clear and suitable for beginners
What I really like about the app - which, by the way, was also implemented with Swift - is the visual design and the explanatory style of Martin, who doesn't lack a pinch of humor. The videos are provided with overlays and code examples so that you can get further information while watching them.
I have to admit, I was a bit "rushed" by the videos at the beginning, because the cuts are made very quickly one after the other, so that you actually get a lot of information in two to five minutes. In addition, Martin is not exactly a "Rüdiger Hoffmann" when it comes to the number of words per minute. Both of these things together mean that the videos show a decent pace and you really have to be careful so that you can hear everything.
Fortunately, Martin has an understandable pronunciation and he has assured me that all the breaths and "ums" that were cut away did not really contribute much to the learning success. For this reason, the speed of the videos is desired and not a coincidence.
If you are like me, then don't get stressed and just look at one or the other chapter again. So far I've gotten most of it after the first time and only had to repeat a few chapters.
My and other reviews of the app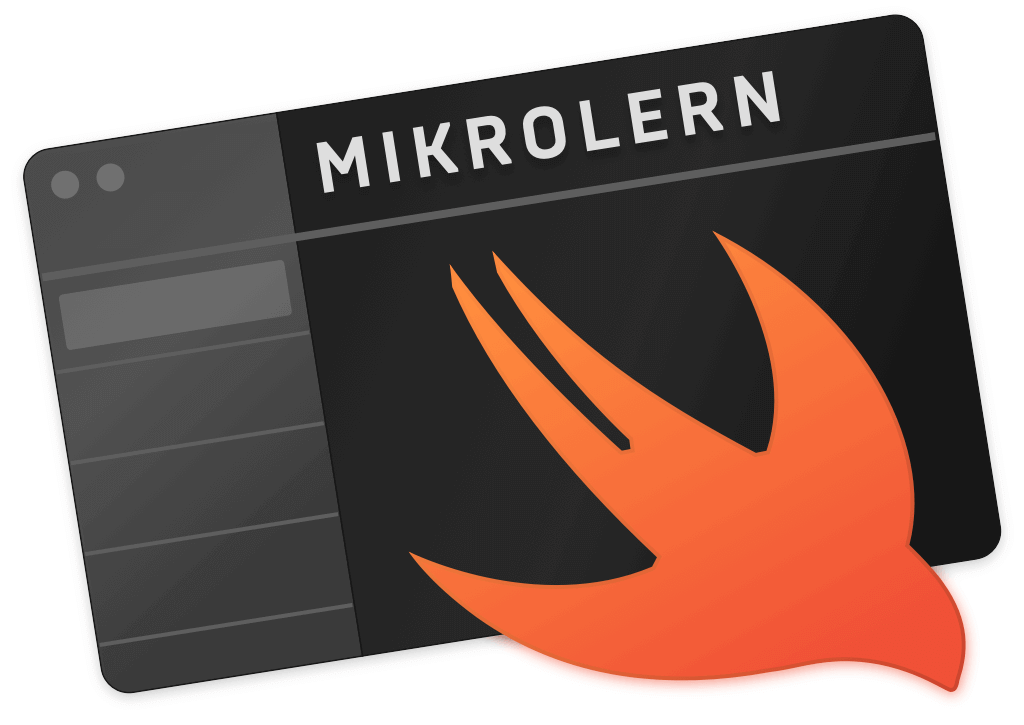 I have read through various sources that report and judge the app. Sometimes I found the reviews to be quite harsh. In some reviews it was read that you could learn all of this with Youtube or from a book. Yes, that may be ... you can also attend a VHS course, but they are just different things. If you take a book to study, you usually have no learning success in periods of three minutes. You already have this with the app, as the information is prepared accordingly for this period of time.
The videos are really well made for this. The sound is flawless and what is said is also visualized through fade-ins. So far I have not seen a Youtube video on learning from Swift that was so well structured didactically - except for the ones that Martin himself made for free on his Youtube channel Is available.
And on the subject of books: one does not exclude the other. For example, I am someone who likes to learn with videos and then still has a book to leaf through certain things. In terms of depth of information, books are usually always superior to a video, but I simply enjoy a video tutorial where I am entertained audiovisually.
My conclusion
I currently have version 1.0.0 of "Mikrolern für Swift" on my Mac. Since I was there quite early, I still know a version in which there were only 10 chapters. Now the number of chapters has grown to 22 and Martin only wrote me a few days ago that he was producing numerous new chapters again. So it's a project that is slowly growing.
If you need to know everything about Swift right now, you should perhaps look for an alternative or supplement to the app. But if you - like me - are not pressed for time, you can buy the app from Martin Lexow (it currently costs EUR 24,99) and is happy every few weeks when new videos appear in the content.
So that you know which chapters already exist, I have put together a small list here (as of March 13.03.2018, XNUMX):
Microlearn for Swift (App Presentation)
Why programming
Why Swift
Install Xcode
Developer Program
Create a playground
Create Project
Variables and constants
Strings
Integer and double
tulips
Dictionaries
arrays
Boolean
if-else query
Optional
for loop
while and repeat loops
Features
Comments
Xcode Basics
StatusBar demo
As you can see, the basics have been explained so far. According to Martin, there are still many chapters to be added and then also cover advanced topics. For me as a Swift newbie, for whom almost everything is new territory, there are already enough chapters to give me an insight into the programming language.
I also find it very nice that Martin is starting "at the very beginning". He explains why programming is so important today, how to install Xcode, and even how to participate in the Apple Developer Program. In fact, my questions started with the developer program. : D
If you feel like reading the "Mikrolern für Swift" app, have a look here or sign up for my newsletter. I will be giving away a free code for the app in the next newsletter.
[appbox app store id1252806618]
Complementary learning materials: book and Udemy
As already mentioned, I like to learn new programs or the like with multiple media. Martin's app is certainly a very good choice for the micro-learning department. Nevertheless, I would like to suggest a few additions to this.
Book
If you are looking for a book for your Swift learning adventure, you can take a look at "Swift 4" by Michael Kofler. I have found this 1300-page tome as a recommendation in various places and will also buy it when I have a little more time to deal with Swift. The Martin app can certainly be a quick introduction to Swift, but more in-depth information is often available in book form.
Tutorials on Udemy
Another great source for tutorials is the Udemy portalwhich is a collection of video tutorials for almost any topic. I've already got myself courses there for Premiere, Lightroom, and photography, as well as filming with drones, and I'm thrilled with the way they learn. Most of the time, I use the Udemy app on the iPad to watch the courses. The progress is also recorded there and you can stop or continue at any time. Only in the short time you learn you don't learn as much as with Martin's app. If you still want to pay a visit to Udemy, you will find it here Swift 4 courses on Udemy.
Tip: You can even find it on Udemy a special course on "Core Data" - a topic that is currently still missing in the Swift book mentioned above.
objc App Architecture - English Ebook
I also received a tip for further reading directly from Martin. If you feel at home in English and like to read ebooks, you can here at objc.io drop by. I didn't buy the ebook because I prefer to use German books. Surely there is one or the other reader among you who will be happy with it.
Swift Playgrounds iPad app
As a final recommendation I would like to mention the iOS app "Swift Playgrounds", with which Apple offers a free app that is suitable for a playful approach to programming. In principle, this is a game in which you program a character to perform certain tasks. For example, she has to press switches, collect jewels and use teleporters. This is how you learn commands and functions, which in turn combine a series of commands. And acractive thinking is also encouraged, since you have to imagine how the figure moves across the playing field with the program.
I definitely think the app for children is a fun introduction to programming. However, children under the age of 10 are likely to be overwhelmed quickly, as you have to think a bit abstractly to solve tasks that go beyond the first five levels. Nevertheless: A very nicely made (and also free!) App that is definitely worth a look.
[appbox app store id908519492]
I hope I have gathered enough information for you now. Actually, the article was supposed to be just a little introduction to Martin's Mac app, but now I've digressed a bit ... I'm sorry if it was "over the topic", as my German teacher used to say. ;-)
Jens has been running the blog since 2012. He appears as Sir Apfelot for his readers and helps them with problems of a technical nature. In his free time he drives electric unicycles, takes photos (preferably with his iPhone, of course), climbs around in the Hessian mountains or hikes with the family. His articles deal with Apple products, news from the world of drones or solutions for current bugs.
The page contains affiliate links / images: Amazon.de