The manufacturer Minadax offers protective contact sockets or double sockets on Amazon, each equipped with two USB ports (5 V; 2,1 A). These are flush-mounted chocolate boxes that can be attached to existing double socket connections. However, there are a few things to consider, such as that they protrude a little further from the wall than conventional sockets and that there is no VDE certification.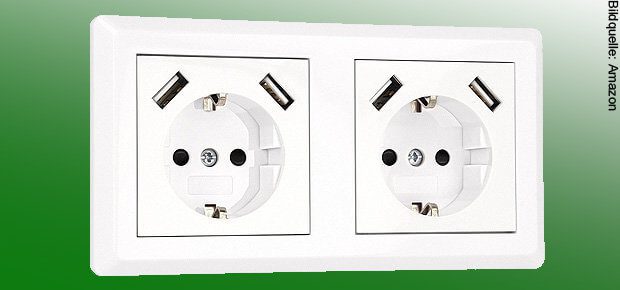 Minadax protective contact double socket with USB connections
These USB sockets allow the connection of Schuko plugs, EU plugs and USB cables. USB devices such as the iPhone, iPad, MacBook Pro (via Thunderbolt 3) or iPod as well as Android devices, GoPro cameras and the like can be charged with 5 V and 2,1 A. At the Sir Applerot iPhone (iPhone 7 Plus) it is the case that it only charges with 2,1 A chargers with 1,2 A charging current, which then gradually decreases and quickly ends up at 700 mAh; but the iPad or iPad Pro should be able to draw on the 2,1A.
Buy USB sockets for double sockets on Amazon
Negative points on this component
On the product page at Amazon you can see other offers from Minadax: simple sockets with USB interfaces, sets of 2, sets of 3, the double socket with a total of four USB slots and so on - there are also different colors from white to red and blue available in black. However, there is one major criticism that already here in the blog led to the discussion: the VDE certification. The short and concise comment of the reader "E. Elektriker" read: "No VDE approval of the sockets. In the event of a fire, the expert is happy. Contact protection is zero."
3 alternatives for charging USB devices at the socket
Due to the lack of certification (purchase and use at your own risk) of the Minadax sockets with USB ports, here are three alternatives for using sockets or power strips, adapters and so on, with which you can safely charge your iPhone, iPad etc.:
After graduating from high school, Johannes completed an apprenticeship as a business assistant specializing in foreign languages. But then he decided to research and write, which resulted in his independence. For several years he has been working for Sir Apfelot, among others. His articles include product introductions, news, manuals, video games, consoles, and more. He follows Apple keynotes live via stream.
The page contains affiliate links / images: Amazon.de