The most reliable hard drives for backing up data are chosen every year by Backblaze, a respected cloud service. Last year I presented you with an evaluation of the numbers up to Q1 2016: The best hard drives for the NAS or other RAID system. Now there are the new figures up to Q1 2017. In the following paragraphs I will show you which hard drive offers the best performance, which hard drives have the most failures and where you can get the most reliable storage for your computer, NAS or RAID system .
The lowest failure rate in the professional cloud 2017
With its tens of thousands of hard drives, Backblaze offers a professional cloud service for backing up private Mac and PC users, companies and everyone else. If you don't have a cloud provider yet, you should go to Backblaze.com drop by. The fact that the boys and girls publish their hard drive models and their performance there shows that they want to get better and better. A secure, stable cloud for all users is in the foreground. And these are the latest figures for the 82.516 hard drives: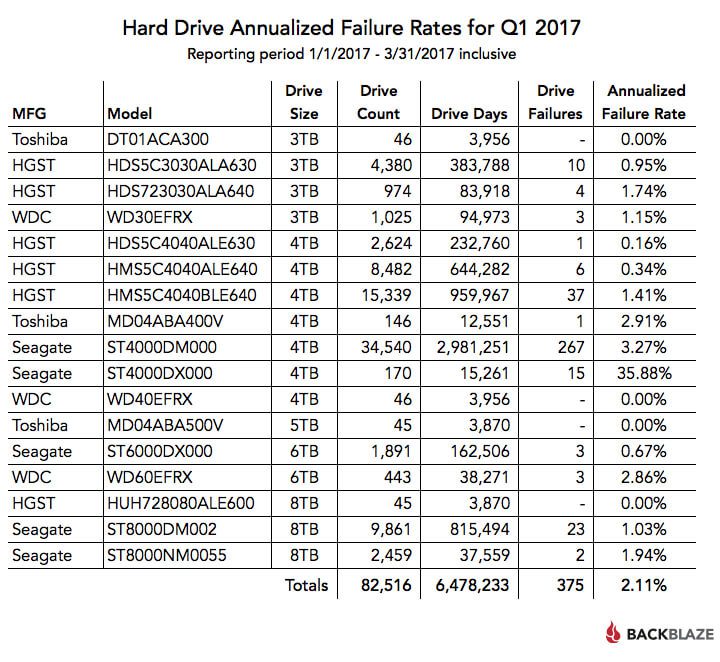 As you can see, there are some hard drive models that show a very low error rate or even no errors at all from January to March 2017. I picked out the most reliable hard drives for backup from this overview on Amazon:
Use HDD or SSD as an external hard drive
The capacities and the low failure or error rates of some models are very interesting. But you don't always have enough space in your computer or, as with Apple's iMac, Mac and MacBook, you can't get to the inside that easily. But that's not a problem if you convert a hard drive into an external drive with the right accessories. How to do that is in this post: External hard drive enclosure with USB-C for 3,5 and 2,5 inch hard drives.
The most reliable hard drives from 2013 to 2017
In addition to the figures for quarter 1 in 2017, Backblaze has also published cumulative data for the period from April 2013 to the end of March 2017. Hard disks with a storage capacity of 3TB to 8TB are again listed here. There is also the number of individual hard disks and their failure rates or error frequencies. This results in the following overview at Backblaze: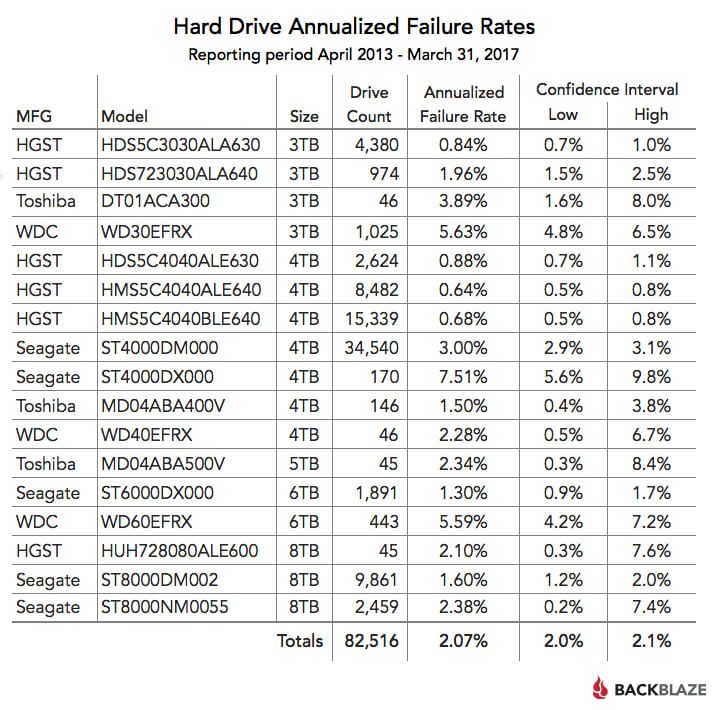 At the bottom of the overview you can see the Seagate ST8000NM0055 hard drives. These are "enterprise" models, memory made for companies. Backblaze bought them in bulk when they became obsolete and Seagate cut them out cheaper. The error rates so far show that they are not the best horses in the stable;) According to the general overview, this hard drive is the best: HGST HMS5C4040ALE640 4TB.
Experience with Backblaze
Backblaze is used as a service for regular backups at Apfelot. I already explained to you yesterday in this post why such a backup is important: Data backup: backup copy as protection against ransomware. With the named service, you hardly notice how it is backing up the data in the background, because it mainly uses the Apple Mac and its Internet connection when the computer is idle. This way, unnecessary resources for your workflow are not stolen;) By the way, Backblaze is also available for Windows PCs. All information on Backblaze.com.
After graduating from high school, Johannes completed an apprenticeship as a business assistant specializing in foreign languages. But then he decided to research and write, which resulted in his independence. For several years he has been working for Sir Apfelot, among others. His articles include product introductions, news, manuals, video games, consoles, and more. He follows Apple keynotes live via stream.