Sunday, May 13th, 2018, is Mother's Day - and if you read this post, then you are sure to be looking for the right gift idea;) How about the digital Nixplay picture frame, which is linked to your mom's WiFi on cloud services like Dropbox, Google Photos and Flickr as well as Instagram, Picasa, Facebook and the Nixplay server? The digital picture frame can also be loaded with pictures via SD card or SDHC memory card as well as via USB. In the following I have put together further details and dates for the present for Mother's Day 2018.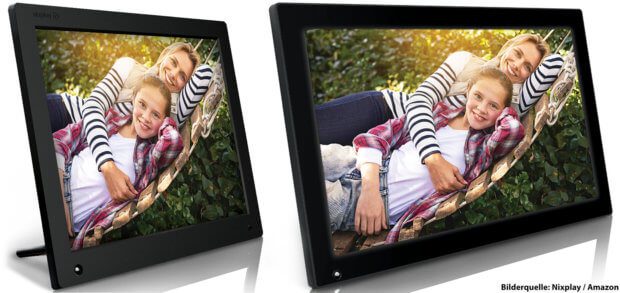 Gift idea for Mother's Day 2018
A digital picture frame like the one from Nixplay is ideal if you want to give your mother a present on her special day that reminds of the time together, of the entire family, of the last vacation and of beautiful experiences of the past life. A photo album has a similar function, but you would need a fairly large wall to show all of the photos. It is better to display old, new and future photos digitally on a beautiful, illuminated display. So if you're still looking for an idea for the perfect Mother's Day 2018 gift, you've found it.
Send photos on the go
Are you often out and about, do you live in a different area or country or are you going on a world tour soon? Then the digital picture frames from Nixplay with WLAN and cloud connection are ideal for sending your mother updates from time to time and letting them know where you are, what you are currently seeing and how you are. JPEG or JPG content can be sent, playlists can be created and more via the cloud, the Nixplay app and the web app. In addition, you can make the settings for the operating time or the motion sensor.
Nixplay picture frames with 15 or 18,5 inches
The digital picture frame from Nixplay can be ordered in two different sizes and formats. The digital picture frames have a 15 inch (38,1 cm) screen diagonal for 4: 3 pictures and one 18,5 inch (47 cm) diagonal display for 16: 9 photos. The latter is ideal if you mainly want to display smartphone photos, which are usually shot in a more modern format. I also think the cloud support from Dropbox, Google Photos and Co. is good, as you can send your mom new photos of you and your family over and over again without her having to put them on the display herself (which for many parents sure does takes a long time or goes wrong: D).
Digital picture frame with 15 inch display
Cloud-compatible digital picture frame with WiFi from Nixplay for photos, images and graphics from SD storage, USB source, cloud such as Dropbox, Flickr, the Nixplay server (10 GB free storage space), the app, e-mail, Facebook, Instagram, Picasa and more. Operation via buttons on the back or remote control. 38,1 cm diagonal screen for ideal viewing.
Digital picture frame with 18,5 inch screen
WLAN and cloud can also be used with this digital picture frame, especially for photos in landscape format and 16: 9. Photos can also be fed in via SD card, USB and via app, email, cloud storage, social networks and Nixplay servers. The display measures 18,5 inches diagonally, or 47 cm.
Technical data
Finally, I have summarized a few technical data and further information about the two modern picture frames for you. So you can assess and assess whether the two products are worthwhile as gifts for Mother's Day 2018.
Nixplay 15 inch photo display
Nixplay 18,5 inch photo display

Dimensions (H x W x D)

28,8 cm x 35,7 cm x 14,9 cm (4 cm without stand)
29 cm x 46,7 cm x 3,3 cm

Weight

1,45 kg
2,78 kg

Resolution

1.024 768 x pixels

1.366 768 x pixels

Display and playback of ...

JPG photos, playlists, etc.

Remote control possible?

Yes, through integration into the WLAN

WLAN and cloud necessary?

No, images can also be supplied via SD card and USB

Ideal for…

Parents and grandparents with little technical understanding, but who still want to see new pictures

Switching on and off via ...

Motion sensor or time setting
In addition to Mother's Day: More gift ideas
After graduating from high school, Johannes completed an apprenticeship as a business assistant specializing in foreign languages. But then he decided to research and write, which resulted in his independence. For several years he has been working for Sir Apfelot, among others. His articles include product introductions, news, manuals, video games, consoles, and more. He follows Apple keynotes live via stream.
The page contains affiliate links / images: Amazon.de