The Apple advertising campaign "Switch", which has been running in the USA for some time, has now also arrived in Germany and is intended to encourage Android users to use an iPhone with iOS. The advantages of the iPhone are discussed as well as the quick switch from Android to iOS with the Move to iOS App from the Google Play Store.
Apple "Switch" advertisement shows the move from Android to iOS
Transferring data, contacts, files such as photos, music and videos as well as apps and especially Google apps from the Android smartphone to the iPhone - this should be done with the Move to iOS App, which is available for Android devices for Download from the Google Play Store ready to be very simple. This is clearly explained with small 15-second clips from Apple's current advertising campaign. This has nothing to do with the Nintendo Switch mean, except for the name.
Advertising campaign should simply show the advantages of the iPhone
In addition to the quick and easy transfer of content from an Android smartphone to an Apple iPhone, the seven small advertising clips also highlight the advantages of the phone from Cupertino. Because next to the videos with the titles Music, Photos and Contacts there are also those with the titles Safe, So fast, Running and Privacy.
Information about the move, the Move to iOS app and more
At the end of the video you will see a URL that will lead you to a nicely presented and informative page from Apple. This will answer questions about switching from Android to iOS and to the iPhone in general. Apple support is also highlighted positively; for example in the form of Apple specialiststhat will help you switch from Android to iOS directly in the Apple Store. You can also reach the page under apple.com/en/switch.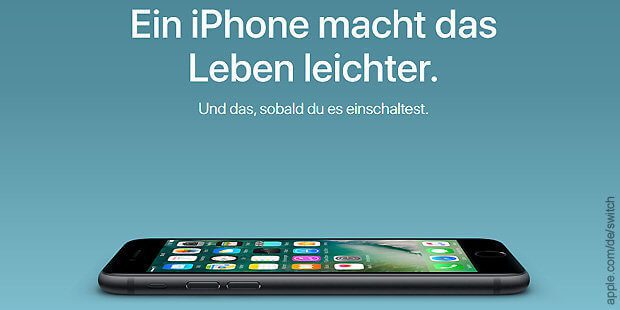 Have you recently switched from Android to iOS or are you thinking of doing so thanks to the current campaign? Feel free to leave a comment on the topic;)
-

After graduating from high school, Johannes completed an apprenticeship as a business assistant specializing in foreign languages. But then he decided to research and write, which resulted in his independence. For several years he has been working for Sir Apfelot, among others. His articles include product introductions, news, manuals, video games, consoles, and more. He follows Apple keynotes live via stream.